Lake View Residencia Islamabad
Lake View Residencia is an upcoming exclusive and unique project for the capital city of Pakistan, Islamabad. The project is of Al Kabir Developers, who are renowned in Pakistan real estate market because of their extraordinary work in Lahore..
Lake View Residencia Islamabad promises luxury and a peaceful lifestyle. Located at Bahria Town Phase 8, Lake View Residencia is surrounded by majestic lake view, nature and all the associated international-standard facilities ensure a quality lifestyle. There is no doubt that the project is going to be a stunning addition to an already skirting skyline of the city.
The project is of the latest and international standards. Also, it is approved by the concerned authorities. The main focus of developers is on providing comfort and safety to its future residents.
If we are to talk about the floors the project has multiple opulence apartments. The basement of the project is for parking. The ground floor will have shops of all kinds, including groceries and other lifestyle requirements. From the 1st floor to the rest are dedicated to apartments of different types.
Lake View Residencia Location
The location of the stunning high-rise edifice is prime. Lake View Residencia is located at Bahria Town Phase 8. The project is already designed and will be built on Lake View Commercials.
Moreover, as from the name it is clear that the project will have a lake view, it is easy to get access to it from several routes. Also, famous developments like Dominion Mall, Grand Millennium, and Statue of Liberty are in close proximity. Even the project The Nexus Mall that is grabbing the attention of many these days is pretty close by.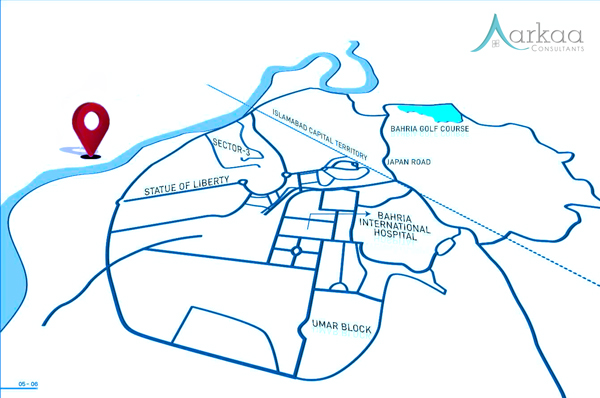 Lake View Residencia Islamabad Developers
This ginormous and luxurious project belongs to Al Kabir Developers. They are in the real estate market for quite some time now and have done a lot of work in Lahore.
Firstly, they have launched AL Kabir Town Phase I. After the success of that project, they launched Al Kabir Town Phase II, later Phase III by the name of Kings Town, and then Phase IV by the name of Maryam Town.
The best thing about them is that they deliver what they have promised to the customers and that too on time.
Lake View Residencia Payment Plan
As mentioned before the project is designed to provide luxury comfort and peace to the residents. The builders have ensured that customers are able to invest without worrying about the budget as all the properties located within the edifice are available at an affordable price. Moreover, the payment plan is also quite flexible.
Lake View Residencia Islamabad ensures people are able to live a quality lifestyle by investing in flexible installments. The price for each apartment differs according to floor, size, and category. Curious about the options the residential apartments then make sure to pay attention to given below details:
Studio Apartment
1 Bed Apartment
2 Bed Apartment
Studio Apartment Payment Plan
1 Bed Apartment Payment Plan
2 Bed Apartment Payment Plan
Lake View Residencia Amenities and Features
Some of the best and key amenities that you are able to enjoy in this mind-blowing project are:
Modern and Luxury building architect
Splendor apartments
24/7 surveillance and security
Spacious and safe parking
Modern waste management system
Availability of maintenance staff
Designated play area for kids
Maintained elevators
Amazing view
Rooftop restaurants
Prime location
Availability of Spa and other recreational facilities
Why Invest with Lake View Residencia Islamabad?
Lake View Residencia Islamabad is not only a safe and secure real estate marvel but is also something that will be remembered for a long time. This is also because of the fact that it promises nothing but sheer peace of mind for the inhabitants.
Looking for reasons to invest in this luxurious project, let us entertain you in such regard.
Financially Savvy
One thing that is a common query of the general public is the payment plan that a housing or commercial society is presenting. And we can proudly conclude that Lake View Residencia Islamabad has kicked the ball out of the park in such regard. Furthermore, the previous records of the developers also speak volumes about their dedication and customer retention. Thus if you are looking for a cost-effective real estate investment, this one is for all of you.
High Standards Development
There is no denying the fact that this project is backed by Pakistan's most reputable developers. All this ensures that you should expect high-quality developments from this project. This housing society also features premium life necessities that make this one hard to not pay attention to them. Furthermore, all the exquisite lifestyle features ensure that this project is one promising real estate venture.
Great Return on Investment
If you are deciding to opt for this real estate investment, then the features such as premium location and accessibility all will add up value to your decision. This housing society also boosts luxurious features that promise both comfort and style and also ensure a stable and secure source of income in the longer run.
Lake View Residencia Islamabad; Where Style Meets Luxury
This luxurious and state of the art housing project will soon be made available for the customers. Thus if you are in search of a space that offers premium living standards, keep an eye on this one. Because you cannot afford to miss it out.
FAQ's
Some of the most asked questions related to Lake View Residencia Islamabad rates and plot prices are as follows:
The location of Lake View Residencia is a premium one. This project is located in Bahria Town, Phase 8.
The development of this state-of-art project is still in progress.
Al Kabir Developers, who is a name to be reckoned with, are the developers of this project.
A 20% down payment is required on a four-year installment plan.