Nexus Mall
Nexus Mall Islamabad is a new high-rise development that epitomizes elegance, class, and flair. The project covers an area of 13 Kanals. The project will be a game-changer since it will allow residents of the twin cities to experience a new world of luxury, convenience, and profit by making an investment. The Nexus Mall has a wide range of properties that will undoubtedly suit your requirements and desires.
Nexus Mall Islamabad would be the second-highest structure in Punjab and one of the tallest in Bahria Town.
The mall will undoubtedly be the finest spot for customers to spend their leisure time. The major goal of creating this initiative is to alter the shopping trend by combining all of the top brands and entertainment under one roof.
However, the mall offers its customers more than just shopping opportunities; it also has other appealing elements such as five-star restaurants and so on. The ground level of the mall is fully dedicated to a world-class Hyperstore that spans across 36,400 square feet.
If we talk about the structure, it will have a conical shape and will comprise two towers that will be raised on the mall's enormous atrium and have multiple floors. The internal architecture of the building links each story and gives it a vast and gigantic appearance.
The design of the building is three-dimensional, with a complete glass structure that will provide an exquisite view of the hills from the top. Investing in this project will undoubtedly provide you with long-term benefits in the form of consistent rental revenue.
Nexus Mall Islamabad Location
The Nexus Mall Bahria Town Islamabad is in a fantastic location since it is in Bahria Town Phase 8. The mall is next to the Statue of Liberty, one of the most popular attractions in Bahria Town Islamabad. To summarise, residents will have no trouble traveling to the mall from any direction. This is something that adds to its overall appeal.
Nexus Mall is also near the Grand Millennium Islamabad and is easily accessible from Safari Villas, the Expressway, and DHA Villas. Furthermore, the mall is surrounded by well-known attractions, making it ideal for both commercial and investment purposes.
The Nexus Mall is easily accessible because the main road in front of it connects to the Ring Road. In addition, Bahira Town's head office is near the mall. Furthermore, the International Airport is only 15 minutes away through the Rawalpindi Ring Road, which is currently under construction.
Simply said, the Nexus Mall is located in the busiest area of Bahria Town Islamabad and is regarded as the business center for the area.
Launch Date
Nexus Mall Bahria Town is still in the pre-launch phase, but the booking is available for the clients and that too at an affordable price. An individual can invest in this project from 16.5 Lac only.
We are announcing with great enthusiasm that the Nexus Mall Islamabad has signed an MOU with 5-star hotel chain Swiss International Hotels. The most famous hotelier chain globally stepped into the market 4 decades ago. Their head office of the hotel chain is in UAE. The company has 15 hotels in operation.
In the past, no one knew, what to expect from the project Nexus Mall in Islamabad. This partnership for a common line of action is going to extend the mark of Nexus Mall on a national scale.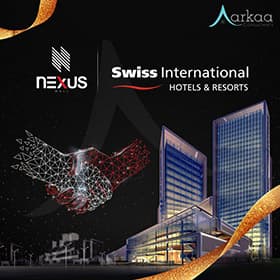 Nexus Mall Owner / Developers
Edgestone PVT LTD is the company behind this cutting-edge structure. The firm is well-known in the market. They have successfully completed many projects in the past using their traditional and modern ideas, which speaks volumes about the quality of their work. For them, the execution of the project on time, with elegance, and with high quality is impregnable.
Some of the visible projects they have done in the past are:
Opal Square
Grand Millennium Islamabad
Titanium Heights
Classification of Nexus Mall Bahria Town
The Nexus Mall is classified into two spaces:
Commercial Space
Standard Hotel Rooms
Commercial Space
The Nexus Mall features a variety of commercial stores for brand outlets and businesses. Customers can make profitable investments at this current moment. Each unit ranges in size from 50 to 400 square feet. The beginning price for commercial businesses is only 16.5 Lac PKR, and booking is very simple as only a 25% down payment is required. On top of that, the installment is extremely user-friendly.
Nexus Mall's rental revenue is also extremely appealing to commercial investors. The shop's designs and decorations are appealing as much as they are promising.
5 Star Hotel Rooms
Nexus Mall is home to a five-star hotel chain. Standard and premium rooms are available at these hotels. With the starting price of 14 Lac PKR and a very straightforward booking process, because only a 25% down payment is required, you can enjoy luxury and comfort in one of the most desired buildings in Pakistan.
Nexus Mall Bahria Town Payment Plan
Commercial Space
Pre Launch Rate
Features of Nexus Mall Bahria Town Islamabad
The Nexus Mall Islamabad boasts world-class amenities and features, making it a building of international status. Furthermore, the developers pay special attention to the upkeep of these facilities to ensure that clients do not detect any flaws.
Uninterrupted Power Supply: The mall's architect is world-class, but to guarantee everything works flawlessly within the mall, an uninterrupted power supply is required. The developers had paid special attention to this issue. There is no chance that the mall's power supply will go out for any reason because the backup is strong.
Proper Car Parking Area: The parking facilities in many Pakistani malls are not the finest. Nexus Mall has been working on it and has set aside two floors in the basement for parking. The parking space can handle more than 600 vehicles at one time. You also don't have to worry about where your car is parked because the system is contemporary and intelligent. Simply you have to provide the authorities with the vehicle's license plate number, and they will locate it for you immediately.
Food Court: Not everyone goes to the mall to shop or conduct business. Many people go to the mall with their families or friends to get away from their stressful schedules. For such folks, this mall not only has entertainment options but also a fantastic food court. The food court has all of the worldwide brands that someone might crave.
Five Star International Hotel: One of the mall's finest characteristics is the presence of five-star hotels. On one hand, the mall provides everything a regular person needs to have a nice time, while on the other hand, the mall caters to people who appreciate luxury. In other words, the mall has something for everyone.
24/7 Security and CCTV Surveillance: Security is critical in any mall, and Nexus Mall went to great lengths to ensure it. Not only are security cameras put in every part of the facility, but specialists are also on duty 24 hours a day, seven days a week, to cope with an odd scenario.
BOOKING PROCEDURE OF NEXUS MALL ISLAMABAD
If you are interested in booking your unit at the Nexus Mall Islamabad, you can simply follow the steps given below to get yourself registered:
Step 1: Pay order/cheque/cash/transfer of down payment in favor of A/c details of Edgestone Developers (Pvt) Ltd.
Step 2: WhatsApp your required documents at UAN# 0311-1127522
Step 3: Your booking confirmation will be sent to you on WhatsApp within 24 hours.
Step 4: Your original file will be ready within 2 days and sent to your place/registered address.
Note: Full Paying Customers will get a Rental agreement on an E-stamp of Rs.1200/- issued by the company.
CHARGES TO BE PAID AT THE TIME OF BOOKING
Hold your unit booking by paying 5% token money.
The remaining 25% down payment on all units has to be paid within 7 to 10 days.
The installments will be paid within 4 years.
REQUIRED DOCUMENTS
2 Passport size pictures of the applicant
2 Photocopies of your CNIC/NICOP of the applicant
2 Photocopies of your next to Kin/ Nominee ID Card
Booking amount of the unit.
2 Photocopies of passport (for overseas clients).
Proof of Payment Receipt.
Perks of Investing in Nexus Mall Bahria Town
Following are some of the key benefits that are available for customers if they choose to invest in Nexus Mall Bahria Town.
It is situated in one of the prime locations of the city. Bahria town has established a reputable name for itself in the property market for quite some time. At current it can easily be deemed as a leading property brand in Pakistan.
Real-time investment in Nexus Mall Bahria Town ensures a source of profitable income. This can also be deemed as a handsome capital gain which ultimately helps in the long run.
The mall welcomes both residential and commercial real estate investments. The builders are highly anticipating forward trends.
Guaranteed rental income up to 100%
FAQs
Some of the frequently asked questions are as follows:
Edgestone Pvt Ltd is the owner of Nexus Mall Islamabad.
Yes, you can secure stable and long-term ROI by investing in Nexus Mall.
They do provide flexibility. With the help of down payment, you can opt for a monthly installment plan.
The booking procedure for Nexus Mall is easy to follow. You can check the details on Arkaa Consultants today!
Swiss International Hotels and Resorts is coming to Nexus Mall as they have secured an MOU for Nexus Mall Islamabad.
Yes, they do as you can generate up to PKR 1.4 Lac rental income through Nexus Mall Bahria.