One Capital Residences pours into the charm and luxury of apartment living in Capital Smart City, Islamabad.
It is a step towards advancing and modish living concepts that dominate urban and architectural development. It has the most serene views and the fresh greener dream lifestyle to offer its residents.
Capital Residences is a true blend of residential, commercial, or tourism stays. A perfect holiday destination to relax in the beauty of nature and Crystal Lake.
In correspondence with Capital Smart City's vision, it is using information technology to optimize efficiency and functionality. With a focus on providing a holistic and enriching lifestyle, the development has left no stone unturned in curating a living experience like no other.
Capital Smart City started the Vertical development after developing the Horizontal development, and its newest endeavor is the Capital Residences.
Arquivio Architects, a Madrid-based architectural company, designed and envisioned the project. Dr. Daniel Fraile, the lead architect of Arquivio Architects, is in charge of the project in collaboration with HRL and FDHL.
Located in I-Sector as well as near the backside of the Mosque of C-Sector in Capital Smart City. As a result, it represents a significant advancement in living standards.
One Capital Residences truly redefines the concept of modern living, delivering a harmonious blend of indulgence, convenience, and security. With its exceptional amenities and facilities, the development stands as a testament to a lifestyle that knows no compromises.


Arquivio Architects is offering a range of services such as follows:
Architecture
Landscaping
Lighting Design
Graphic Design
Urban Designing
Interior Designing
A Crystal Laguna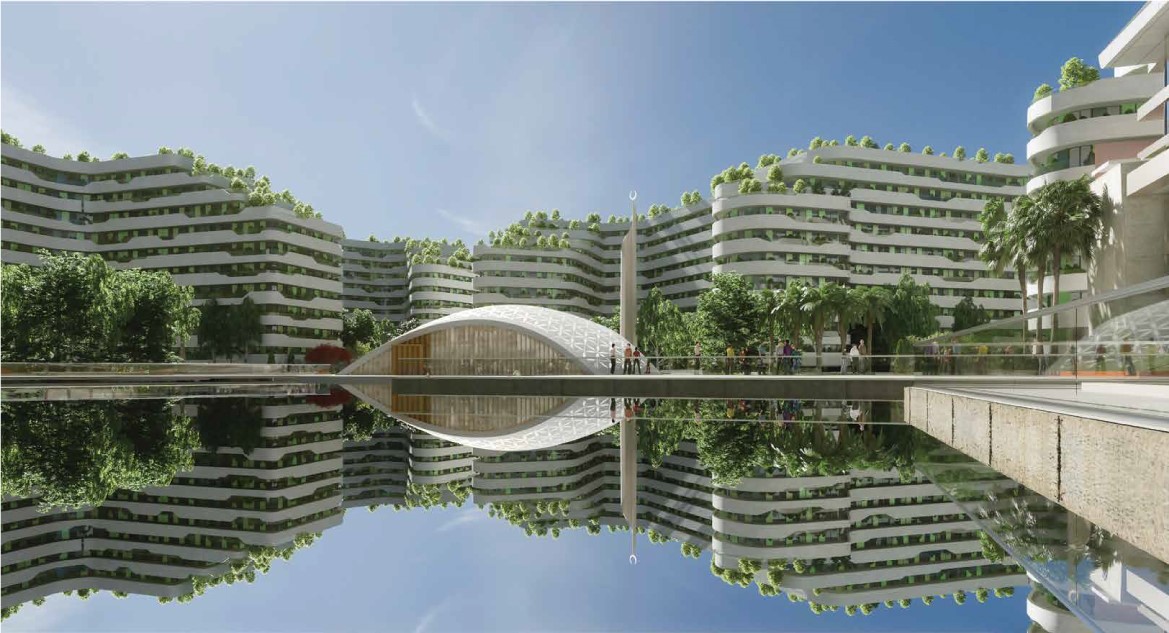 Crystal Laguna, where life is an extraordinary blend of fulfillment and transformative living. Meticulous details and breathtaking views redefine your perception of modern living.
Enriching the artistic vision, you will explore geometry, innovative techniques, vast experiences, and boundless creativity. Each space is thoughtfully crafted, and every design element narrates a unique story. Interesting for the designers from an architectural point of view generating the project solution.
Inspired by Spanish International sculptor, Eduardo Chillida, they have infused grandeur and openness into the designs. This artistic touch elevates the creations to the realm of masterpieces.
In Crystal Laguna, life unfolds like a fantasy of living in the middle of natural terrain, with such magnificent panoramas as the inspiration always firstly comes from the site, light, climate, and topography and secondly from geometry, technique, experience, creativity, and art.
One Capital Residences NOC is approved by Rawalpindi Development Authority- RDA.
Capital Smart City is a mega housing project near Islamabad, and One Capital Residences is a component of that development. So OCR possesses all the innovative and high class facilities of a smart city.
One Capital Residences is situated at a prime area in Capital Smart City Islamabad (CSCI). It's a short drive from the Lahore-Islamabad M2 Motorway near Islamabad International Airport. The way is surrounded by lush greenery which makes it a surreal journey to reach.
The vicinity of Rawalpindi Ring Road will also enhance the value of the project. The location & accessibility of the One Capital Residence is a safe and worthy investment with a luxury lifestyle.
Accessibilities
Almost 39 min drive away from Adiala Road
Almost 13 min drive away from Chakri Road
Almost 51 min drive away from M-1 Motorway
Almost 32 min drive away from M-2 Motorway
Almost 31 min drive away from Chakri Interchange
Almost 43 min drive away from Islamabad International Airport
Nearby Landmarks
Capital Residences is surrounded by several nearby landmarks & places, such as follows:
Nova City
Jarrar Camp
Qurtaba City
Kingdom Valley
M-2 Motorway
Blue World City
Discovery Gardens
Seven Wonders City
1947 Housing Society
Islamabad International Airport
One Capital presents an array of detail-to-attention designed totalling 1,738 apartments, catering to diverse preferences and needs. The development offers a variety of apartment sizes, including:
Studio Apartments: The 260 studio apartments provide a comfortable and compact layout, perfect for those who value simplicity and efficiency.
1-Bed Apartments: Designed for couples or individuals looking for a bit more space and privacy, 914 1-bed apartments offer a well-appointed living area and a separate bedroom for added comfort.
2-Bed Apartments: Perfect for small families or individuals who desire additional space, 450 2-bedroom apartments provide a balance of functionality and comfort, with two bedrooms and ample living space.
3-Bed Apartments: 80 3-bedroom apartments offer generous living areas and three private bedrooms for added convenience.
2-Bed Duplex Apartments: Combining the advantages of a duplex layout with the comfort of a 10 2-bed apartment, these residences offer a unique living experience, with two levels to maximize space and functionality.
3-Bed Duplex Apartments: 14 3-bedroom duplex apartments offer an innovative layout that spans two levels, providing residents with a sense of privacy and versatility in their living spaces.
4-Bed Duplex Apartments: These 10 exceptional duplex apartments boast four bedrooms spread across two levels, offering a spacious and flexible living arrangement for larger families or those who value abundant space.
One Capital - An Insight
One Capital redefines the art of living and has proved to be a visionary urban development that sets new standards in advanced lifestyle.
1,738 One Capital Apartments
90,000 sq ft Serviced Office Space
131,000 sq ft Retail F&B
160,000 sq ft of Green Area
30,000 sq ft Water Body
60,400 sq ft Sport Facilities
1.75 km Walkways
Basketball Court
The layout plan of OCR has been precisely designed to optimize surface areas and minimize the need for extensive general services, resulting in lower maintenance requirements.
Incorporating "smart" corridors, the layout allows for convenient external access to a significant number of housing facilities, streamlining maintenance operations for added efficiency.
Each room maintains a seamless connection with the outdoors, featuring balconies that overlook the Central Park and the breathtaking mountains, enhancing the living experience with captivating views.
To preserve the complex's aesthetic appeal, an outdoor space has been designated for Ac units, ensuring minimal visual impact while maintaining functionality.
With a focus on functionality and aesthetics, the layout plan of One Capital Residences promises a vibrant and sustainable living environment, providing residents with a remarkable and exceptional place to call home.







One Capital Residences offer 4 Towers in Overseas East (i Block).
All the towers are inspired by nature and follow the powerful profile of Khairi Murat Reserved Forest and the ancient traces of Margalla Hills.
Designers and architects have tried to incorporate the contours as part of the heart of the project, creating a vibrant skyline in the new development.
The following is the list of Towers that would be in One Capital Residences Islamabad:
Emerald
Daisy
Oleander
Jade
There are Service apartments and offices too.
It is a building in Capital Residences Islamabad by the name of Jade Tower. Jade Tower has Studio, 1,2,3,4, and duplex apartments for extraordinary standards.
They are offering studio apartments, 1 & 2-bedroom apartments with the easiest 4-year installment payment plan for now.
The bedrooms are wide and spacious and have the most enchanting infrastructure to live in the modern lifestyle everyone has been dreaming of.
Jade Tower Payment Plan
One Capital Residences, the epitome of modern living, has proudly revealed an impressive lineup of amenities and facilities that promise to elevate the standard of living for its esteemed residents.
Golf Course
For enthusiasts of the prestigious sport, One Capital Residences offers a top-notch golf course, providing the perfect setting to hone one's skills or simply indulge in leisurely rounds with friends and family.
Parks
Amidst the bustling urban environment, residents can relish the tranquility and beauty of meticulously landscaped parks, offering a serene escape from the daily grind.
High-Speed Internet
Embracing the digital age, the development ensures seamless connectivity with high-speed internet services, catering to the needs of remote work, online entertainment, and more.
80% Green Area
One Capital Residences takes pride in its commitment to green living. With a remarkable 80% of the area dedicated to lush green spaces, residents can bask in a harmonious blend of nature and modernity.
Walkways
Thoughtfully designed walkways throughout the community provide the perfect setting for leisurely strolls, promoting an active lifestyle while fostering a sense of community.
Arena for Children
Ensuring that the young residents have their fair share of fun, the development boasts an expansive arena where children can engage in various recreational activities and forge lasting friendships.
Restaurants and Coffee Houses
The gastronomic delights are never far away, as One Capital Residences houses a collection of fine restaurants and cozy coffee houses, catering to diverse culinary preferences.
Gym
Fitness enthusiasts can indulge in state-of-the-art fitness facilities, equipped with the latest exercise equipment, making it convenient to maintain a healthy and active lifestyle.
Co-working Space
Acknowledging the evolving work dynamics, the development provides a well-appointed co-working space, catering to professionals seeking a productive and collaborative work environment.
A Large Grocery Store
Convenience is paramount at One Capital Residences, with a large and well-stocked grocery store within the premises, ensuring that residents can easily access daily essentials.
Swimming Pools
Beat the heat and unwind in style with the luxurious swimming pools, where residents can relax, exercise, or simply enjoy moments of leisure.
Surveillance and Security
Safety is of utmost importance, and the development goes the extra mile with comprehensive surveillance and security measures, providing residents with peace of mind.
Integrated Waste Collection System
The Integrated Waste Collection System represents a comprehensive and unified approach to managing waste disposal and recycling processes. This innovative system aims to streamline waste collection, sorting, and recycling efforts, ensuring a more efficient and environmentally conscious approach to waste management.
By integrating various components, such as advanced waste collection methods, smart sorting technologies, and optimized recycling processes, this system seeks to minimize waste generation, promote recycling and composition.
Following are the booking guidelines to follow:
Document Verification
Financial Security
Property Visits
You have to do the following steps mentioned below:
Fill out your booking application form with full attention.
Attach the CNIC Copies of the Applicant.
Pay Down Payment via Cheque or Pay order in favor of "FDHL". Cash Payments are also accepted after confirmation by the management.
Submit all the required documents, Payment, and get the receipt.
One Capital Residences Islamabad is a multi-purpose project designed and developed to offer a unique apartment living experience for residents at affordable costs.
The NOC of One Capital Residences Islamabad is approved by RDA, as it lies in Capital Smart City.
Yes, there is no doubt because of the easy One Capital Residences Islamabad installment plans. The management has played a crucial role in balancing luxury and affordability.
One Capital Residences Islamabad is located in Capital Smart City. It's only a short drive from the Lahore-Islamabad M2 Motorway.
One Capital Residencia Islamabad is designed and developed by Arquivio Architects. Officially the owners are FDHL and HRL.