One Capital Residences- Sustainable Apartment Concept
One Capital Residences pours into the beauty and comfort of apartment living in Capital Smart City. It is a step towards advancing and modish living concepts that dominate urban and architectural development. It has the most serene views and the fresh greener dream lifestyle to offer its residents. Capital Residences is a true blend of residential, commercial, or tourism stays. A perfect holiday destination to relax in the beauty of nature and Crystal Lake.
In parallel to Capital Smart City's vision, it is using information technology to optimize efficiency and functionality.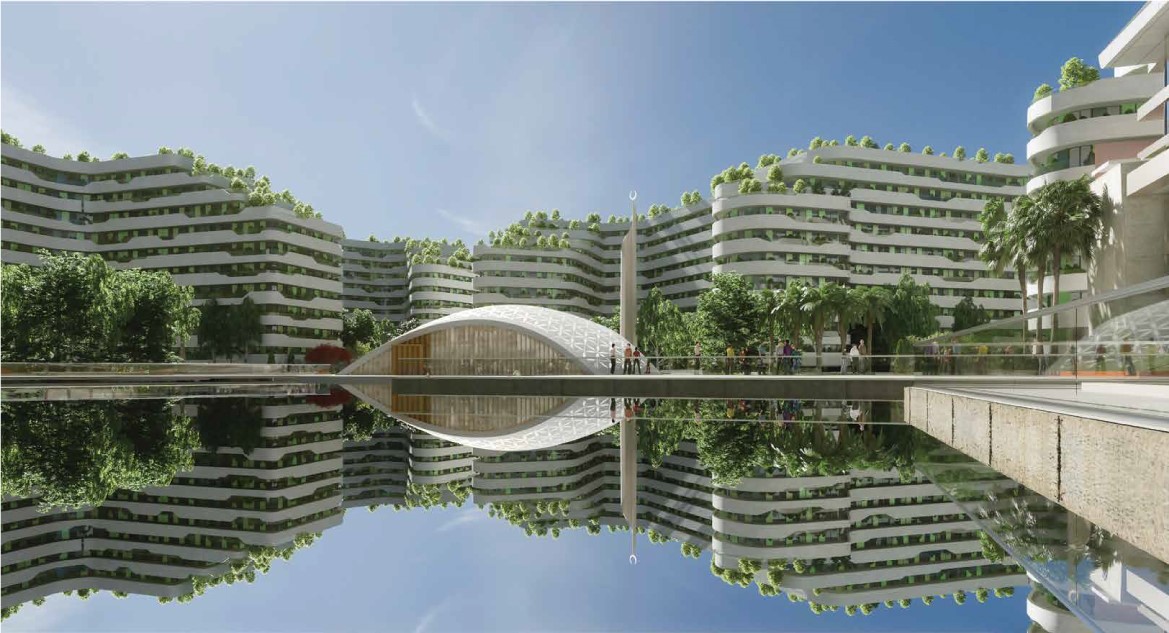 Developers of One Capital Residences
Capital Smart City started the Vertical development after developing the Horizontal development, and its newest endeavor is the Capital Residences. Arquivio Architects, a Madrid-based architectural company, designed the project. Dr. Daniel Fraile, the lead architect of Arquivio Architects, is in charge of the project in collaboration with HRL and FDHL. Located in I-Sector as well as near the backside of the Mosque of C-Sector in Capital Smart City. As a result, it represents a significant advancement in living standards.


Arquivio Architects is offering a range of services such as follows:
Architecture
Landscaping
Lighting Design
Graphic Design
Urban Designing
Interior Designing
It provides a fantasy of living in the middle of natural terrain, with such magnificent vistas as the inspiration always firstly comes from the site, light, climate, and topography and secondly from geometry, technique, experience, creativity, and art. Everything is merged together through spatial operations that are interesting for the designers from an architectural point of view generating the project solution. In this particular case, they have followed the works of Spanish International sculpturist, Eduardo Chillida, that worked with the ideas of massive and void.
Location of Capital Residences
Location of One Capital Residencia Islamabad is situated at a prime location in Capital Smart City Islamabad (CSCI). It's only a short drive from the Lahore-Islamabad Motorway M2 and is surrounded by lush greenery. The vicinity of Rawalpindi Ring Road will also enhance the value of the project. The location & accessibility of the One Capital Residence is a safe and worthy investment with a luxury lifestyle.
Accessibilities
Almost 39 min drive away from Adiala Road
Almost 13 min drive away from Chakri Road
Almost 51 min drive away from M-1 Motorway
Almost 32 min drive away from M-2 Motorway
Almost 31 min drive away from Chakri Interchange
Almost 43 min drive away from Islamabad International Airport
Nearby Landmarks
Capital Residencia is surrounded by several nearby landmarks & places, such as follows:
Rawalpindi
Islamabad
Nova City
Jarrar Camp
Qurtaba City
kingdom Valley
M-2 Motorway
Blue World City
Discovery Gardens
Seven Wonders City
1947 Housing Society
Islamabad International Airport
NOC
As everybody knows that NOC for any sort of housing society or residential apartments is necessary and possesses worth legally. That is why the Capital Smart City authority has granted One Capital Residences a legal NOC.
One Capital Residences Towers
One Capital Residences offer 4 Towers in Overseas East (i Block). All the towers are inspired by nature and follow the powerful profile of Khairi Murat Reserved Forest and the ancient traces of Margala Hills. Designers and architects have tried to incorporate that contours the same as part of the heart of the project, creating a vibrant skyline in the new development.
The following is the list of Towers that would be in One Capital Residences Islamabad:
Emerald
Daisy
Oleander
Jade
There are Serviced Apartments and Serviced Offices too.
Jade Tower
It is a building in Capital Residences Islamabad by the name of Jade Tower. Jade Tower has Studio, 1,2,3,4, and duplex apartments for extraordinary standards. They are offering studio apartments, 1 & 2-bedroom apartments with the easiest 4-year installment payment plan for now. The bedrooms are wide and spacious and have the most enchanting infrastructure to live in the modern lifestyle everyone has been dreaming of.
Jade Tower Payment Plan
Infrastructure Layout Plans







One Capital-An Insight
1,738 One Capital Apartments
90,000 Serviced Office Space
131,000 Retail F&B
160,000 Green Area
30.000 Water Body
60,400 Sport Facilities
1.75 km Walkways
Amenities and Facilities
Golf Course
Parks
High-Speed Internet
80% Green Area
Walkways
Arena for Children
Restaurants and Coffee Houses
Gym
A Large Grocery Store
Swimming Pools
Surveillance and Security
Booking Guidelines
Following are the guidelines to follow:
Document Verification
Financial Security
Property Visits
You have to do the following steps mentioned below:
Fill out your booking application form with full attention.
Attach the CNIC Copies of the Applicant.
Pay Down Payment via Cheque or Pay order in favor of "One Capital Residences," but confirm the management process in case of new changes.
Cash Payments are also accepted after confirmation by the management.
Submit all the required documents, Payment, and Get the receipt.
FAQs
One Capital Residencia Islamabad is a multi-purpose project designed and developed to offer a unique apartment living experience for residents at affordable costs.
The NOC of One Capital Residencia Islamabad is CSCI-approved.
Yes, there is no doubt because of the easy One Capital Residencia Islamabad installment plans. The management has played a crucial role in balancing luxury and affordability.
One Capital Residencia Islamabad is located in Capital Smart City.
One Capital Residencia Islamabad was developed by Arquivio Architects.