Opal Square in Islamabad
Opal square as fancy as the name sounds, this peculiar shopping mall is located in the commercial area of D-Markaz Gulberg Residencia Islamabad comprising 133 commercial shops and 11 offices with the latest form of infrastructure, revolutionized to grasp the world with its admirable, specifically designed arcade in the prime location of Islamabad. It is a vast corner plot with a three-sided road placed near the expressway making it easily accessible to customers searching to shop either for groceries or to fulfill their leisure time frenzy and entertainment all in one place without having to leave their premises.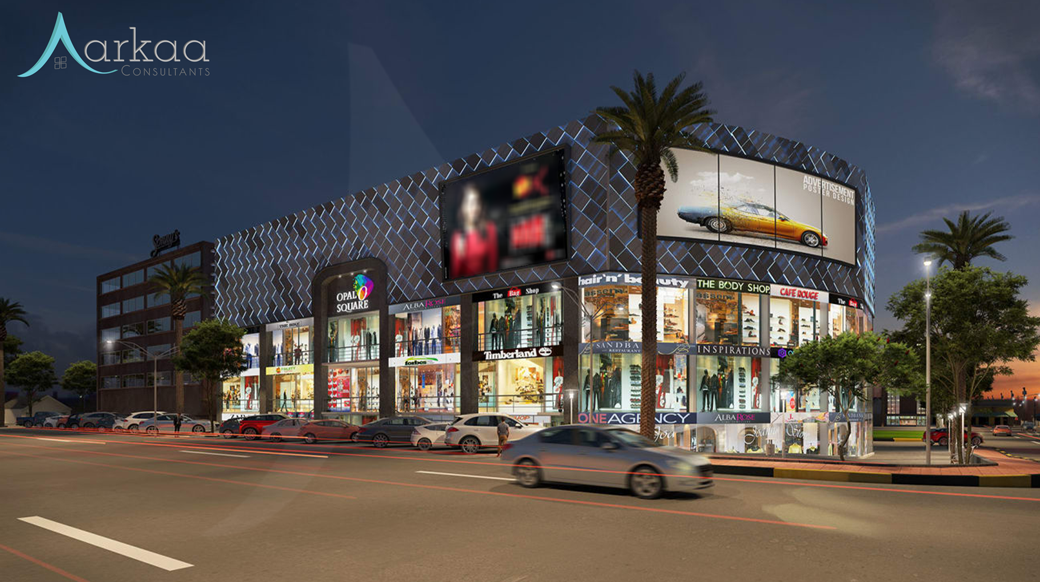 Outfitted with striking entrance, expansive corridors, spacious shops and outlets extremely suitable for corporate spaces; ease of mobility with high power generated elevators and equipment, along with the elusive ambiance of fine dining; elite restaurants and hotels altogether in a single assortment of a building, specially designed to give the feel of an international mall. The building is designed with hi-tech security and ready to deal with any striking natural disaster calamity with an infallible resistant structure. The mall has been designed by the best of professionals, with thought-provoking ideas contributing to the future of modern style of shopping combined with technology and natural beauty of landscape emerged together to present our customers with an exclusive experience.
Opal Square Islamabad - Developers
The developer of Opal Square is Edgestone Pvt. Ltd. Equipped with revolutionary ideas and a visionary sense of developing landscape Edgestone (Pvt.) Ltd. has been a leading name in the market. Their previous projects have been very successful. Their core capabilities show in the outcomes of their projects. Their priority is to complete projects on or before deadlines with finesse, dedication, and hard work.
Their goal is to build one-of-a-kind buildings. Edgestone Pvt. Ltd. has a group of very talented civil engineers, architects, technical personnel, competent field surveyors and instructors, and very dedicated staff, that work tirelessly to create innovative projects in the country.
It is their goal to make the infrastructure of high-rise buildings elegant, beautiful and durable. Edgestone Pvt. Ltd. was established as a game-changer to build the world around them a more sustainable place to live.
Their successful endeavors have gained enormous appreciation because of their deliverance on time, being on the best of locations in town, and smart building infrastructure-unique and modern in its way. Edgestone Pvt. Ltd. began their journey with the marvelous project named Titanium Heights; the apartments are located in Al-Kabir Town Phase-II, which has emerged as one of the best choices to buy property in the cultural heart of Pakistan-Lahore. Then moving onto one of the most beautiful capitals in the world, two grand projects have launched under their name. Located in the prime location of Bahria town Phase-8, near Statue of Liberty Islamabad Grand Millennium Lake View Luxury and Hotel Apartments is a striking and luxurious piece of art.
Opal Square is located in D-Markaz Gulberg Residencia Islamabad, a well-planned and well-designed shopping complex. These projects have not only garnered magnificent responses in the real estate market but also, elevated the levels of luxury living.
Yet another marvel by Edgestone Pvt. Ltd. is on its way to setting a new landmark by bringing something fresh and brilliant. The Royal Swiss Islamabad is launching soon in Bahria town Islamabad.
Landmarks by Edgestone Developers
Some of the projects that are a testament to their efficacy and efficiency are:
Royal Swiss Islamabad
Titanium Heights
Grand Millenium
Launch Date
Opal square was launched in January 2019 and most of the structure is complete.
Location of Opal Square
This shopping arcade is a once-in-a-lifetime estate that cannot be duplicated. The location of this property is superb as it is located in the D-Markaz Gulberg Residencia Islamabad.
Gulberg Residencia is an advanced housing society in Islamabad. It is located at a distance of 6 to 7 Km away from Islamabad Highway and 6 minute drive away from Gulberg Greens.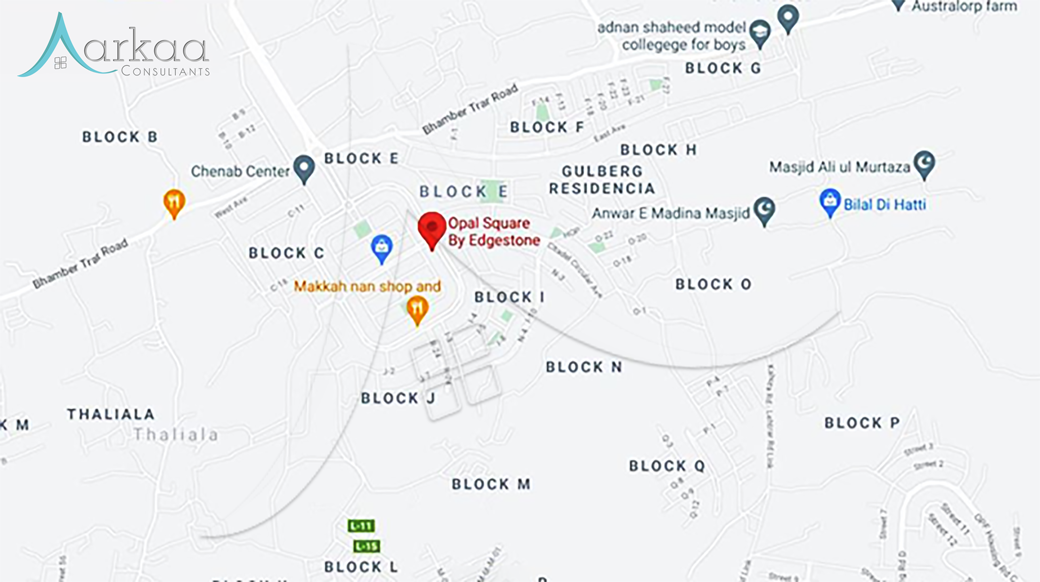 The attractive nearby places to Gulberg Residencia are:
Lake View Park situated at a distance of 25 kilometers,
Kachnar Park, Muhammad Bin Qasim Park, and Shakarparian Islamabad, located at a distance of 20-25 Minutes,
Bahria Town cinema is also located nearby Gulberg Residencia.
50 min drive from the airport to Islamabad residencies.
20 min drive from zero point
Aabpara market 20 min drive
Accessibility of Opal Square Mall
Opal Square Mall is located at one of the prime locations of Islamabad. Thus it is easy to access from the following areas:
Located at Bhambar Tarrar Road
Just a 10 min drive away from Faisal Avenue or Islamabad Expressway
16 min drive away from Lehtrar Road
14 min drive away from Kahuta Road
Some Nearby Landmarks
Opal square Islamabad is pleasantly surrounded by some exquisite landmarks that are the highlights of Islamabad:
Gulberg Heights
Gulberg Greens
Ghauri Town
Khanna
Farash Town
Comsats University
Chaklala Airport
Chaklala Scheme 3
Islamabad Expressway
Gulberg Expressway
Opal Square Mall Gulberg NOC
The reputed team of developers who are backing this project are working day and night to acquire the approval from CDA. However, as renowned names are behind this project it is already making the headlines for all the right reasons.
Facilities at Opal Square Mall
This promising infrastructure delivers all the contemporary facilities and amenities that too on cost-effective budgets. Furthermore, the developers are also keen on adapting a green lifestyle and in that context have added the installation of a water filtration system in the design.
Eco-friendly
Premium water resources
A potential business and commercial hub
Secured and gated community
Development of an eco-community
Accessibility
Features of Opal Square Islamabad
Some of the stand-out features of Opal Square, making it unique and attractive in every aspect:
Shops and Boutiques
Capacious Corporate Spaces
Modern Elevators
Security
Spacious Corridors
Stand-by power generation
Fine dinning
Exclusive Shopping Experience
Top location
Parking area
24/7 Maintenance & Security
Water and Sewerage Facility
Modern Architecture
Types of Property at Opal Square
This peculiar shopping mall is located in the commercial area of D-Markaz Gulberg Residencia Islamabad
Latest designed infrastructure housing 133 commercial shops and 11 offices
Lower ground and 3 more floors elevated above
Shops till 2nd-floor
Expansive office spaces on the 3rd floor.
Boulevard Corner
The shopping mall is adorned with spacious shops designed by experienced architects and interior fabricated from the most durable materials. The boulevard corner shops are specifically designed to catch visitors' attention. The shops are suitable for all kinds of branding outlets.
Boulevard
The best location can help you in engaging greater clientele. The boulevard shops are securely designed to facilitate you by providing the best spot in the building.
General
The smart interior design with the proper setting of each shop is placed carefully inside the building. Every shop depicts a spacious and modern interior.
Corner
The corner shops are the best ones, great location, and great interior, suitable for every type of outlet for food, clothing, or any other accessory.
Offices
Comfortable, relaxing, creative, and great office interior designs. The thoughtful architecture of the office spaces in the compound makes the experience long-lasting.
Opal Square Payment Plan
For all those who are curious regarding making an investment in this esteemed real estate infrastructure, this given below detailed payment plan will surely help you in this regard.
Lower Ground Floor Payment Plan
Opal square Gulberg Residencia payment plan for lower ground floor is given below. This payment plan also contains information related to the size chart and total price plan.
Ground Floor Payment Plan
The ground floor of opal square Gulberg residencia has a size chart that ranges from 200 sq. ft to 934 sq. ft. The payment plan for this section is quite flexible for the customers
First Floor Payment Plan
For the first floor, the location includes a boulevard corner as well as a general and 100 feet road with a corner and simple. The further details related to payment are given below.
Second Floor Payment Plan
The payment plan for the second floor of Opal square Gulberg Residencia offers an easy installment plan for premium locations. Further details are given below:
Third Floor Payment Plan
The third floor is a premium floor of opal square mall and its detailed price plan is given below with the size sq. ft. information:
Booking Procedure of Opal Square Islamabad
If you are interested in booking your unit in Opal Square Gulberg Residencia you can simply follow the steps given below to get yourself registered:
Pay order/cheque/cash/transfer of down payment in favor of A/c details of Edgestone Developers (Pvt) Ltd.
WhatsApp your required documents at UAN# 0311-1127522
Your booking confirmation will be sent to you on WhatsApp within 24 hours.
Your original file will be ready within 2 days and sent to your place/registered address.
Charges to be Paid at the Time of Booking
30% down payment on all units has to be paid within 7 to 10 days
The installments will be paid within 1.5-years
Required Documents
2 Passport size pictures of the applicant
2 Photocopies of your NIC/NICOP of the applicant
2 Photocopies of your next to Kin/ Nominee ID Card
Booking amount of the unit.
2 Photocopies of passport (for overseas clients).
Proof of Payment Receipt.
Benefits of Investing in Opal Square Islamabad
Some outstanding features of Opal Square to grasp your attention:
Rates have been appreciated in the past.
The project has been delivered by developers in 1.5 years (six months before the promised time.)
Project delivered as per the commitment. Edgestone holds its credibility.
The structure has been developed and ready for possession on LG and GF-1st to 3rd Floor is ready for possession.
The possession fee is only 10%.
Corner Plot connected through 3-sided road
It is an Exclusive commercial project.
Booking commences with 30% and rests to be paid in (12 months LG & G floors & 18 months from 1st to 3rd Floor).
The primary location of Gulberg Residencia at D Markaz. The main point for entrance and exit for all residents.
50-60% expected returns in 3 years.
Adjustment should be in big cities.
33500 commercial plots near D Markaz. Commercial hub for opal square.
Get yourself registered for the limited-time offer.
CDA approved society.
Opal Square Mall; You Cannot Miss This One
Opal square mall is the answer to a number of questions. It is and will be the main hub for various activities. Opal square mall boosts corporate offices as well as workplaces that are properly furnished. Furthermore, it also has a food court and all the additional facilities. Thus, make sure to secure an investment in this one as it is one for all, all for one.
FAQs
Opal Square is located in D-Markaz Gulberg Residencia Islamabad.
Edgestone PVT Ltd are the developers of Opal Square.
Possession fee for Opal Square Islamabad is only 10%.
The project comprises 133 commercial shops.