Park View City Islamabad
Islamabad Park View City, the CDA-approved housing town is the perfect definition of luxury, and splendid serenity. It has a lot to offer to the citizens of Pakistan. Vision Group is the organization behind this housing scheme. It is located in Islamabad Zone IV, in the heart of Islamabad.
The housing scheme Main Boulevard is 400ft wide, providing direct access into the town from the highway. Furthermore, Kurri Road and Bani Gala provide another avenue for entry into town. The landscape, breathtaking views, and availability of lavish facilities make this scheme famous among investors.
It is the ideal place for families who prefer to live in a peaceful, secure, and environmentally friendly neighborhood with serene views.
Park View City Islamabad Developer
The Vision Group is the developer of Park View City Islamabad, a one-of-a-kind project. Aleem Khan, a prominent political figure, founded Vision Group in 2012. Vision Group has earned a reputation for providing dependable living in first-rate facilities. Park View City, Islamabad, is Vision Group's first project in the Capital city, and it has gained enormous applause for touching every element of the design and seamlessly blending modern edge and refined elegance through immaculate expertise.
The Vision Group has successfully established its name in the country as a result of some well-known projects that it has developed thus far:
Abdul Aleem Khan Foundation
Park View Icon located at I.I. Chundrigar Road-Karachi
Park View City in Lahore
Park View Corporate Center at Mall Road-Lahore
Park View Signature Apartments at Gulberg-Lahore
The National School
Park View Villas at Multan Road-Lahore
Park View City in Islamabad Location
Convenience is the most appealing feature of any housing town. The majority of the time, investors look for ways to get to the site. Park View Society Islamabad smacks the ball out of the park in this regard. This housing scheme's location and accessibility speak for themselves.
The project is located on zone IV Malot Road near Bahria Enclave in the Capital city of Pakistan. The town has charming views because it is surrounded by Bani Gala, a lush green area. Park View Islamabad is only a 15 minutes drive from the city.
Furthermore, the town is situated in the middle of a Botanical Garden with surreal views. The residential area's main entrance is on Rawal Chowk, and the second gate is on Bhara Kahu.
Park View City is as close to the main metropolis as you want it to be, but it is also far away from the city's hassles, noise, and air pollution. As a result, it is ideal for constructing a forever dream home.
Accessibility
Max 12 mins drive from the city
Main entrance from Rawal Chowk
2nd gate at Bhara Kahu
Easy access via Main Jinnah Avenue from Malot Road
200ft wide main road access (The access is given to the town by CDA from Kurri Road)
Park View City Islamabad Map
Park View City is direct across the street from Bahria Enclave, as shown on the map. Bani Gala is quite close to the housing area. Park View City Islamabad is only 5 minutes away from Bahria Enclave and Bani Gala. It is only a 15-minute drive from Serena Hotel Islamabad. It is just 1 minute away from the Botanical Garden.
The housing scheme is 8 kilometers from Chak Shahzad through Park Road & Kuri Road, Kashmir Highway, Lehtrar Road, and Islamabad Road Route.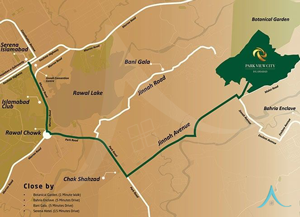 Park View City Islamabad NOC
Park View City Islamabad is not only CDA approved but got its NOC. In the past, the NOC got canceled because of inappropriate access from Malot Road. But the good news is that on 1st June 2018, The NOC of Park View City got its approval from CDA along with all the necessary planning permissions.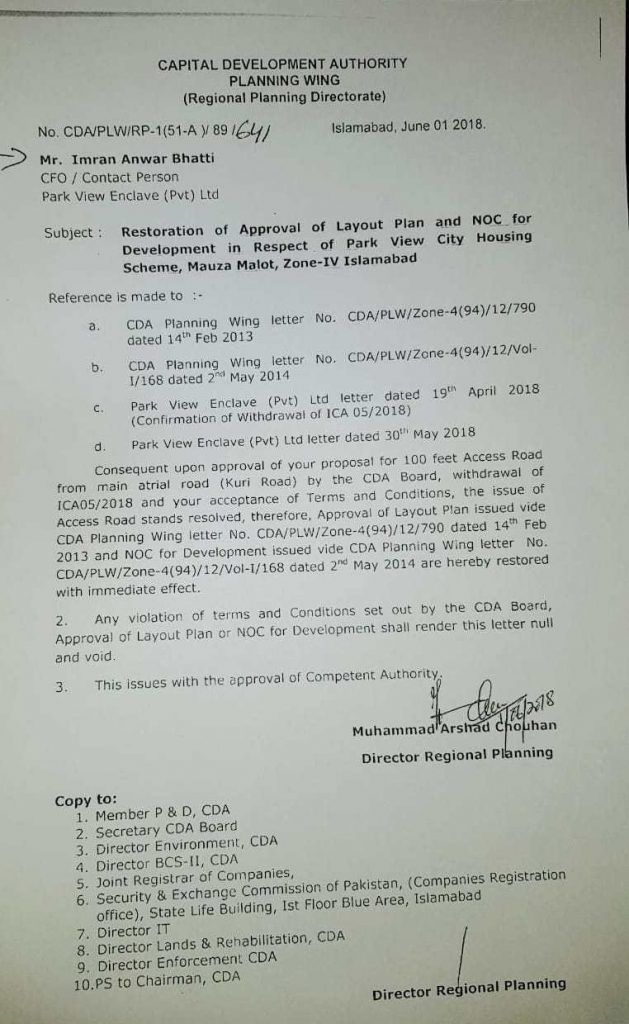 Park View City Islamabad Master Plan
To understand the layout of the complex well, the following map is the best to look at: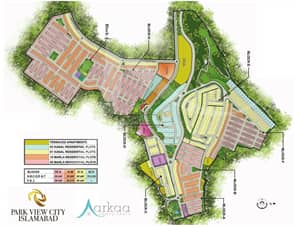 Block in Park View Islamabad
Park View City, Islamabad payment plan, is also fairly flexible since they currently offer an easy installment plan. The blocks of Park View City have commercial and residential plots each block as follows:
Residential Plots
Golf Estate
Overseas Block
A, B, C, D, E F, K, and J Blocks
Park View Homes
Commercial Plots
The Walk
Overseas Commercial
Commercial Downtown
A person can reserve any plot by paying a 20% down payment. The remaining balance must be paid over two years in eight quarterly installments.
Park View City Islamabad Residential Plots
Following are the blocks available in the residential category in Park View Islamabad:
Park View City Islamabad Golf Estate
Golf Estate at Park View City Islamabad is the name of luxury, comfort, and most appropriate facilities meet the suitable residing experience. Golf Estate is a venture with residential plots that encompass the top rate and comfort centers available in a dream lifestyle. Golf Estate brings 5 marlas, 10 marlas, and 1 Kanal residential plot.
Park View City Islamabad Golf Estate Payment Plan
Park View City Islamabad Overseas Block
Park View City Islamabad is a development with excellent amenities for everyone. The developers have an exclusive addition to the town, Overseas Block which is boosting its popularity.
It will undoubtedly have all of the international features. It is a block that has been meticulously designed to ensure that overseas Pakistanis have no problems after relocating.
Because of all the overseas Pakistanis looking for a suitable place to live, the developers feel compelled to construct this block. The residence in the block is not only beautiful, but it also offers numerous business opportunities. There is no reason to doubt this block's success.
Overseas Block Location of Park View Islamabad
This block's location is excellent, close to Gate 1. The block is also close to the commercial downtown. It means that, in addition to living a luxurious life, this town also provides a variety of investment opportunities. It offers 5,10 Marla and 1 Kanal plots.
Park View City Islamabad Overseas Block Payment Plan
Amenities in Overseas Block
The developers didn't just focus on making the block beautiful but they also ensured the fact that the resident's needs and requirements get fulfilled. The amenities of these blocks are as followed:
Devoted fitness and academic centers with a 25% discount
24/7 electricity, gas & water availability
Installation of CCTV security, motion sensors & availability of guards
Wifi availability
Park View City Islamabad Terrace C-Block
Terrace Apartments is the epitome of luxury and elegance. The Terrace C-Block is ready with 10 Marla plots with all of the fundamental and present-day amenities.
Park View City Islamabad Terrace C-Block Payment Plan
Park View City Islamabad Terrace Apartments
Apartments are a great part of any town And especially for those who are more favor in living in a small and compatible place rather than a big home. If you are one of those people then an apartment is definitely what you are looking for. Park View Islamabad brings you Terrace Apartments with 2 and 3 beds in different sizes.
Park View City Islamabad Terrace Apartments Payment Plan
Park View City Islamabad 3.5 Marla
Parkview town is proud to provide the restricted plots of 3.5 Marla on installments in Block K. The plot can be booked at a 20% down price and the relaxation of the quantity may be submitted in 30 clean month-to-month installments.
Park View City Islamabad 3.5 Marla Payment Plan
Park View City Islamabad J Block
J Block offers plots in 5,8,10 Marla and 1,2 Kanal plots. 8 Marla in J block are limited plots and are in high demand. The size of 8 Marlas in J Block is 30×60. A unique and ideal size to fit your modern-day needs and your family.
Park View City Islamabad J Block Payment Plan
Park View City Islamabad A and B Block
Block A and B present 5,10 Marlas and 1 Kanal residential plots in Park View Islamabad.
Park View City Islamabad A and B Block Payment Plan
Park View City Islamabad C, D and E Block
Block C, D, and E have quite big plots of 1 and 2 Kanal which you can design according to your choices and build a home that you have been imagining from always.
Park View City Islamabad C, D and E Block Payment Plan
Park View City Islamabad 2 Kanal Plot
2 Kanal plots in Park View Islamabad F block serve just the right luxurious, spacious, and comfortable land with such an enormous-sized dream home. So you can construct it according to your taste and choice.
Park View City Islamabad 2 Kanal Plot Payment Plan
Park View Homes Islamabad
Park View presents finished homes for the ones who don't have enough time to stand, wait and get their creative dreams constructed. This housing area has you covered by offering you 5 marlas beautiful ready-made homes which are ready for possession.
Park View Homes Islamabad Payment Plans
Park View City Islamabad Commercial Plots
Park View City Islamabad also provides excellent business opportunities to residents and others. So, if you want to invest in a commercial plot, Park View City has The Walk, Overseas Commercial, Commercial Downtown, and 1 Kanal plots. Each plot is available at a prime location and has all the amenities needed to run a successful business.
Park View City Islamabad The Walk
Park View Islamabad has designed one of the grandest and most vibrant multi-brand shopping area, The Walk with 1 Kanal Commercial plots. It will lead to the best business strategies and for the investors too.
Park View City Islamabad The Walk Payment Plan
Park View City Islamabad Overseas Commercial
Developers are launching an extraordinary 3.5 marlas commercial plot in the Overseas block. Overseas is one of the maximum top-rate blocks in Park View City with exceptional and top-class facilities. It has a 2-year easy payment plan. This is a golden possibility to invest in.
Park View City Islamabad Overseas Commercial Payment Plan
Park View City Islamabad Commercial Downtown
Park View City Islamabad is going to be the first-ever to have a downtown in the Capital. The Commercial downtown is based on 300 Kanal's beautiful lake to be in the most surreal, lush green hills and between the arms of the beauty of nature with a lake view. The commercial downtown offers 6 and 8 Marla plots for investors. The housing scheme is not only good for investment but a great place to live and work effectively. There is no need to waste time, and investors should take advantage of the opportunity.
Park View City Islamabad Commercial Downtown Payment Plan
Park View City Islamabad Features
Park View City is one of Islamabad's most innovative real estate developments and provides all of life's fundamental necessities serving some amazing features. The makers of this huge project have worked around the clock to ensure that basic services are available to residents at all times.
Secured Community:Every resident wishes to live in a safe and secure town where they can enjoy a peaceful life. Park View City is completely gated and protected. The town's premises are also surrounded by a boundary wall.
24/7 Surveillance:Residents' safety is a top priority for the developers, which is why CCTV cameras have been placed throughout the complex.
24/7 Supply of Water, Electricity & Gas:Everyone these days, especially in Pakistan, wants to live in a place where they can obtain water, gas, and electricity 24 hours a day, seven days a week. Residents of Park View City have been promised this.
Underground Electricity Supply:To avoid the problem of power outages, the town's electrical work is planned underground. It is also a move that preserves the town's attractiveness and is relatively safe.
Schools:The best schools will be located near each section of town and will provide the best curriculum. In addition, the Vision Group has decided to open a National School Branch in Park View City. The school will be run by the Aleem Khan Foundation, which is owned by Vision Group.
Mosque:The enticing mosques will also be a part of this amazing town, to look after the religious values.
Modern Infrastructure:The city benefits greatly from its rich green natural surroundings. In addition, the installation of contemporary infrastructures, such as high-rise buildings, enhances the overall appearance.
Sports Complex:Regular exercise is essential for living a healthy and happy life. With this in mind, Park View City has constructed a fully functional and high-tech sports center for its residents.
Imax Cinemas:It isn't an exaggeration to claim that Park View City excels at luxury. The housing scheme has IMAX and 3D cinemas that provide visitors with a once-in-a-lifetime experience.
Parks & Zoos:The housing scheme not only caters to adults but also provides equal possibilities for children to have fun. The zoo and park are also part of the town's master plan.
Commercial Areas:There is no need to go out shopping because the commercial districts are wonderful and feature a variety of big brands.
Update of Park View City of Islamabad
The development process of the scheme is moving at a rapid pace, as the management aims to complete the project on time. Blocks A and B are nearly finished. Earthwork has begun in the surrounding areas.
The water treatment plant will be installed soon to ensure that the residents of Block A have access to clean water at all times. The main entrance has been finished. The land in Park View is fertile and agricultural.
Park View appears to be unreal after the completion of the main gate. Construction on the 200-foot-wide main road has also begun, and it is expected to be completed within the next few months. It is a road built by the owners after receiving approval from the CDA. It is easily accessible from Kurri Road.
Balloting of Park View City
Following the payment of any outstanding debts, the balloting process for plots was held within the Park View on March 24, 2019. It is an event attended by well-known dealers. Plots of 5, 8, 10 Marla, and 1 and 2 Kanal were assigned.
The event was fairly managed by utilizing a computerized process for investors who paid installments and dues on time. Within a few days, the plot number and other plot-related information were sent to the owners.
Booking Procedure for Park View Islamabad
If you are interested in booking your plot in Park View City Islamabad, you can simply follow the steps given below to get yourself registered:
Pay order/cheque/cash/transfer of down payment in favor of A/c details of the Vision Group
WhatsApp your required documents at UAN# 0311-1127522
Your booking confirmation will be sent to you on WhatsApp within 7 days
The original digital receipt will be available within 14 days
Note: Your original file will be ready within 30 to 45 days and sent to your place/registered address. Membership charges are also to be paid by the client at the time of booking.
Charges to be paid at the Time of Booking
20% down payment on 5,8,10 Marla & 1, 2 Kanal
80% charges to be paid (within 2 years)
For the overseas block, the booking amount is 10%, on confirmation 10% (in 30 days), and 10 quarterly installments
Required Documents
2 Passport size pictures of the applicant
2 Photocopies of your CNIC/NICOP of the applicant
2 Photocopies of your next Kin/ Nominee ID Card
Booking amount of the plot
2 Photocopies of passport (for overseas clients)
The thing to Consider when Investing in Park View Islamabad
Buying a property isn't a game. It is a huge step taken by the investors. So, there are a few things an individual must keep in mind when investing, such as:
Documents Verification, including NOC
When purchasing a plot, it is critical to focus on the paperwork because you are about to make a large investment. Check all of the CDA documents twice. Obtain permission from the appropriate department to ensure that you are investing in a legal project.
Check the Affordability
Check your affordability before making any major decisions. Other than the plot price, there are several fees associated with the process, such as a membership fee, a transfer fee, a survey fee, development charges, and even an agent's commission.
Do a Survey
Before purchasing a plot in Park View City, the investor should pay a visit to the site to inspect the land. You should also be familiar with the area. Even if you're about to buy a file without balloting or possession, a survey is essential.
FAQs
The Society is located near Bahria Enclave Malot Road in Islamabad, Pakistan's capital zone IV.
The one-of-a-kind project, Park View City, is the project of Vision Group, owned by Aleem Khan the member of political party PTI.
The society is legal as it is not only CDA approved but has also acquired its approval from NOC too.
Both commercial and residential plots are available in Park View City. Residential plots are of 3.5, 5, 8, 10 Marla, 1, 2 Kanal, and commercial plots are of 6 and 8 Marla.
The society offers the best installment plan of 2 years.
The facilities offered by the society are many including, 24/7 security, availability of water, electricity, gas, mosques, parks, schools, cinemas, and so on.
The society offers the greatest investment opportunity to the Overseas Pakistanis. There is a separate block for them that has all the international features. To learn more details, contact Arkaa Consultants.
Now that you know, this society is amazing and provides a profitable return on investment. It is time to make an investment for the betterment of your future prospects.