Citi Housing Jhelum - Gold Signature Living
Citi Housing scheme Jhelum is driven by the vision of providing its residents with a healthy and vibrant lifestyle. Strolling along the streets, pedestrians are treated to a view filled with the beauty of nature.
The people of Jhelum regard this housing community as the epitome of quality lifestyle, town planning, development, construction, maintenance, and horticulture.
The society is dedicated to creating a breathtaking environment that fosters a sense of pride among its residents. Each corner of the community is filled with an aura of sophistication, reflecting excellence in every aspect of urban living.
The well-manicured gardens, lush green spaces, and captivating landmarks all contribute to a sublime living experience that captures the essence of an upscale lifestyle. This harmonious blend of nature and artistic urban design transforms the cityscape into an imaginary paradise.
Citi Housing Jhelum Owner and Developer
Amer Malik, the Chairman of Citi Housing (Pvt) LTD, is renowned for his visionary leadership and business approach. As the son-in-law of Malik Riaz, the esteemed founder of the organization, he carries forward the legacy of excellence established by his predecessor. Under his guidance, the company has evolved into a performance-driven organization that values its people as the greatest assets.
Zoraiz Malik is, the Chief Executive Officer, pivotal in steering the company toward continued growth and prosperity. With an impressive background in business management and a deep understanding of the real estate industry, he brings a wealth of expertise to the organization.
Brigadier (Retired) M. Fiaz Iqbal holds the position of Project Director. With a military background and a wealth of experience in project management, he brings a disciplined and organized approach to the company's endeavors. As Project Director, he plays a crucial role in overseeing the execution of various projects and ensuring their successful completion.
These key figures - Amer Malik as Chairman, Zoraiz Malik as CEO, and Brigadier (Retired) M. Fiaz Iqbal as Project Director - form a dynamic team that drives the company forward.
Citi Housing Jhelum NOC
Citi Housing Jhelum's NOC is officially approved by Tehsil Municipal Administration (TMA). A NOC indicates that the project has fulfilled all the requirements and complies with local regulations and laws. It shows that Citi is a trustworthy investment for an elevated lifestyle.
Citi Housing Jhelum Location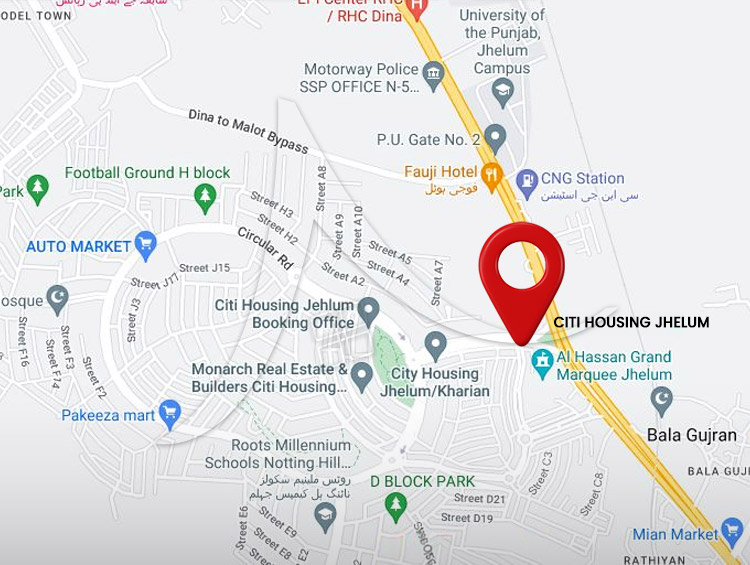 It is strategically located between Jhelum and Dina City on the Main G.T. Road. Its proximity to Punjab University Jhelum Campus adds to its allure for students and academics.
The project's location provides convenient access to many prominent destinations. Roots Millennium School, Citi Theme Park, Al Hassan Grand Marquee Jhelum, Satellite Town Park, Ch. Akhtar Hotel and CNG Station are nearby places.
Here are some of the notable travel times from Housing Jhelum to nearby attractions:
4 minutes drive to Jhelum Main Bazar: Residents can reach the bustling Jhelum Main Bazar within a short 4-minute drive, offering them access to various shopping, dining, and entertainment options.
3 minutes drive to Jhelum River: The serene and picturesque Jhelum River is just a 3-minute away, providing residents with a beautiful natural retreat for leisure and relaxation.
20 minutes drive to Mangla Water Resort: Nature enthusiasts and families can enjoy a refreshing day at the Mangla Water Resort, just a 20-minute drive.
20 minutes drive to Rohtas Fort: History buffs can explore the historic Rohtas Fort, a UNESCO World Heritage Site conveniently reachable within a 20-minute drive.
50 minutes drive to Mirpur City: Residents can easily travel to Mirpur City, a major city in Azad Kashmir, within a reasonable 50-minute drive.
1-hour drive to Gujranwala: The city of Gujranwala is accessible within an hour's drive, offering options for shopping, business, and recreational activities.
1.5-hour drive to Islamabad: The capital city of Pakistan, Islamabad, is approximately a 1.5-hour drive away, providing residents with access to national institutions, commercial centers, and a broader range of opportunities.
Citi Housing Jhelum Master Plan
Citi Housing's master plan showcases a well-organized and thoughtfully designed community. The project is divided into several blocks, each offering a range of residential and commercial plots. Here are the key features of the master plan:
Citi Housing Jhelum Blocks
The project is divided into residential and commercial blocks:
Residential Blocks
A, B, C, D, E, F, G, H, J, K, Overseas Block, Eiffel Tower Block, DD Block, Hyde Park Block, and Emerald Hills Block.
Commercial Blocks
They offer commercial plots for sale in multiple blocks.
Each block has unique characteristics and amenities to cater to the diverse needs of residents.
Plot Sizes
The residential plots in Jhelum society range from 5 Marla to 2 Kanal, catering to varying preferences and requirements of potential residents.
The commercial plots are available in sizes ranging from 2 Marla to 8 Marla, offering business and investment venture opportunities.
Height Above Sea Level
The site's location at more than 234 meters above sea level may offer breathtaking views of the surrounding landscape, providing residents with a serene and elevated living experience.
The master plan emphasizes a well-balanced and self-sufficient community, catering to the needs of its residents through a diverse range of plot sizes and essential infrastructure services.
Citi Housing Jhelum Payment Plan
Citi Housing Jhelum installment plan offers a wide range of plot sizes for sale, catering to potential buyer's diverse preferences and needs. The available plot sizes include 5 Marlas, 10 Marlas, 1 Kanal, and 2 Kanal, providing choices for investors and homeowners.
The residential plot for sale in Hyde Park Block and Emerald Hills Block is available for purchase through flexible installment plans. Buyers can pay in easy installments over 2.5 to 3 years, making property ownership more accessible and manageable.
The prices of the plots may vary depending on their size, location, and specific features. With the installment plan, buyers can secure their desired plots while accommodating their financial capabilities.
All blocks in Citi Housing Jhelum, except for Eiffel, DD, and Hyde Park Blocks, have already been handed over to the respective plot owners. For the remaining blocks, including Eiffel, DD, and Hyde Park, possession will only be granted upon the complete payment of the plot price.
Once the full payment is made, the ownership of the plots in these blocks will be transferred to the buyers, and they will be eligible to take possession of their properties.
Hyde Park Payment Plan
Emerald Hills Payment Plan
Citi Facilities and Amenities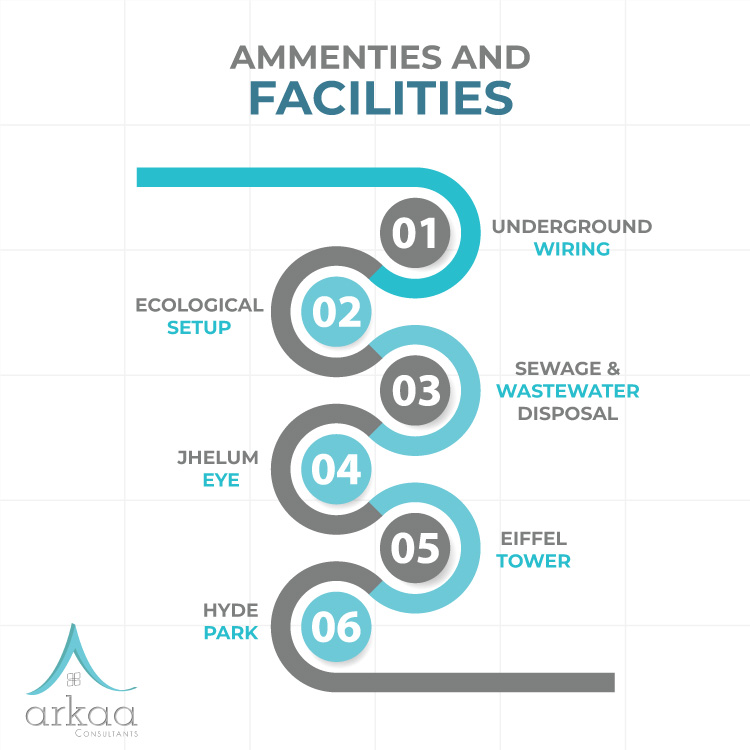 The housing community offers multiple services.
Sustainable Citi:
Citi Housing (Pvt) LTD is committed to sustainability, integrating eco-friendly practices into its infrastructure and operations. The company employs energy-efficient technologies, green building materials, and waste-reduction measures to create a sustainable environment for its residents.
Underground Wiring:
To maintain the aesthetic appeal of the cityscape, they have designed an underground service corridor that conceals utility lines such as electricity, water, and telecommunication. This thoughtful approach ensures a clutter-free and visually appealing urban landscape.
Grid Stations & Generators:
Housing society ensures a reliable power supply by establishing grid stations and deploying backup generators. This approach minimizes power disruptions, allowing residents to enjoy uninterrupted electricity even during unforeseen outages.
Road Structure:
The road infrastructure is meticulously planned and constructed. High-quality materials and engineering standards create durable, smooth, well-maintained roads, ensuring seamless connectivity throughout the community.
Ecological Setup – A Pedestrian Delight:
The ecological setup is designed to be a delight for pedestrians. Expensive plants, beautiful flower beds, and manicured grasslands adorn the streets and parks, creating a serene and visually appealing environment that encourages residents to walk and enjoy the outdoors.
Operation & Maintenance:
The community takes pride in its efficient operation and maintenance services. A dedicated team ensures that all facilities and amenities are well-maintained, providing residents with a comfortable and hassle-free living experience.
Water Supply:
A reliable water supply service is a top priority for developers. The community ensures an adequate and consistent water supply, meeting the needs of its residents.
Garbage Disposal:
To maintain cleanliness and hygiene, Citi offers an organized garbage disposal service. Proper waste management practices are implemented to keep the environment clean and litter-free.
Electricity In Case Of Power Outage:
In a power outage, the community ensures its residents can access alternative electricity sources, such as backup generators, to mitigate the inconvenience.
Natural Gas Supply:
They provide a safe and consistent natural gas supply service, catering to the energy needs of their residents.
Sewage & Wastewater Disposal:
A well-planned sewage and wastewater disposal system ensures proper sanitation and environmental protection within the community.
Rainwater Disposal:
The society staff employs rainwater disposal systems to manage and utilize rainwater effectively, promoting sustainability and water conservation.
Mass Fumigation To Kill Insects:
To maintain a pest-free environment, the society conducts mass fumigation exercises periodically to control insects and pests effectively.
Dancing Fountain:
The Dancing Fountain is a captivating water feature that offers a mesmerizing display of lights and synchronized movements, providing residents with a delightful spectacle and a place to unwind.
Jhelum Eye:
Jhelum Eye is likely a Ferris wheel or observation wheel that offers panoramic views of the town and its surroundings. It is a popular attraction for residents and visitors alike, providing a unique area perspective.
Eiffel Tower:
Inspired by the iconic landmark in Paris, the Eiffel Tower in Citi Housing Jhelum serves as a symbol of elegance and grandeur, adding to the town's architectural beauty.
Zoo:
The town's zoo provides a recreational space for families and nature enthusiasts to observe and interact with various animal species, making it an enjoyable outing destination.
Cinema:
A cinema in town offers residents the opportunity to enjoy the latest movies and entertainment in the comfort of their town.
Banks:
Having banks within the town's vicinity ensures residents have easy access to financial services and facilities, enhancing convenience and accessibility for all banking needs.
Gym:
The availability of a gym or fitness center allows residents to prioritize their health and well-being, offering an opportunity to stay active and fit.
Hyde Park:
Hyde Park provides a green oasis for relaxation and recreation, featuring landscaped gardens, walking paths, and recreational facilities, creating a serene and peaceful environment.
By offering a range of infrastructure and services, Citi Housing aims to create a sustainable, comfortable, and vibrant living environment for its residents.
How To Book A Plot in Citi Housing Jhelum?
Avail the opportunity to receive assistance from Arkaa Consultants expert team, who are always available to help. The project's pricing is highly competitive and varies based on the land size.
FAQs
Citi Housing Jhelum, situated along G.T. Road, is a contemporary housing project renowned for its modern amenities and affordability. The driving force behind this development is Amer Malik, the developer and owner who belongs to the esteemed Citi Housing Group (Pvt) LTD.
Citi Housing Jhelum is located between Jhelum and Dina City on the Main G.T. Road.
Investing in Citi Housing presents a compelling opportunity within Pakistan's real estate sector. Citi Housing Jhelum stands out as a promising investment avenue, providing individuals with a heightened quality of living. Notably, the project will extend an adaptable payment structure for residential and commercial plots, enhancing its attractiveness as a potential investment option.