Liberty Lands Lahore also known as Etihad Town Phase 4 has been launched that would place a luxurious residential housing scheme closer to downtown Lahore. The project was launched by Union developers and Liberty Lands location is at Ring Road LDA City Interchange to Mauza Jia Bagga Road for an area measuring 373.55 Kanals, with the backside of Lake City at its center. This Society is proposed to be the best investment opportunity.

The Union developers have launched Liberty Lands Lahore, which has gained a lot of popularity. Customers here and Overseas have been investing in this project. The moment you are satisfied and ready to take a step is the time to invest your earned money in Liberty Lands Lahore to generate a great return on investment.
Liberty Lands Developers
Liberty Lands Lahore is the project of renowned developers named Union. The Union Developers work with the goal of delivering cost-effective upscale residential and commercial projects that rival international standards. One of the most finest example of work by Union Developers is the project Etihad Town Phase 4 aka Liberty Lands Lahore.

Union developers have a mission to upscale real estate and provide luxury dream homes with modern infrastructure and top-notch construction. The advanced designs of their professionals set an excellent quality for their whole project, which will be led by an unrealistic lead designer who has precise concepts about how to make it all come together attractively.
They have also successfully delivered some projects and some of them are under development.
Etihad Town Lahore Phase 1 & 2.
Etihad Garden Rahim Yar Khan.
Union Livings/Etihad Town Phase 3 Lahore.
Union Luxury Apartments Lahore.
Liberty Lands NOC
Liberty Lands No Obligation Certificate falling in Mouza Jia Bagga, Tehsil Raiwind, Lahore, for an area measuring 373.55 Kanals has been technically approved by Lahore Development Authority vide letter No.LDA/DMP-v/ 1411 dated 27.12.2021.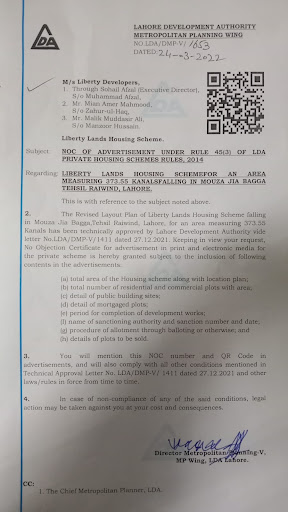 Liberty Lands Location
If we are to talk about the location of this mega project, it is very much accessible and that's the main reason it's attracting a lot of investors.
The Liberty Lands, Etihad Town Phase 4 is located at Mouza Jia Bagga Road near LDA City Ring Road Interchange. The nearest housing society is Park Avenue Lahore.
Liberty Lands Lahore Map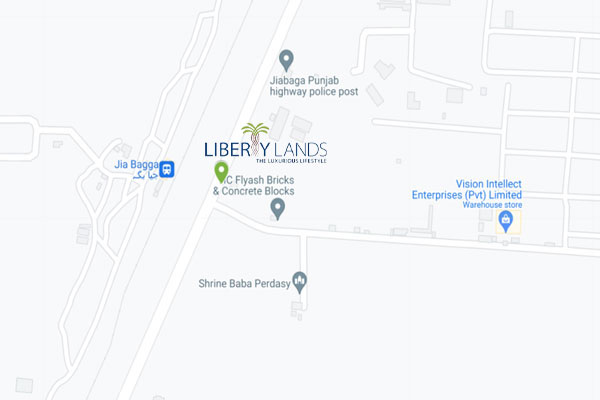 Accessibility of Liberty Lands Lahore
The housing scheme is accessible from multiple routes. Some of the Liberty Lands Lahore accessibility are:
A 2-minute drive from LDA City and Halloki Ring Road Interchange.
A 15-minute drive from Allama Iqbal International Airport Lahore.
5-8 minute drive from Defence Road Lahore and UOL.
4-5 minute drive from Adda Plot Raiwind Road.
A 30-minute drive from Lahore Islamabad Motorway M-2.
30-minute drive from Thokar Niaz Baig.
A 20-minute drive from UCP, Shaukat Khanum Hospital Johar Town.
A 17-minute drive from Wapda Town Lahore.
Up to 45 minutes drive from Gulberg and Liberty Market Lahore.
Famous Landmarks Nearby Liberty Lands Housing Scheme
Lake City means you can access Raiwind Road through this housing scheme.
Park Avenue Lahore.
Khayaban e Amin.
DHA Rahbar.
Naval Anchorage.
LDA City Lahore.
Liberty Lands Housing Scheme Master Plan
The developers have come up with modern, expert architecture and construction that ensured the premium work by the compatible designers, where each element of the real estate exhibits international standards.
The main focus is on providing a luxury lifestyle within the reach of the working class. Moreover, the developers have got Liberty Lands LDA approved, thus interested investors don't have to worry about anything and just invest for a beneficial RIO.
The information about residential and commercial plots in Liberty Lands payment is as follows:
Residential Plots
Commercial plots
Liberty Lands Payment Plan
Plots in Liberty Lands are available at a reasonable price. The down payments detail is as followed:
For Residential and Commercial Plot booking 15% Down Payment is required.
Liberty Lands Commercial Payment Plan
Liberty Lands Residential Payment Plan
Salient Features of Liberty Lands
Liberty Lands housing society exhibits modern and high-standard lifestyle features that make you live in the best place. Being a part of this project, the individuals will be able to enjoy features, such as:
Eco-friendly
Greenbelts
Prime location
Availability of security guards
Reasonable prices
Proper ventilation system
Modern infrastructure
24/7 Availability of gas, water, and electricity
Proper drainage system
Stable and fast internet service
Wide and carpeted roads
Boundary wall
Community club
Liberty Lands Housing Scheme Amenities
Having to enjoy all the amenities of a luxury lifestyle, developers have addressed it very well to provide you the most standardized luxurious environment to live, relax and pamper yourself with several amenities.
Some of the highlighted facilities available for the residents are:
Swimming pool and children's playground
Sports facilities like cricket, football, etc.
Basketball Court, Snooker Room, and Health Club
Jogging Track and Gymnasium
Party Lawn
Club House
Commercial area
Children Park Play Area
Easy Access to Main points of the city
Health Facilities
Hotels and Restaurants
Retails Outlets
Security Services
Spaces for kids to play at green parks
Stores like supermarkets, ATMs, and other food chains.
Educational Facilities
Education is a priority for every individual these days and good schools, colleges, and universities are a part of Liberty Lands. Developers have given equal importance to giving you the best of the educational facilities nearby.
Health Facilities
Liberty Lands society Lahore provides the best health facilities within the society 24/7. Fully and advanced equipped clinics and high-class hospitals ensure your health in need just around you.
Basic Services
The Liberty Lands have taken care of the basic facilities of life, like gas, water, electricity, and even security. The developers have made sure of an unstoppable supply of water, electricity, and gas. Even if any day power breakdown happens, you still won't be disturbed as the facility of a backup generator is readily available.
Grand Mosque
The pious facility and cultural and religious requirements of mosques are available. It is to portray a strong bond between humans and the creator of the universe.
Secure Parking Space
The parking service is something that is the need of the hour these days. People, most of the time fail to find secure parking spots. The residential area has ensured that the resident's vehicles stay secured all the time by making spacious parking lots.
Shopping Centers
Urgent groceries at any time of the day are the need of every home and Liberty Lands housing scheme location has provided you the comfort of grocery shopping or buying something else, as utility stores, small marts, and even shopping malls will be near your reach.
To escape your tiring and stressful life for some time to relax and unwind, you can head over to shopping malls to relish high multiple food brands and many other entertainment services within your reach.
Connected Roads
Society has wide and well-connected roads that will not let you get stuck in traffic problems. Moreover, all the roads are lined with green belts and the width of each road is approx. 40, 60, 80, and 120 ft.
Safe and Clean Environment
A safe and secure living area is the top requirement of every buyer. The Liberty Lands Housing Scheme guarantees you 24-hour security. The guards are there to protect you always and keep an eagle eye on every person entering or leaving the society. Even walk-through gates are displayed to check properly about the doubtful material. CCTV cameras are also installed in several areas to always keep a check on the area and to keep an eye on all the happenings.
Society focuses on the cleanliness of the environment that leads to hygiene and the waste management system and trash bins are placed all around the housing area.
How to Book Plot in Liberty Lands Housing Scheme?
To book any property in a residential housing scheme, an individual should have the following documents:
Pictures – 2 passport size
CNIC – 2 copies
NICOP – For overseas customers
2 ID card copies of next kin
Down Payment/Token Money of the Plot
Liberty Lands: Invest today!
Liberty Lands is a grand land with modern and luxurious construction and amenities like no other. Thus, there shouldn't be any wait, do all your research, get satisfied, and invest in the best for you and your future. It is the choicest option for the viewers who wait for ROI.
FAQs
The Liberty Lands housing society promises a luxurious living experience at an affordable price.
The No Objection Certificate of Liberty Lands for the private scheme is hereby granted by the concerned authorities.
The housing scheme is located at Jia Bagga Road near LDA City Ring Road Interchange.
UNION developers is the developer of Liberty Lands.