Sundar Business Park - Multi-Functional Business District
Sundar Business Park is an unparalleled, multi-faceted destination spanning over 700 kanals in the heart of Lahore's thriving industrial hub.
Prepare to embark on a remarkable journey through a meticulously crafted fusion of cutting-edge industrial units, spacious warehouses, vibrant retail spaces, residential accommodations, and top-notch amenities.
Sundar Business Park has meticulously designed every aspect with an unwavering commitment to sustainability, innovation, and affordability.
Now is the time to seize an extraordinary investment opportunity that awaits you. With competitively priced commercial plots, quick possession within just six months, and an unrivaled potential for substantial returns, Sundar Business Park paves the way for your financial success.
The central facility is a load shedding-free Electricity Supply, which means the industry will get power 24/7 and flourish without loss. This is the most attractive and impactful element for businessmen to invest here smoothly.
This groundbreaking private development has been tailor-made specifically for the SME sector, providing a comprehensive, demand-driven ecosystem that caters to the needs of pioneering industries.
Nestled in a prime location and fortified by advanced infrastructure, Sundar Business Park sets the standard for excellence and emerges as the ultimate investment destination for visionary entrepreneurs. If you aspire to elevate your business to unprecedented heights, embrace the future of Lahore's dynamic business landscape by choosing Sundar Business Park as your gateway to success.
Sundar Business Park Developers & Owners
HY Construction, Turkish Developer, is a reputable construction company with extensive experience in the industry. They specialize in various construction projects, including residential, commercial, and industrial developments.
Known for its commitment to quality, HY Construction ensures that the Sundar Business Park project is executed precisely and with attention to detail.
They also stay current with industry trends and embrace innovation while promoting sustainability in their construction practices.
Sundar Business Park Fully Approved
Rest assured that Sundar Business Park has received full authorization and approval from all relevant authorities.
The project adheres to all legal and regulatory requirements, ensuring a safe and secure investment for the valued clients. You can have complete confidence in the legitimacy and compliance of Sundar Business Park.
As an added benefit, a limited number of Amnesty Scheme-approved plots are available at Sundar Business Park.
Sundar Business Park Map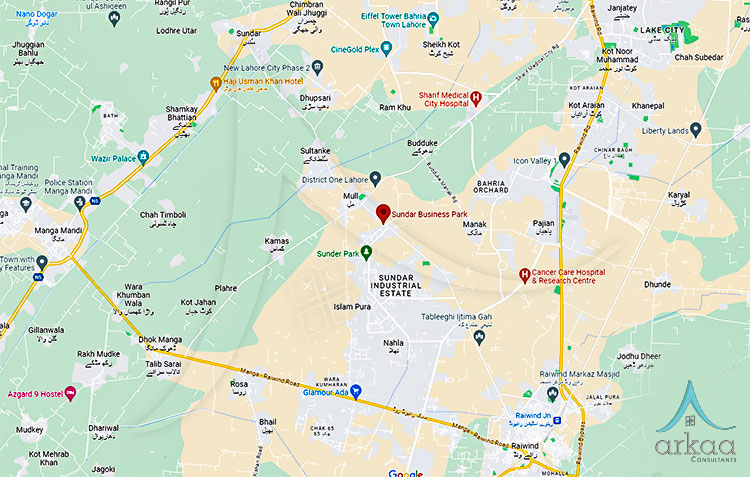 Sundar Business Park Location
Located in the esteemed Raiwind, Lahore. Sundar Business Park is renowned for its exceptional business performance. This prime location has a proven track record of delivering outstanding returns on investment, making it a preferred choice for potential investors.
Raiwind is strategically positioned within Lahore's economic landscape, known for its growth potential and favorable business environment.
Accessibility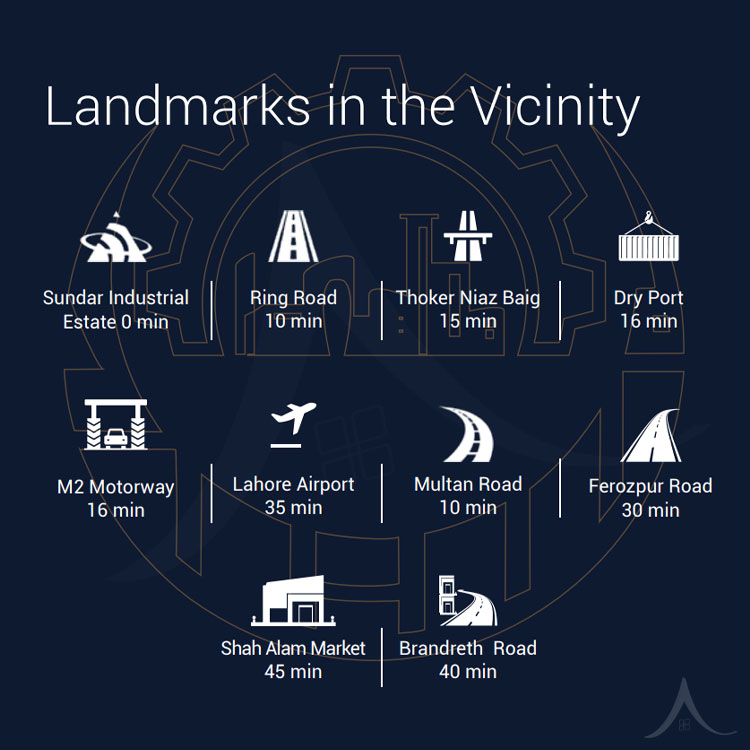 Sundar Business Park enjoys a strategic location with excellent connectivity to various key destinations. Here are some notable neighboring areas and their estimated travel times:
Lahore Ring Road – Just 10 minutes away, providing convenient access to different parts of the city and facilitating smooth transportation.
Thokar Niaz Baig – A mere 15-minute drive from Sundar Business Park, offering a significant transportation hub connecting various routes and facilitating easy movement.
Dry Port – Located only 16 minutes away, providing efficient logistics and freight handling services, ensuring smooth import and export operations.
M2 Motorway – A short 15-minute drive will take you to the M2 Motorway, connecting you to major cities like Islamabad and facilitating intercity travel and trade.
Lahore Airport – Situated approximately 35 minutes away, ensuring convenient air travel access for business professionals and international connectivity.
Ferozepur Road – Just 30 minutes away, this major arterial road connects Sundar Business Park to other commercial and residential areas, enhancing accessibility.
Multan Road – A quick 10-minute drive will connect you to Multan Road, a vital transportation route for trade and commerce.
Shah Alam Market – Approximately 45 minutes.
Sundar Business Park Master Plan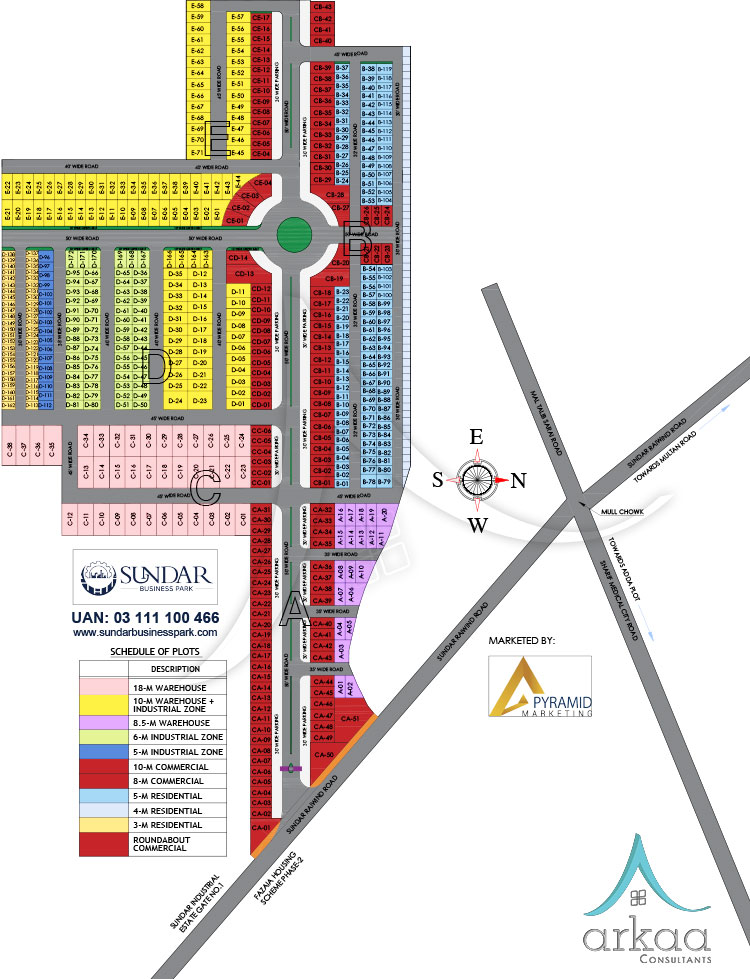 The master plan for Sundar Business Park's Main Boulevard unveils an exciting vision encompassing three distinct zones: Industrial, Commercial, and Residential.
This carefully designed layout caters to the diverse needs of businesses, residents, and investors, creating a harmonious and vibrant community within the boulevard.
Industrial Zone
The Industrial Zone along Main Boulevard provides a dedicated space for cutting-edge industries to flourish. This zone offers state-of-the-art industrial units and facilities, allowing businesses to optimize operations and maximize productivity. With advanced infrastructure and strategic positioning, the Industrial Zone sets the stage for innovation and growth.
Commercial Zone
Embrace the opportunities that the Commercial Zone on Main Boulevard presents. This dynamic zone offers a prime location for businesses to showcase their products and services. Whether you want to establish retail outlets, offices, or other commercial ventures, this zone provides a thriving environment to attract customers and drive success.
Residential Zone
The Residential Zone within Main Boulevard is designed to offer a comfortable and upscale living experience. Residents can enjoy the convenience of living near their workplaces and an array of amenities. With wisely planned residential accommodations, Sundar Business Park ensures residents a balanced and enriching lifestyle.
Warehouses on the Boulevard
Recognizing the importance of efficient warehousing, Sundar Business Park also offers warehouses along Main Boulevard. This strategic placement allows businesses easy access to storage and distribution facilities, optimizing logistics and supply chain operations.
Sundar Business Park Payment Plan
Sundar Business Park caters to the diverse needs of businesses, investors, and residents, offering a range of plot sizes to suit every requirement. Whether you seek prime commercial space, efficient warehousing, or comfortable residences, they have the perfect plot size.
The range of plot sizes is meticulously tailored to your specific needs are:
Main Boulevard
Experience the grandeur of our Main Boulevard with spacious plots available in 8 Marla and 10 Marla sizes. Immerse yourself in the vibrant energy of this prime location, where your business can thrive and attract maximum visibility.
Commercial Plot
Elevate your entrepreneurial pursuits with 8 Marla commercial plots. Capitalize on the bustling commercial activity and secure a prominent space to showcase your business and attract a steady stream of customers.
Warehouse Plot
For those seeking expansive warehousing facilities, 18 Marla warehouse plots provide ample space to store and manage your inventory efficiently. Embrace the convenience and functionality of a dedicated warehouse plot within Sundar Business Park.
Small Warehouse
Need a more compact warehousing solution? 10 Marla small warehouse plots offer a perfect balance of space and efficiency. Store your goods securely and maximize your operational efficiency within this dedicated space.
Industrial Zone
Embrace the potential of the Industrial Zone, offering 5 Marla and 6 Marla plots. Set up your cutting-edge industrial operations within this specialized zone, designed to cater to the unique requirements of modern industries.
Premium Residentials
Experience luxury living at its finest with our 5 Marla premium residential plots. Create your dream home in a serene and upscale environment where comfort and elegance blend seamlessly.
Labor Residential
3 Marla labor residential plots provide affordable housing options for your workforce. Foster a sense of community and provide convenient accommodation for your dedicated team members within Sundar Business Park.
The prelaunch rates of 1.5 years payment plan are available in Sundar Park.
Sundar Business Park Features & Amenities
E-Billing
CCTV Surveillance
LPG/Gas Supply
Underground Electricity
Water Filtration Plant
Wide Road Infrastructure
Industrial Waste Collection
Commercial Units
Corporate Offices
Industrial Units
Warehouses
Retail Stores/Factory Outlets
4-Star Hotel & Conference Centre
Banks, Restaurants, and Mosques
Load Shedding-Free Electricity Supply
World-Class Design and Infrastructure
Gated & Guarded with 24/7 Security Control
Residential Accommodation for labor and managers
Empowering Growth and Security at Sundar Business Park
Sundar Park empowers your growth, provides a secure environment, and cultivates a thriving ecosystem that drives success.
Efficiency and Accessibility
Sundar Business Park prioritizes seamless operations and convenient access for businesses and residents. The meticulously designed infrastructure ensures you can focus on your growth and success with streamlined processes and hassle-free connectivity.
A Secure Environment
Sundar Business Park is a walled business park offering a secure environment with limited entry and exit points. Taking pride in the exceptional security arrangements provides peace of mind to residents and businesses alike. Your safety and the protection of your assets are top priorities.
Enhancing Healthcare Services
To meet the healthcare needs of our community, the team is committed to establishing a state-of-the-art hospital within Sundar Business Park. This world-class facility will deliver quality healthcare services to the workforce and nearby residents, ensuring their well-being and promoting a healthy work-life balance.
Security and Prosperity
Investors seeking high returns can find a secure and lucrative option at Sundar Business Park. The comprehensive security measures create a safe investment environment, instilling confidence and trust. You can pave the way for your financial prosperity by choosing Sundar Business Park.
A Harmonious Ecosystem
Sundar Business Park is proud of its unique blend of wholesale markets, suppliers, allied industries, and labor residences. This carefully crafted ecosystem fosters collaboration, synergy, and mutual growth among various businesses, driving innovation and prosperity.
Inspired by Global Success Stories
Sundar Business Park has been thoughtfully crafted to promote innovation, growth, and prosperity by drawing inspiration from renowned business centers worldwide. The vision is to create an environment where businesses can thrive, setting new benchmarks for excellence and becoming a symbol of success.
Leap forward and join the Sundar Business Park community. Your future in Lahore's thriving business scene awaits – join us and redefine what it means to achieve greatness in commerce.
Sundar Business Park Booking
For booking contact Arkaa Consultants directly or visit their website for information on Sundar Business Park bookings and their services.