Citi Housing Multan - Define Your Lifestyle
Citi Housing Multan represents the nature of sophisticated living within the boundaries of a secure gated community. This exceptional housing project seamlessly merges luxury, comfort, and practicality elements to bring together a modern and globally acclaimed residential experience.
It was launched in June 2020 to cater to the modern lifestyle, setting high standards of urban living for the residents of Multan and beyond. The project offers top-tier amenities, including commercial centers and entertainment venues, for people to enjoy spare time activities and to meet their daily needs.
Citi Housing Multan Owner and Developer
Citi Housing Multan is another remarkable project of the developers, Citi Housing Pvt Ltd. The ownership and development of Citi Housing Multan are under the guidance of a group of visionary and experienced leaders who have played pivotal roles in shaping the organization's achievements and expansion.
Amer Malik - Chairman: The Chairman of Citi Housing (Pvt) Ltd, Amer Malik is renowned for his forward-looking leadership and inventive business approaches. Amer Malik, as the son-in-law of the dignified organization's founder, Malik Riaz, continues the legacy set by his predecessor.
Zoraiz Malik - Chief Executive Officer: Zoraiz Malik holds the significant position of Chief Executive Officer within the company. Having a notable background in business management and a deep understanding of the real estate industry, he brings competence to the position. His leadership has propelled the organization toward consistent growth and prosperity.
NOC Approval
MDA - Multan Development Authority has approved the NOC for the project. It is poised to move forward confidently, knowing that the project aligns with the city's development guidelines and contributes actively to the cityscape.
This approval reflects a dedication to responsible and sustainable development, ensuring that our endeavors contribute to the growth and progress of the community while upholding the highest standards of quality and compliance.
Citi Housing Multan Phase I Location
It is located on the prominent Bosan Road in Moza Lutafabad. The project enjoys a strategic location. Notably, Bosan Road holds the distinction of being the home of Bahauddin Zakariya University (BZU), adding an academic and cultural dimension to the area's significance.
Accessibility
A short 5-minute drive from Canal Road.
Just a 12-minute drive away from Multan Bypass.
11-minute drive from Northern Bypass Multan.
Conveniently located around 19 minutes drive from N-5 National Highway.
Easily accessible, approximately 21 minutes drive from Multan Southern Bypass.
Citi Housing Multan Phase I Master Plan
The master plan of Citi Housing Multan Phase I encompasses a great layout that seamlessly addresses residential and commercial plots organized across a two-phase structure. The thoughtful design of Phase I integrates modern living, aesthetics, and functionality to create a comprehensive community catering to the needs of all segments of society living in Multan.
With careful attention to detail, the master plan is divided into strategically designated sectors, each contributing to the overall harmony of the community. The residential sectors offer diverse plot sizes, ranging from cozy 5 Marla plots to more spacious 1 Kanal options, providing choices that align with various preferences. Commercial plots are available starting at 2.5 Marla and up to 8 Marla.
Modern infrastructure and urban planning are integral to the master plan's execution. Wide roads, pedestrian-friendly pathways, and efficient traffic management contribute to the community's functionality. Including landscaped areas, water features, and architectural work adds to the development's aesthetic.
The strategic division shows that the community can evolve and cater to the dynamic requirements of its residents over time.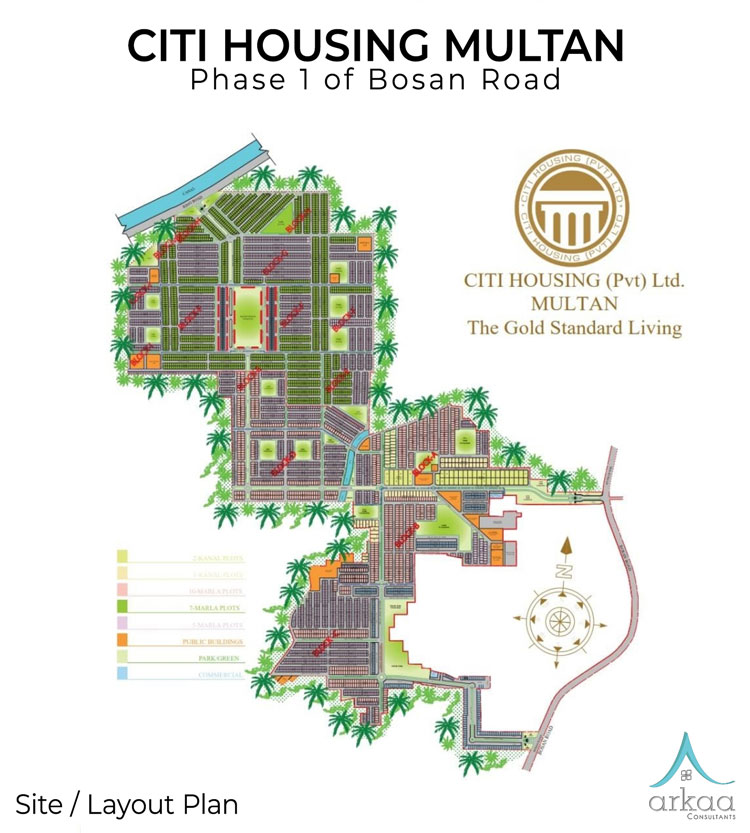 Phase I consists of nine blocks that have both residential and commercial plots. Each block is thoughtfully named:
Block A
Block B
Block C
Block D
Block E
Block F
Block G
Block H
Block I
Jinnah Block
The tranquil presence of the canal defines the graceful division of these blocks, while the Ring Road Multan gracefully borders the rear of the society. An exquisite bridge has been meticulously crafted to ensure seamless connectivity, harmoniously linking both sides of this remarkable development.
Following the inauguration, the project offered residential plot sizes in:
05 Marla
07 Marla
10 Marla
01 Kanal
02 Kanal
Commercial Plots are offered in:
2.5 Marla
05 Marla
08 Marla
Citi Housing Multan Phase I Map
One of the most well-planned and integrated projects in the city, Citi Housing Multan Phase I is ideally located at the intersection of the roads that link the society with the rest of the city. It's easy access point from Multan Bypass makes it a prime location. Moreover, its proximity to Canal Road makes it convenient for residents to commute to the city's major hubs.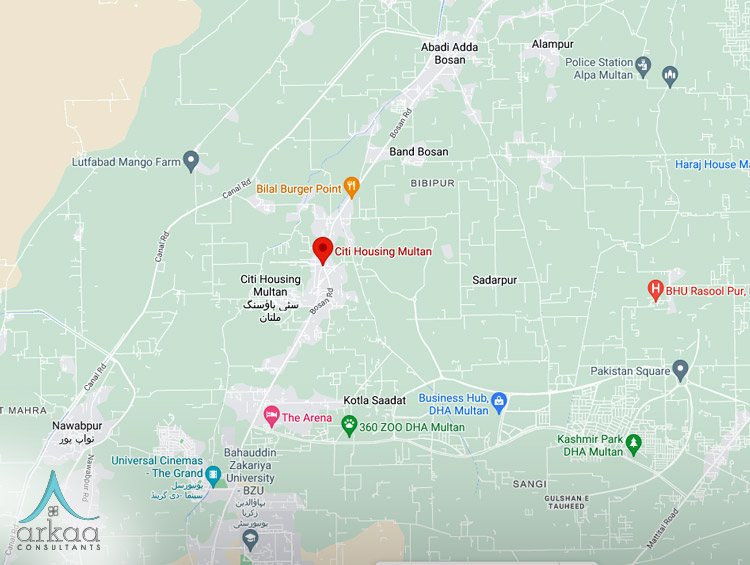 Nearby Landmarks
Sadarpur
Bahaudin Zakariya University
DHA Multan
Citi Housing Multan Phase I Payment Plan
Payment plan for Citi Housing Multan Phase I has been thoughtfully designed to make acquiring your dream property attainable. The project offers budget-friendly options for effortless property ownership.
The payment plan includes a range of residential and commercial plots, allowing you to choose according to your aspirations. The installment structure extends over time, making it more manageable for potential residents. This approach empowers and offers financial flexibility.
The development's reputation for reliability and innovation is further echoed in its flexible payment options, making your journey to homeownership or investment a fulfilling experience.
Residential Plots Block B Payment Plan
Residential Plots Block D, E and Jinnah Payment Plan
Commercial Plots Jinnah Block Payment Plan
Commercial Plots Block B and C Payment Plan
Important Notice!
Citi Housing Multan has successfully concluded its installment plan for Phase I. This marks an important milestone in the project's journey, representing a significant achievement and a dream place for its residents and investors.
Key Highlights:
Installment Plan Completed: The installment plan, originally designed with a 3-year tenure, has now ended. This achievement opens the way for exciting opportunities in property resale.
Cash Purchase Options: As the installment plan concludes, the project encourages all interested parties to explore the ease and convenience of cash purchases. This is your chance to become a proud property owner in Citi Housing Multan's esteemed community.
Citi Facilities and Amenities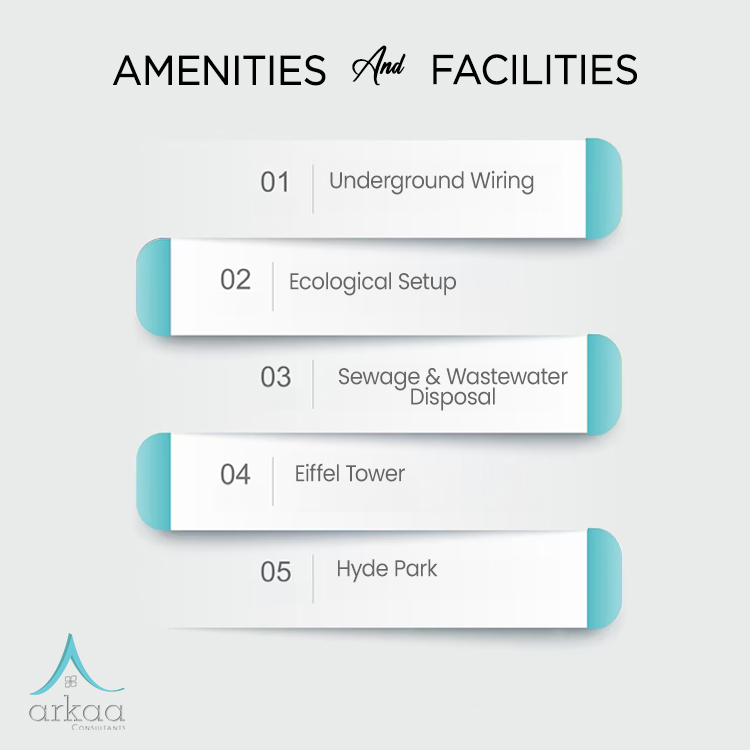 Presenting the exceptional amenities and facilities within the housing community in Multan:
State-of-the-art Modern Gate
Exclusive 4 Lane Main Boulevard in Punjab
International standard Mega Park
Dancing Fountain and Safari Park
Hospital that adheres to international standard
School and College that meets global standards
International standard gym, parlor, mart
Contemporary digital 3-D cinema
24/7 security
24/7 electricity supply
International Standard Mega Park (Bagh-e-Jinnah)
Spanning an expansive 250 Kanal area, this park sets the standard for excellence. Here's a concise list of the presented amenities in International Standard Mega Park (Bagh-e-Jinnah):
Horse Riding Club
Bicycle Track
Boating Facilities
Fishing Opportunities
Refreshing Swimming Pool
Diverse Food Court
Serene Rose Garden
Engaging Children's Play Area
Captivating Zoo
Enchanting Bird Aviary
How can one reserve a plot in Citi Housing Multan?
Take advantage of the chance to get expert assistance from Arkaa Consultants, who are promptly available to provide guidance. The pricing of the project is extremely competitive, depending on the size of the land.
The below-mentioned documents are required to book a plot:
Two passport-size pictures.b
Two copies of your national identity card.
Two copies of the I.D. card of your next of kin
NICOP for overseas clients.
FAQs
Citi Housing Multan, situated on Bosan Road Multan is a smart housing project well-known for its contemporary facilities and affordability. Amer Malik, working hard to maintain the prestigious Citi Housing Group (Pvt) LTD, is the mastermind behind this project as its developer and owner.
Citi Housing Multan Phase I is located on Bosan Road Multan in Moza Lutfabad.
Yes, Citi Multan is an approved society. MDA, Multan Development Authority has officially approved Noc for Phase I and II.
Yes, Citi Housing Multan is a good investment opportunity because it has prime real estate opportunities in Pakistan with versatile payment options for a better quality of life.