Nova City Peshawar
Nova City Peshawar, the latest housing scheme for the citizens of the city of flowers is soon to be approved by the concerned authorities. The project was launched by Nova Group and is located at M1 Motorway close to Charsadda city. This Society is going to be the best investment opportunity.
The developer's Nova Group has announced Nova City Islamabad, which has gained a lot of popularity. Customers from all around Pakistan have been investing in that project. Now is the time to invest your earned money in Nova City Peshawar to generate a great Return on Investment.
Nova City Developers
Nova City Peshawar is the project of renowned developers Nova Group. The company has a great reputation in the real estate market of Pakistan. The main thing that adds credibility to their name is the project Nova City Islamabad.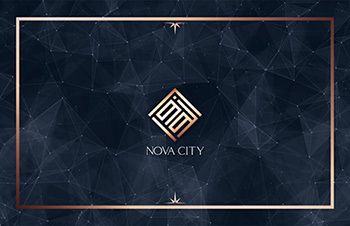 One thing that speaks volumes for developers is their reliability. As not only do they focus on creating safe and environment-friendly infrastructure, they even keep in mind the needs and requirements of the investors.
Nova City Peshawar NOC
Nova City Peshawar No Obligation Certificate is soon to be approved by the concerned authorities. The developers have applied for approval. Moreover, they are making efforts to meet all the requirements as soon as possible to get NOC quickly.
So, if you are planning to invest in this splendor project, there is no need to hesitate, as society will get legalized soon.
Nova City Peshawar Location
If we are to talk about the location of this splendid project, it is very much accessible and that's the main reason it's attracting a lot of investors.
The Nova City Peshawar is adjacent to the M1 Motorway, nearby Charsadda, and Peshawar city.
Nova City Peshawar Map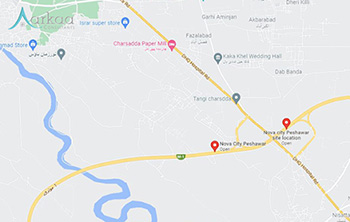 Accessibility of Nova City Peshawar
The housing scheme is accessible from multiple routes. Some of the Nova City Peshawar accessibility are:
Adjacent to Islamabad – Peshawar M1 Motorway
12 min drive from Charsadda City
19 min drive from Peshawar City
7 min drive from Mardan City
5 min drive from DHQ Hospital
15 min drive from Bacha Khan University
51 min drive from Bacha Khan International Airport
25 min drive from Risalpur City
36 min drive from Nowshera City
Famous Landmarks Nearby Nova City Housing Society Peshawar
Peshawar city
Mardan
Charsadda
Bacha Khan University
Bacha Khan International Airport
Nowshera
Risalpur
Nova City Housing Scheme Peshawar Master Plan
The developers have ensured each element of the housing scheme is of international standard. That's the reason they have worked with a team of experienced architects to design the society.
The main focus is on providing a luxury lifestyle within the reach of the working class. Moreover, the developers are doing everything to legalize society, thus interested investors don't have to worry about anything.
For now, Nova City Peshawar housing scheme is in the pre-launch phase, so the information available is in the initial stages. However, with our efforts and resources available we have gathered the information about the plots Nova City Peshawar project is offering.
3.5 Marla
5 Marla
7 Marla
10 Marla
1 Kanal
Nova City Peshawar Payment Plan
Plots in Nova City Peshawar are available at a reasonable price. The down payments detail are as followed:
For 5 Marla Plot 20% Down Payment
For 10 Marla and 1 Kanal 10% Down Payment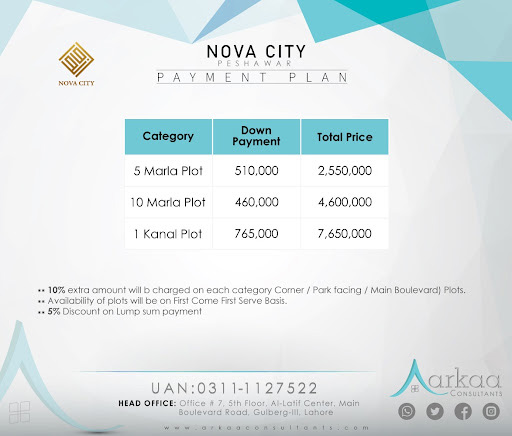 Salient Features of Nova City Peshawar
The housing scheme promises modern lifestyle features that make the place best to live in. Being a part of this project, the individuals will be able to enjoy features, such as
Eco-friendly
Greenbelts
Prime location
Availability of security guards
Reasonable prices
Proper ventilation system
Modern infrastructure
24/7 Availability of gas, water, and electricity
Proper drainage system
Stable and fast internet service
Wide and carpeted roads
Boundary wall
Shopping center
Community club
Nova City Housing Scheme Amenities
Within the society, you will be able to enjoy all the amenities as promised by the developers. From health to educational facilities, fitness to food, and so on. You name it and that is going to be there in the Nova City residential housing scheme.
Some of the highlighted faculties available for the residents are:
Educational Facilities
People always prefer to buy a house in a society, where educational facilities are available nearby. The best thing about the housing scheme is that it has schools, colleges, and universities close by.
Health Facilities
The housing scheme will ensure that the residents get the best health facilities within the society 24/7. The availability of clinics equipped with modern equipment and top-class hospitals nearby will ensure that people don't have to worry whenever in need.
Basic Services
The Nova Group has also ensured that the residents don't have to worry about basic services, like gas, water, electricity, and even security. The developers have made certain the continuous supply of water, electricity, and gas.
The backup generators are also available in society. So, in case a power breakdown happens the electricity supply will not get affected in any way.
Grand Mosque
The facility that tops the list is the availability of mosques. It ensures a strong bond between humans and the creator of the universe.
Secure Parking Space
The parking service is something that is the need of the hour these days. As people, most of the time fail to find secure parking spots. The residential society has ensured that the resident's vehicles stay secured all the time by making spacious parking lots.
Shopping Centers
There is no need to go out of the society for grocery shopping or to buy something else, as utility stores, small marts, and even shopping malls will be nearby.
The malls are going to be a great escape from a stressful life. From top brands to multiple food chains and other entertainment services will be part of the edifice.
Connected Roads
Society has wide and well-connected roads that will resolve the traffic issues. Moreover, all the roads are lined with green belts and if we talk about the wideness of the roads, each one is approx. 40, 60, 80, and 120 ft.
Safe and Clean Environment
Before buying a home in any area, people first ensure it is safe and secure. The Nova City Housing Scheme Peshawar guarantees 24-hour security. The guards are going to be there at the entrance to keep an eye on individuals entering or exiting the society. Even walk-though fates are displayed. CCTV cameras are also installed in multiple areas.
If we talk about the environment, society is clean, as a waste management system and even trash bins are installed all over the housing scheme.
How to Book Plot in Nova City Housing Scheme Peshawar?
To book any property in a residential housing scheme, an individual should have the following documents:
Pictures – 2 passport size
CNIC – 2 copies
NICOP – For overseas customers
2 ID card copies of next kin
Nova City Peshawar: Invest today!
Nova City Peshawar is a splendid venue for investment for all the onlookers who are interested in the generation of a stable ROI. Thus what are you waiting for, gather as much information as you can and then invest!
FAQ's
Some of the most asked questions related to Nova City Peshawar rates and plot prices are as follows:
The Nova City housing scheme Peshawar promises a unique living experience at an affordable price.
The No Objection Certificate of Nova City Peshawar is under process for approval. The developers are fulfilling all the requirements to get NOC quickly from the concerned authorities.
The housing society is next to M1 Motorway, close to Charsadda and Peshawar city.
It does because of affordability and flexible installment schedule.
NOVA Group is the developer of Nova City Peshawar.