Rudn Enclave- A Sensation of Living
Rudn Enclave is a contemporary mesmerizing and spectacular housing scheme for twin cities. This project is offering all the advanced features that are needed to live a serene comfortable life. The gated community is one of its kind, spread over an area of 18,000 Kanal. This grand project is owned by RMRSCO Pvt, Ltd. The scheme's architecture is striking and offers a luxurious experience and reap benefits for a lifetime. For now, the project is attracting investors, as it is the hottest project in the real estate market. Moreover, the development of the Rudn Enclave housing scheme is overseen by NESPAK, the most trusted consulting agency in Pakistan.
The best part about this scheme is that its prices are affordable. Even a low-income class can invest in this project.
Rudn Enclave Developers
RMRSCO Pvt. Ltd is the developer of Rudn Enclave Adyala Road Rawalpindi. The firm is considered one of the best in the construction and real estate sector. They have been in the business for more than a decade. The main motive of Rudn Enclave developers is to provide projects for the twin cities that are based on modern technology.
Rudn Enclave owners are recognized internationally. In the beginning, the company itself was engaged in the development project. But when the structure of Ring Road Rawalpindi was changed, the firm decided to take a step back from the design process. They granted the development contract to NESPAK. And for now, RMRSCO Pvt. Ltd is mainly focusing on project execution and obtaining land.
NESPAK
NESPAK is a government entity founded in 1973. It is one of the biggest consulting firms in Asia and has done multiple successful projects. Currently, they are the advisors of Rudn Enclave.
The main goal of the NESPAK was to provide the nation with engineering experts and eliminate the need for overseas counselors. Currently, thousands of skilled people are working with this firm to give brilliant results on every project they manage.
Rudn Enclave NOC
Is Rudn Enclave RDA approved? This is one thing that everyone is eager to know as people hesitate to invest in societies that have a NOC. The good news is that Rudn Enclave has already applied for the No Objection Certificate from the RDA. So, surely Rudn Enclave will acquire NOC from Rawalpindi Development Authority very soon.
Even though everything is in the initial stage, the response from the side of investors is quite good. Those who are hesitating a bit should know that several approvals are included in the NOC Approval. For example, electricity, gas, water, and land\ownership transfer. So, the process can take several months.
'Stay Tuned with Arkaa Consultants for Rudn Enclave NOC update.
Rudn Enclave Location
The Rudn Enclave location is prime as it is in the center of major locations. The scheme is located at Adyala Road, Rawalpindi. Also, if you look at the Rudn Enclave map, you will see it is close to Islamabad International Airport, M2 Islamabad-Lahore Motorway and even to the newly proposed Ring Road, Rawalpindi.
Rudn Enclave Rawalpindi Map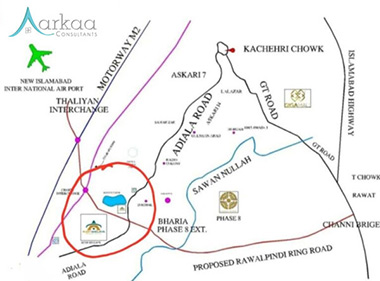 Rudn Enclave Scheme Accessibility
You can even get access to the scheme from Chakri road and the interchange. The Jarrar Camp is also close. The 3 entrances of the scheme are from Adyala and the 4th one is expected from Chakri Road.
The other nearby Rudn Enclave Rawalpindi locations are the industrial-commercial zone and the CPEC route. Even Khalsa and Java Dam are close to the Rudn Enclave. Lastly, Bahria Town Phase-8 is also nearby.
Next to Adyala Road
Almost 24 min away from Rawat-Chakbeli Road
Almost 29 min away from M-2 Motorway, Chakri Toll Plaza
Almost 51 min away from Rawat Islamabad
Almost 48 min away from Saddar Rawalpindi
Almost 31 min away from Bahria Town Phase-8
Almost 49 min away from N-5 National Highway, Grand Trunk Road, Rawalpindi
Close Places and Landmarks
Bahria Town Phase-8
Islamabad
New International Islamabad Airport
DHA Phase-II
Rudn Enclave Master Plan
Rudn Enclave's motive is to offer Pakistan's people an international standard living experience. The project has modern infrastructure, an opulent environment, and top-notch facilities for every class.
The master plan of Rudn Enclave is engineered by NESPAK. At the time the agreement was signed, it was for 10,000 Kanal. The town is not at all small as developers keep spreading it over 18,000 Kanal soon. It has been said that land is taken to increase its value.
Rudn Enclave Rawalpindi Map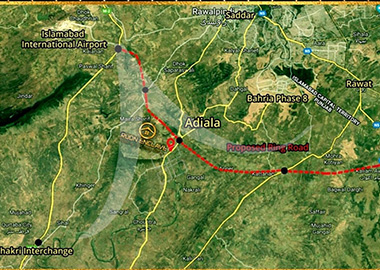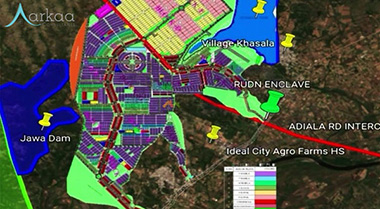 Residential Blocks of Rudn Enclave
The upcoming residential scheme is all set to provide plots on which an investor can develop commercial and residential properties. An individual can buy the property at affordable rates. There are different blocks with varying plot sizes.
Division of scheme as Per Blocks
Block A
Block B
Block C
Block D
Block E
Block F
Block G
Block H
Block I
Block J
Block K
Block L
Residential Plot Sizes
Rudn Enclave plots for sale in the residential sector are
5 Marla
4 Marla
7 Marla
8 Marla
10 Marla
1 Kanal
4 Kanal
8 Kanal
Commercial Block Plot Sizes
The commercial plots for sale in Rudn Enclave Executive Commercial Block are:
Farmhouses Sizes
The availability of farmhouses is in the D & E Block of Rudn Enclave housing scheme.
Plot Categories
H Block
General Block
Executive Block
Farmhouses
Rudn Enclave General Block
Block A to G falls in the category of the General block. If we talk about the residential plots, you can find them in blocks A, C, and G. For farmhouses, blocks D and E are chosen.
General Block is found as soon as you enter the scheme. The area is easily accessible from Rawalpindi Ring Road. For now, the development work in this area is postponed because of the alignment phase of Ring Road. However, the developer says, the work will begin in full swing soon.
Rudn Enclave Executive Block
This block is the new addition to Adyala Road. The block started from Adyala Road and went on to the Jawa Dam. It has been said that the block will be connected to General Block and Ring Road by an internal wide main boulevard that is approx. 200 ft.
7, 10 Marla, and 1 Kanal residential plots are going to be in this block. If we talk about commercial plots, 4 and 8 Marla will be available for the investors. The block is unique from other blocks as it will offer top and futuristic facilities. It is not wrong to say that each aspect of this block is going to be superior to the other blocks. The streets are as wide as 40 ft and a min. 60% of the area is set aside for parks and sports facilities.
Rudn Enclave H Block Residential
It is one of the prestigious blocks that features residential plots of 5 Marla. The block is easily accessible from Adiala Road and Chakri Interchange.
If we talk about the H Block Rudn Enclave price plan, a 20% down payment is needed followed by a flexible 48-monthly installment plan.
Rudn Enclave H Block Residential Payment Plan
Rudn Enclave Executive Block Residential Plots
The Executive block is located on Adiala Road. It leads to Jawa Dam and starts directly across from Adiala Road. The block connects to the General block and the Ring Road via a 200-foot wide inner boulevard connecting the two districts.
The Executive block is an apple in the eyes of investors. Residential land will be 7, 10 Marla, and 1 Kanal. The high-end amenities are unique and modern, making this luxury block stand out from the rest of the Rudn Enclave. The Executive block and all aspects of the development process are better than the previous blocks.
Rudn Enclave Executive Block Payment Plan
Rudn Enclave Executive Block Residential Plots 14 Marla
Rudn Enclave has 14 Marla residential areas offering exceptional amenities. The Rudn Enclave Housing Association has 14 Marla residential areas for those who want to live with their family in a picturesque and quiet environment. The only gated community in Twin Cities that offers 14 marla residential areas is the best condo residing near the Rawalpindi Ring Road. The most important element of a housing program is to provide land at a reasonable price. 14 Marla's residential land payment schedule is as below.
Rudn Enclave Executive Block Residential Plots 14 Marla Payment Plan
Rudn Enclave Executive Block Commercial
Rudn Enclave commercial Executive Block is here to provide you with an opportunity to invest well in the business sector in 4 and 8 Marla plots.
Rudn Enclave Executive Block Commercial Payment Plan
Rudn Enclave Farmhouse
Do you expect to return to a calm and quiet environment at the end of the day? Rudn Enclave's Farmhouses are equipped with comfortable facilities. The surrounding landscape is very green and lovely, making you feel completely away from civilization.
The farmhouse block is in the perfect location and out of the way. The subcategories available in this block are 4 and 8-Kanal plots.
Rudn Enclave Farmhouse Payment Plan
Rudn Enclave Dam View
Rudn Enclave Exclusive Features
As mentioned before unique and world-class features are fitted to ensure residents get advanced facilities and lead a modern life. Some of the exclusive features available in the scheme are:
Continental Hotel
Farmhouses
Very first Water Theme Park in Pakistan
Beautiful Dam View
International standard educational facilities
World-class business center
Food court
24/7 availability of International standard health facilities
The Resort (Fine dining, spa, and gym facilities)
Wide main entrance
Availability of maintenance staff
24/7 safety and security availability
Water supply
Grand Mosque
Water filtration plants
Community Graveyard
Rudn Enclave Amenities
Some of the features or amenities Rudn Enclave has to offer are:
Gated Community
When buying any property, one thing every individual notices is whether the area is safe or not. Rudn enclave developers have made sure that the scheme is well-secured. The boundary wall is there and skilled guards stay present at each entry and exit point.
There are a few rules and restrictions that are also added by the developers just to ensure the scheme stays safe from thieves. Any unauthorized person cannot get access to the scheme in any way.
Healthcare Facilities
The other thing that makes Rudn Enclave better than other societies is that here the medical facilities are going to be advanced. Every resident of the scheme will get standard services, as physicians and personnel will get proper training for this purpose.
Supervised Construction
There is no denial of the fact that water crises are increasing. Keeping that in mind, it is essential to develop environmentally friendly water management technology, for example, rainwater tanks. The Ruden Enclave developers have made sure such ecological features are available within the scheme.
Offer Healthy Lifestyle
It isn't easy to lead a healthy lifestyle when the availability of fitness gyms, clubs, and sports facilities are out of reach of the common people. However, in the master plan of the scheme, such facilities are going to be available for each resident. All these efforts are taken for the scheme's betterment.
Public Parks
These days because of a rapidly growing population, staying connected with nature is nothing but a blessing. And for this, public recreational areas have been built by the developers. So, the families and youngsters can spend their free time effortlessly.
Community Club
A fantastic step is taken by the developers by including community clubs within the scheme to organize multiple activities. This will allow the residents to participate in activities that are not only beneficial for physical health but mental peace too. Moreover, such activities allow the residents to meet and communicate with others.
Gas, Water and Electricity Supply 24/7
In developing countries like Pakistan, access to gas, water, and electricity without any interruption is more than a luxury. To end these crises at least within the scheme, the developers developed proper sewage and drainage channels. Also, provide underground water, gas, and electricity connections.
Educational Facilities
Providing top education to children is the dream of every parent. At the same time, parents prefer to choose a school that is close to home, so they don't face any issues while picking up or dropping off children. The Rudn Enclave has not only fine schools, colleges, and universities but within proximity.
Grand Mosque
The mosque is one of the most important and top features of Rudn Enclave as it makes a bridge between worshipper and creator. Moreover, it will serve as a focal point for individuals to meet.
Flexible Payment Plan
The payment plan offered by Rudn Enclave is quite flexible and appealing. It is cheaper, so the investors can take advantage of the moment, or otherwise, you might miss the lifetime opportunity.
Rudn Enclave Booking Procedure
The payment plan and prices change from time to time, keeping in mind the real estate market trend. Moreover, the changes also depend on the owners of the scheme.
As each sector offers unique facilities, that is why the plot prices also differ from block to block according to plot size.
The Rudn Enclave prices and payment plan can be changed anytime without notice.
The installments should be paid by the 1st of every month.
Development charges are excluded from the prices.
For the favor of Rudn Enclave Pay Order/ Cheque/ DD to be made.
Guidelines for Booking Procedure in Rudn Enclave
Make sure all the documents are verified
Make sure all the funds are in line with the purchase plan. This is something that will allow you to sell or purchase a house without an issue
Do property visits after getting surety of the validity of documents
Visit Bahria Town Phase 7 Rawalpindi
Fill the applicant from attentively
Attach the applicant and nominee CNIC copies
Pat down payment via Pay Order or Cheque
Cash payments are acceptable too
Submit all the needed documents
After 8 to 10 working days collet your file
Why is the Rudn Enclave the Best for Investment?
The scheme is one of the best residential housing schemes for twin cities, as the developers have shaken hands with the NESPAK. This ensures luxury development and an eco-friendly environment.
Moreover, as the housing scheme is near Rawalpindi and can be accessed from multiple points, it makes it even more desirable. Also, the prices for commercial, residential plots, and even farmhouses are reasonable allowing families of low income to invest.