Lahore Smart City Location Map
The location plays an important role in the development of any real estate project. The developer has won the hearts of investors by assigning the right map for Lahore Smart City.
Lahore Bypass is close to Kala Shah Kaku. Lahore Smart City, real property is a linear connecting vicinity from Lahore-Sialkot Motorway from GT Road, Lahore.
Smart City Lahore map is effortlessly approachable from many locations. The Bypass proposes a straightforward right of the entrance to drive on Lahore Ring Road. Lahore Ring Road is a major path that leads to almost the whole of Lahore directly. The distance to Allama Iqbal International Airport stays the handiest as it is a short distance away.
Moreover, the Smart City in Lahore takes about 18 minutes to reach the famous area of Lahore, DHA. Have to visit your family or holiday in a different city? Well, the M2 motorway is 4 minutes away from Lahore Smart City. This futuristic project not only delivers reliable ideals of living but has made travelling satisfactory without the hassle of road traffic knots.
Kala Shah Kaku Station is also near that making the Smart City Lahore map admirable in terms of effortless travelling to other places.
The Lahore Smart City location map illustrates the project is designed by keeping in mind the factor of providing easy-to-use access to the residents and visitors. All this is making the smart city gain sensation.
This map can be observed for the directions, blocks, accessibility and location of Lahore Smart City. Where we regard Smart City Lahore lies in well-known nearby places and peace from the hustle and bustle of city life.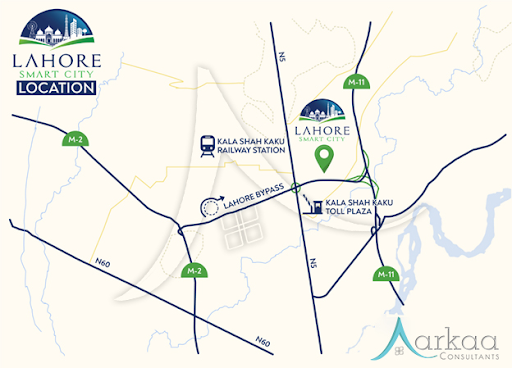 Master plan Lahore Smart City

The master plan Lahore Smart City by Surbana Jurong. The workings of the expert team lie beside the rendition for sustainable modification inside the country. The vision in the back revolves around an inclusive city management performance and urbanization in Lahore city. Therefore, this encourages the practicality of global examples and the possession of a high-profile lifestyle.
Additionally, every other massive role of the Master plan specializes in improving the natural elements in this scheme. The Lahore Smart City master plan does justice to imposing unique and contemporary infrastructures. All the advancements and incredible features by top-tier developers draw high foreign investors.
As the population is growing, the need for successful urbanization is demanded to fulfil the economic as well as residential criteria in society. Lahore Smart City Master plan is designed to fulfil all the needs of citizens. The housing scheme consists of a tremendous variety of attractions and facilities that accommodate all of the blocks, comprising the residential, commercial, and amusement aspects.