Lahore Smart City - Overview
Lahore Smart City is a major real estate project and the second smart city in Pakistan. Whereas Capital Smart City is the first.
It is a modern and innovative green development that aims to create a technologically advanced and sustainable urban community.
The project is LDA approved and developed by one of Pakistan's leading construction and development companies, details of which are below.
Smart City in Lahore is more than just a real estate development. It promises a bright future where dreams and reality blend to create a modish lifestyle with great investment benefits.
Lahore Smart City Developers and Owners
This high-tech project is made possible by the joint scheme of Habib Rafiq Group (Pvt.) Limited and Future Developments Holding (Pvt.) Limited are masterminds in the real estate industry.
Here we have the details of the two most competent developers in the real estate industry. The design and other developmental partners.
Habib Rafiq Pvt. Ltd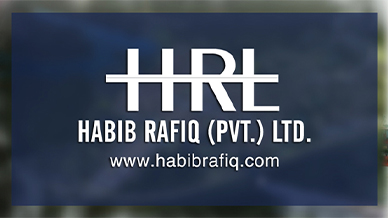 Habib Rafiq Private Limited is an aerospace and airfield, construction, chemical and petrochemicals, environment, energy and power, residential and infrastructure, roads, water resources engineering, and oil and gas.
HRL is responsible for residential construction, roads, electric and automated outcomes, gas pipelines, water tanks and layout works for the respective smart city projects.
Future Developments Holding Pvt. Ltd
Future Developments Holdings is a private development and building organization registered under the Companies Act 1984. The FDHL team aims to support retail and residential communities in the best modern vicinity.
The 25 honors are a testament to Future Development Holdings' phenomenal achievements in Pakistan's real estate industry. Smart Cities are an example that speaks for itself regarding FDIHL.
They are already well-known in the real estate industry because of their hard work and commitment to the high-quality development of infrastructure in residential societies such as DHA and Bahria Town.
Design Partner - Surbana Jurong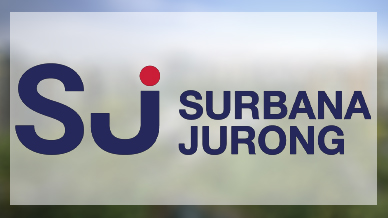 Surbana Jurong, a Singaporean architecture company, represents fine pieces of aesthetics, perfection and architectural development through Smart City Lahore.
They have designed the Smart Lahore City project according to Pakistan's culture and landscape, being honored as one of the leading companies in Asia's sustainable and futuristic urban architect groups.
Surbana Jurong has done an excellent job using European development ideas to plan this massive project, which offers people a variety of housing options.
​Other Design Consultants
Harradine Golf
Troon Golf
DSA Architects International
Aquiver Architects
Smart Technology Solutions
Design Consulting Engineers
Cracknell
NesPak Engineering Consultancy
Development Partners
This project has many development partners, such as:
Trivelles Smart Homes
National Defense University
International Medical and Research Institute
Freij Entertainment International
Hardine Golf
Movenpick
ESA
NOC of Lahore Smart City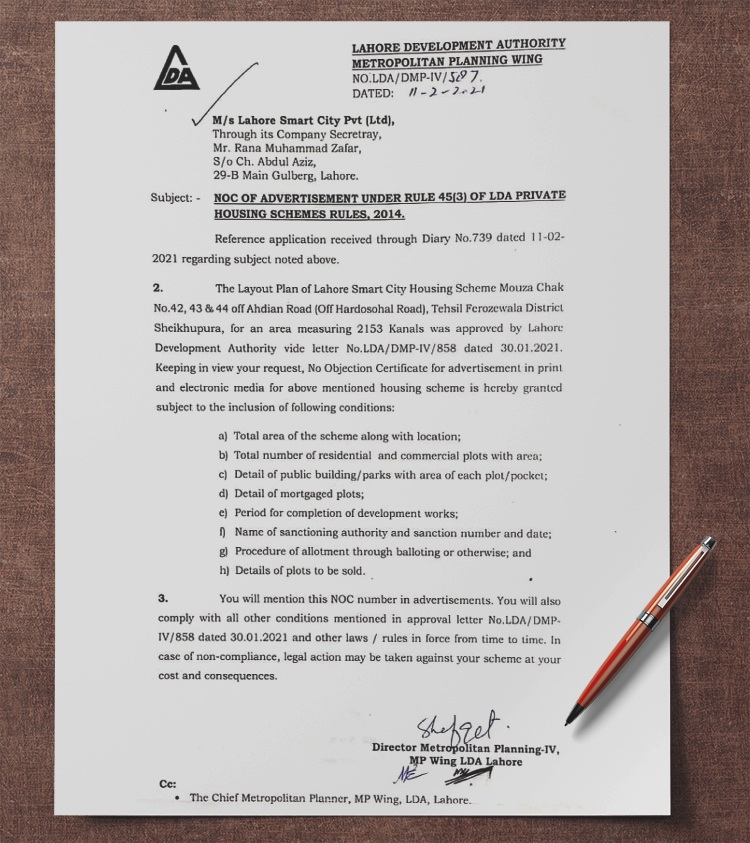 Lahore Development Authority (LDA) officially approved the NOC of Smart City Lahore in February 2021.
NHA approved access to the Smart City of Lahore from Ring Road on 20th August 2023. This reflects a plus point to the credibility of the project.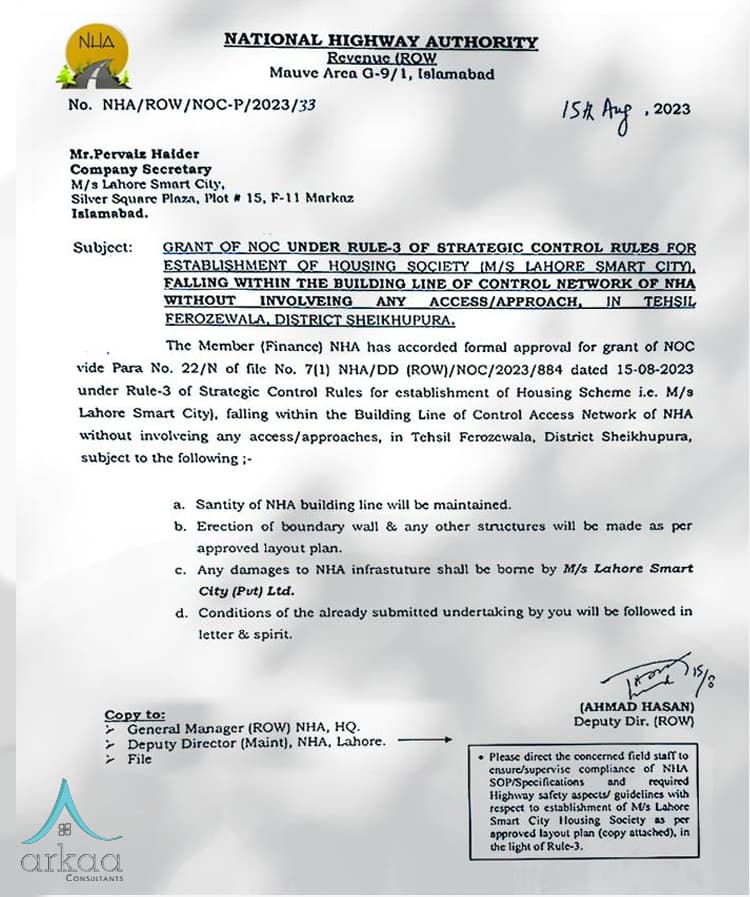 LSC further extends the point of practical living and eco-friendly residential schemes for the people of Lahore. This is a fantastic opportunity for investors and businessmen to trust Punjab's legally approved housing project.
Lahore Smart City Location
This real estate gem is located on Lahore Bypass near Kala Shah Kaku, providing easy connectivity to Lahore-Sialkot Motorway from GT Road, Lahore.
The eastern Bypass gives easy access to drive on Lahore Ring Road. The distance to Allama Iqbal International Airport remains only an 18-minute drive away.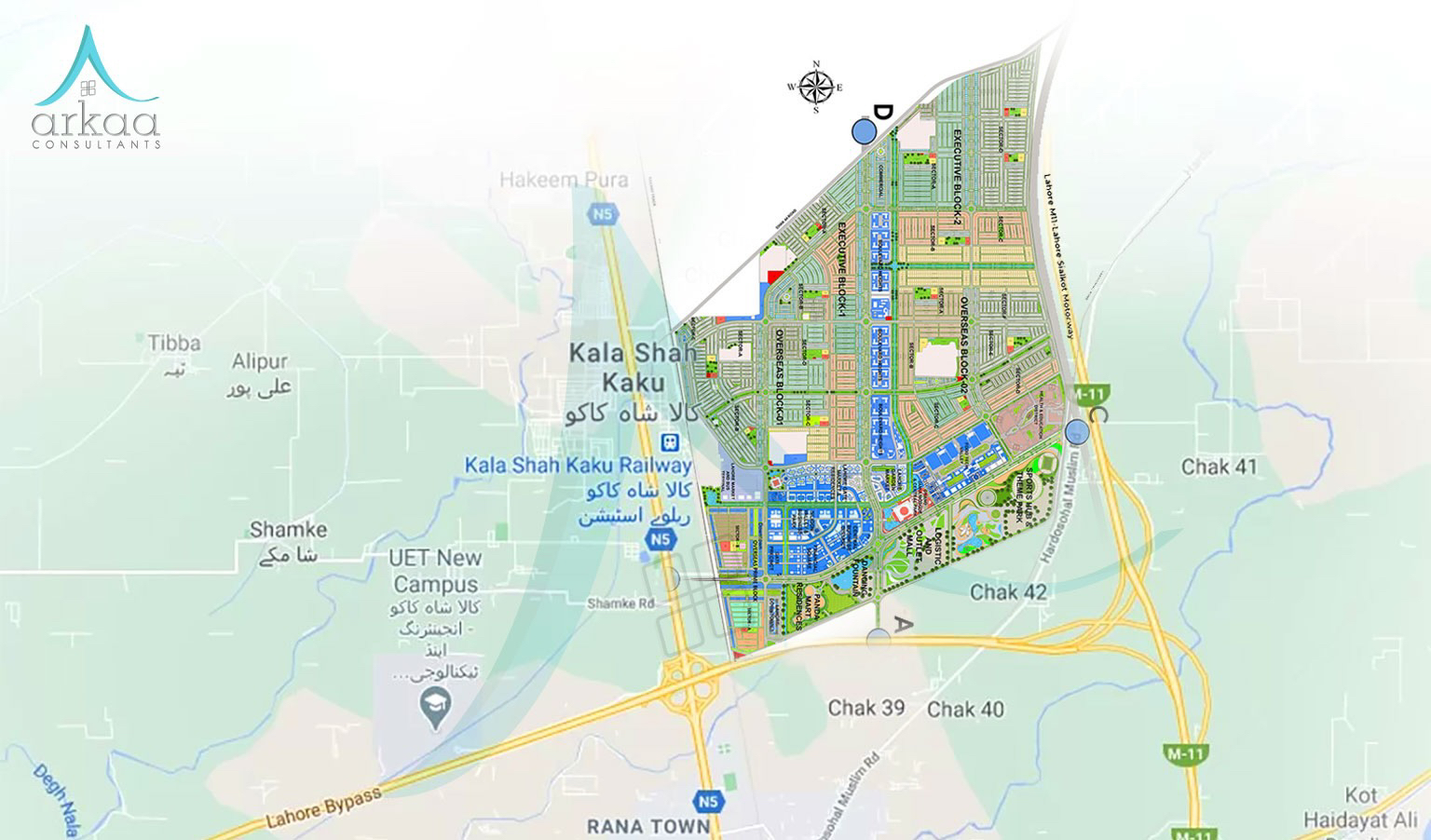 Access Points
Lahore Smart City address gives you a chance to live in a peaceful, city-free hassle environment with easy connectivity to the following routes:
From GT Road Almost 4 min drive away.
From M-2 Motorway Almost 5 min drive away.
From Lahore Ring Road L-20 is Almost 22 min drive away.
From M-11 Motorway Almost 10 min drive away.
From Lahore-Sargodha Road Almost 11 min drive away.
From Hardosohal Muslim Road Almost 8 min drive away.
From Kala Khatie Narang Mandi Road, Sheikhupura Almost 5 min drive away.
Lahore Smart City Master Plan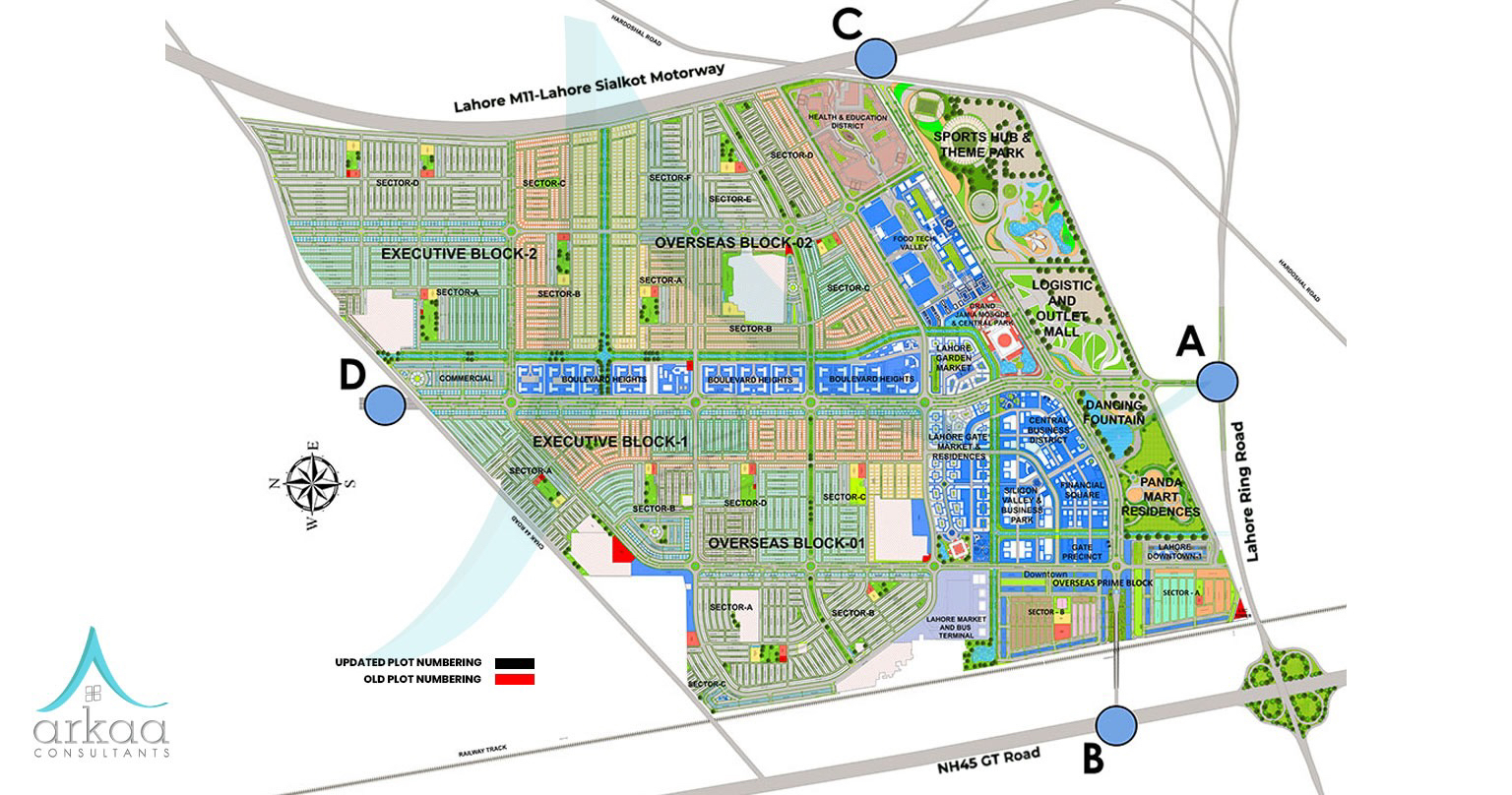 The Lahore Smart City Master plan was announced on November 22nd,2021. It offers commercial and residential plots in the master plan, designed and given by the developers. This smart project was created with the township model approach in mind.
Total Land Area
A large-scale real estate project is planned to create a smart city in the suburbs of Lahore.
Offering various zones, districts, and recreational facilities. The project's total area spans over 20,000 Kanal, providing ample space for development.
One notable feature of the smart city is the inclusion of a 20-mile leisure path that runs alongside an eco-backbone and river. This path is designed to offer a pleasant and scenic route for residents to enjoy outdoor activities.
Within the smart housing community, a primary park spanning 600 Kanal is incorporated. This park serves as a green space for residents and includes a grand mosque and a rectangular area for various activities.
Lahore Smart City Map