Lahore Smart City - Empowering Future of Real Estate
Smart City Lahore offers a luxurious and eco-friendly lifestyle, unlike anything seen before in Pakistan. As the second smart city in the country, it elevates the standard of living to new heights by providing residents with a modern, advanced and practical way of living. With this mega real estate project, you can now experience the standardized concept and fulfill your dreams of living in an urban paradise.
It is a new real estate development in Lahore, Pakistan. It is designed to provide a modern and technologically advanced living experience to its residents, with an emphasis on smart city features and amenities. The details given provide a preview of what the residents can expect from the development, showcasing its innovative and state-of-the-art facilities.
The development features a range of amenities and facilities, including high-tech security systems, green spaces, and cutting-edge infrastructure. The Smart City represents a new era in real estate in Pakistan, offering residents a unique and innovative lifestyle.
Lahore Smart City Developers
This high-tech project is made possible by Bahria Town and DHA developers. The joint scheme of Habib Rafiq Group (Pvt.) Limited and Future Developments Holding (Pvt.) Limited are masterminds in the real estate industry.
Here we have the two most competent developers in the real estate industry.
Habib Rafiq Pvt. Ltd
Over the past 15 years, Habib Rafiq Developers have made a stand-out name for themselves by completing various projects successfully. All projects reflect class and sustainability at the core of the design to create premium real estate projects. Now they are considered one of the best and most trustworthy infrastructure developers in the market.
Habib Rafiq Private Limited is an aerospace and airfield, construction, chemical and Petrochemicals, Environment, Energy and Power, residential and Infrastructure, Roads, Water Resources Engineering and Oil and Gas.
Habib Rafiq Developers is the owner of Smart City in Lahore. This real estate company is known worldwide for its exceptional work and punctual delivery of projects. The reason behind their achievements is being fair, dedicated, and sincere in their job. The company majorly focuses on the needs of customers living in Pakistan and overseas.
HRL is responsible for residential construction, roads, electric and automated outcomes, gas pipelines, water tanks and layout works for the respective projects.
Future Developments Holding Pvt. Ltd
FDHL is also one of the top developers in Pakistan's real estate and asset management firm. The company assists companies with futuristic projects like smart cities. They also focus on providing posh living and profitable contributions to the customers.
Future Developments Holdings is a private development and building organisation registered under the Companies Act 1984. The FDHL team aims to support retail and residential communities in the best modern vicinities.
Engineering Dimensions Private Limited (EDL) and China Liaoning International Economic and Technical Cooperation Group Corporation Limited (CLIC) launched FDHL.
The 25 honours are a testament to Future Development Holdings' phenomenal achievements in Pakistan's real estate industry.
The renowned partnership with Pakistan's best intellectual groups of engineers and architects bring forward an all-rounder project as a subscription to a luxury lifestyle.
The respective project is similar to Capital Smart City in Islamabad by Habib Rafiq Group and FDHL.
They are already well-known in the real estate industry because of their hard work and commitment to the high-quality development of infrastructure in residential societies such as DHA and Bahria Town.
Design Partner - Surbana Jurong
Surbana Jurong, a Singaporean architecture company, represents fine pieces of aesthetics, perfection and architectural development through Smart City Lahore.
They have constructed a Smart Lahore City project according to Pakistan's culture and landscape, being honored as one of the leading companies in Asia's sustainable and futuristic urban architect groups.
Other Design Consultants for Smart City Lahore
Surbana Jurong
Harradine Golf
Troon Golf
DSA Architects International
Aquiver Architects
Smart Technology Solutions
Design Consulting Engineers
Cracknell
NesPak Engineering Consultancy
Development Partners of Lahore Smart City
This project has many development partners, such as:
Trivelles Smart Homes
National Defense University
International Medical and Research Institute
Freij Entertainment International
Hardine Golf
Movenpick
ESA
International Marketing Realtors of Lahore Smart City
The project is being marketed internationally in Italy, the USA, and the UK by well-known realtors:
Royal Overseas Solutions
Lion Home Design and Build
Dreamland Marketing Pvt. Ltd.
PK Marketing International
Overseas Marketing Group
Masters Real Estate
Aston Associates
City Marketing
Azi Investments
Orbis
SHS
G Stones
Century 21
Gold Square
Shahid Khawaja
Premium Realty
Shabbir Realty Inc
Rehman Realty Inc
Berkshire Hathaway
Avenue Marketing
Moin Haque Coldwell Banker
Property People International
Lahore Smart City Owners
Smart City Lahore is owned by a joint venture between FDHL (Future Development Holding Limited) and Habib Rafiq Group (Pvt.) Limited. These two companies are working together to develop and build the planned Smart City project in Lahore, Pakistan. Majorly FDHL issues notices and news regarding the project updates and information.
Lahore Smart City NOC
Lahore Development Authority (LDA) officially approved the Noc of Smart City Lahore in February 2021.
Furthermore, LSC further extends the point of practical living and eco-friendly residential schemes for the people of Lahore. An amazing opportunity for the investors and businessmen to blindly trust the legally approved housing project in Punjab.
Lahore Smart City Location
Located on Lahore Bypass near Kala Shah Kaku, this real estate gem is an easy connecting area from Lahore-Sialkot Motorway from GT Road, Lahore. The eastern Bypass gives easy access to drive on Lahore Ring Road. The distance to Allama Iqbal International Airport remains only an 18-minute drive away.
Access Points
Lahore Smart City address gives you a chance to live in a peaceful, city-free hassle environment with easy connectivity to the following routes:
From GT Road Almost 4 min drive away.
From M-2 Motorway Almost 5 min drive away.
From Lahore Ring Road L-20 is Almost 22 min drive away.
From M-11 Motorway Almost 10 min drive away.
From Lahore-Sargodha Road Almost 11 min drive away.
From Hardosohal Muslim Road Almost 8 min drive away.
From Kala Khatie Narang Mandi Road, Sheikhupura Almost 5 min drive away.
Lahore Smart City Master Plan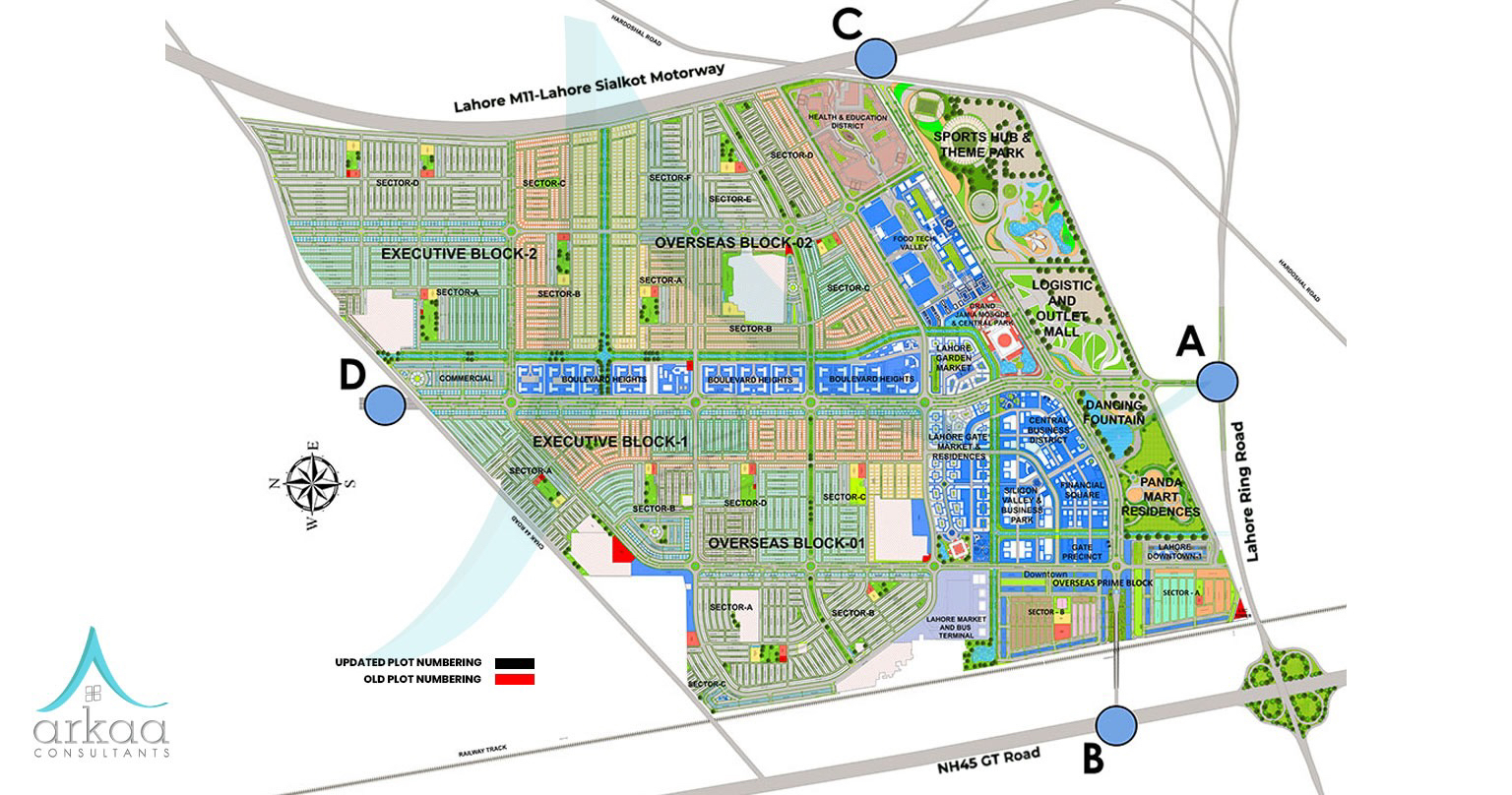 The Lahore Smart offers commercial and residential plots in the most alluring way the master plan has been designed and given by the developers. This smart project was created with the township model approach in mind. Surbana Jurong has also done an excellent job using European development ideas to plan this massive project, which offers people a variety of housing options.
According to expansion plans, the progress includes two zones: Overseas and Executive zone.
Lahore Smart City Total Area
A real estate project of a vast magnitude needs lots of space, so more than 20,000 Kanal area right in Lahore's suburbs is the perfect choice. 20 miles of a leisure path alongside eco-backbone and rivers with a continuous network. 600 Kanal primary park incorporated with the grand mosque and monetary rectangular as a visitor destination. 20m open space, along with diverse sports, culture, community, and lawn facilities.
Due to the increased demand and success of the housing project, the developers have planned to extend the land, launch more zones for residential & commercial sectors.
Lahore Smart City Map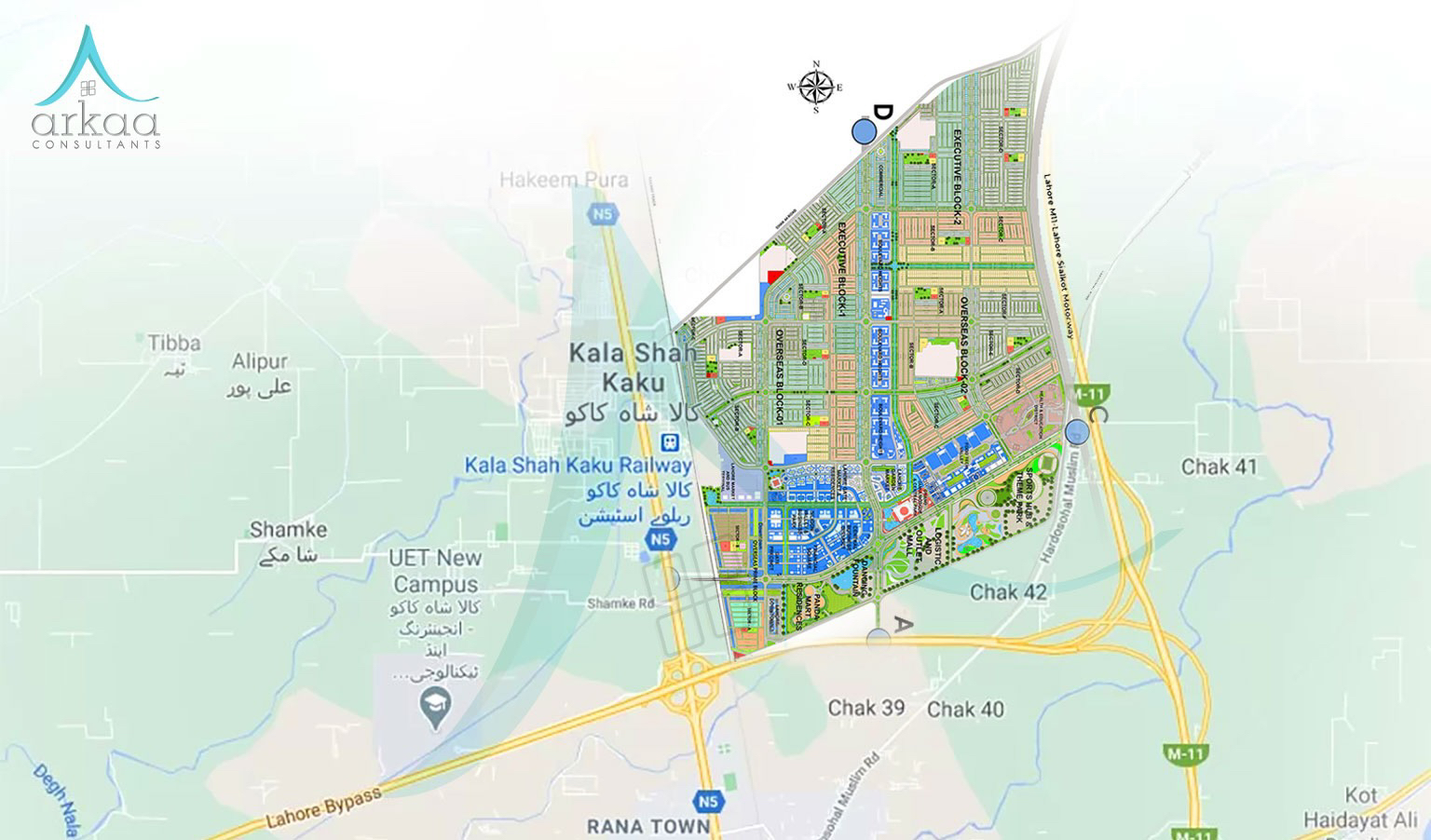 Lahore Bypass is close to Kala Shah Kaku. Lahore Smart City, real property is a linear connecting vicinity from Lahore-Sialkot Motorway from GT Road, Lahore.
Smart City Lahore map is effortlessly approachable from many locations. The Bypass proposes a straightforward right of the entrance to drive on Lahore Ring Road. Lahore Ring Road is a major path that leads to almost the whole of Lahore directly. The distance to Allama Iqbal International Airport stays the handiest as it is a short distance away.
Lahore Smart City Nearby Landmarks
Ferozewala
Shahdara
Rana Town
UET
Facilities and Features of Lahore Smart City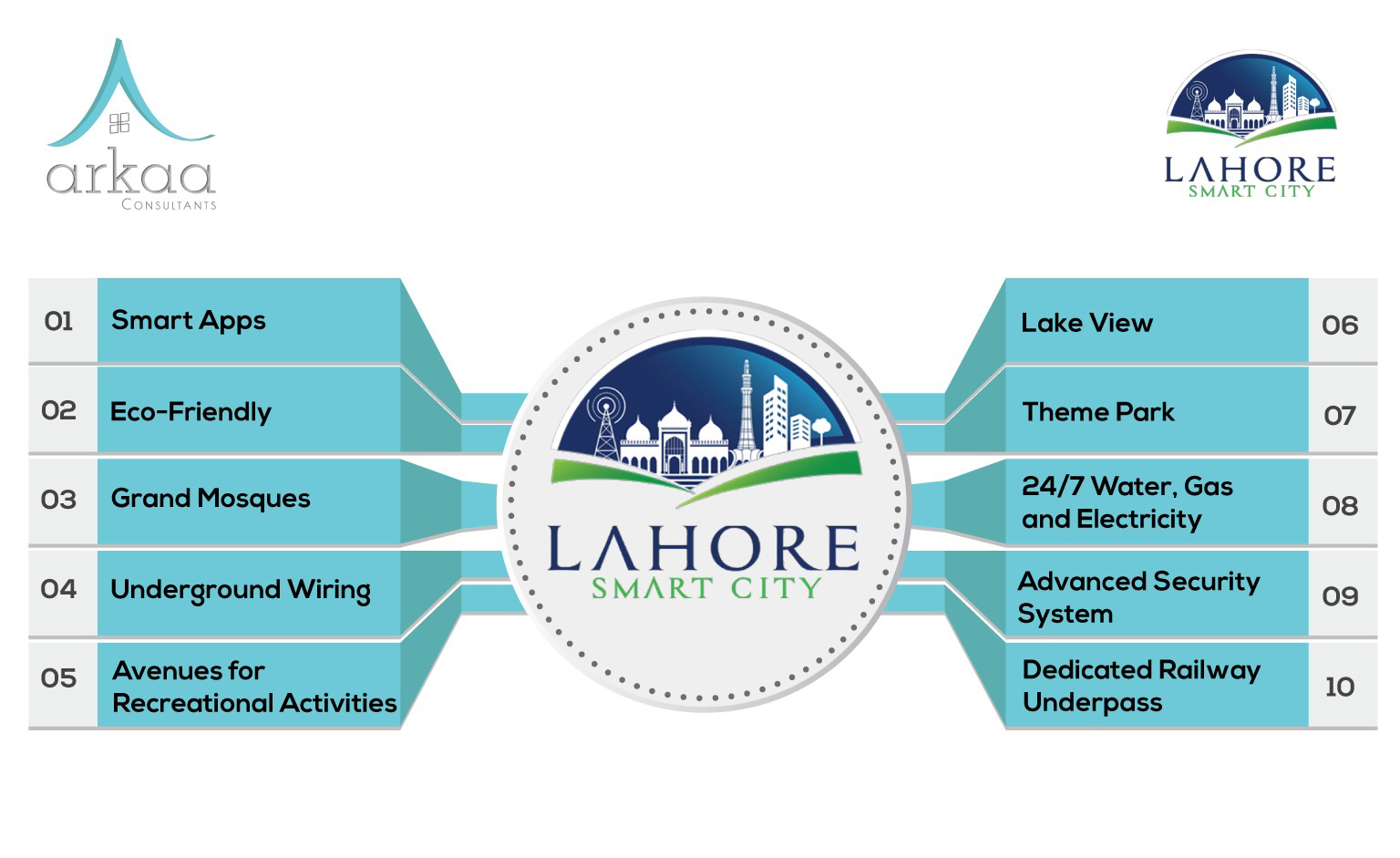 The following are the promising features offered to its members:
High-speed internet and advanced communication networks.
Efficient transportation systems such as bus rapid transit, smart traffic management, and pedestrian-friendly infrastructure.
Energy-efficient and environmentally sustainable homes and buildings.
Healthcare facilities and modern educational institutions.
Smart App for traffic, weather and electricity.
Parks and open spaces for recreational activities.
Waste management systems with a focus on recycling and sustainability.
Emergency response systems, such as fire and medical services.
24/7 security and surveillance systems.
Community facilities such as community centers and sports facilities.
The exact list of facilities and features may vary as the project progresses, but the focus is on creating a sustainable and technologically advanced city.
Recreational Amenities in Lahore Smart City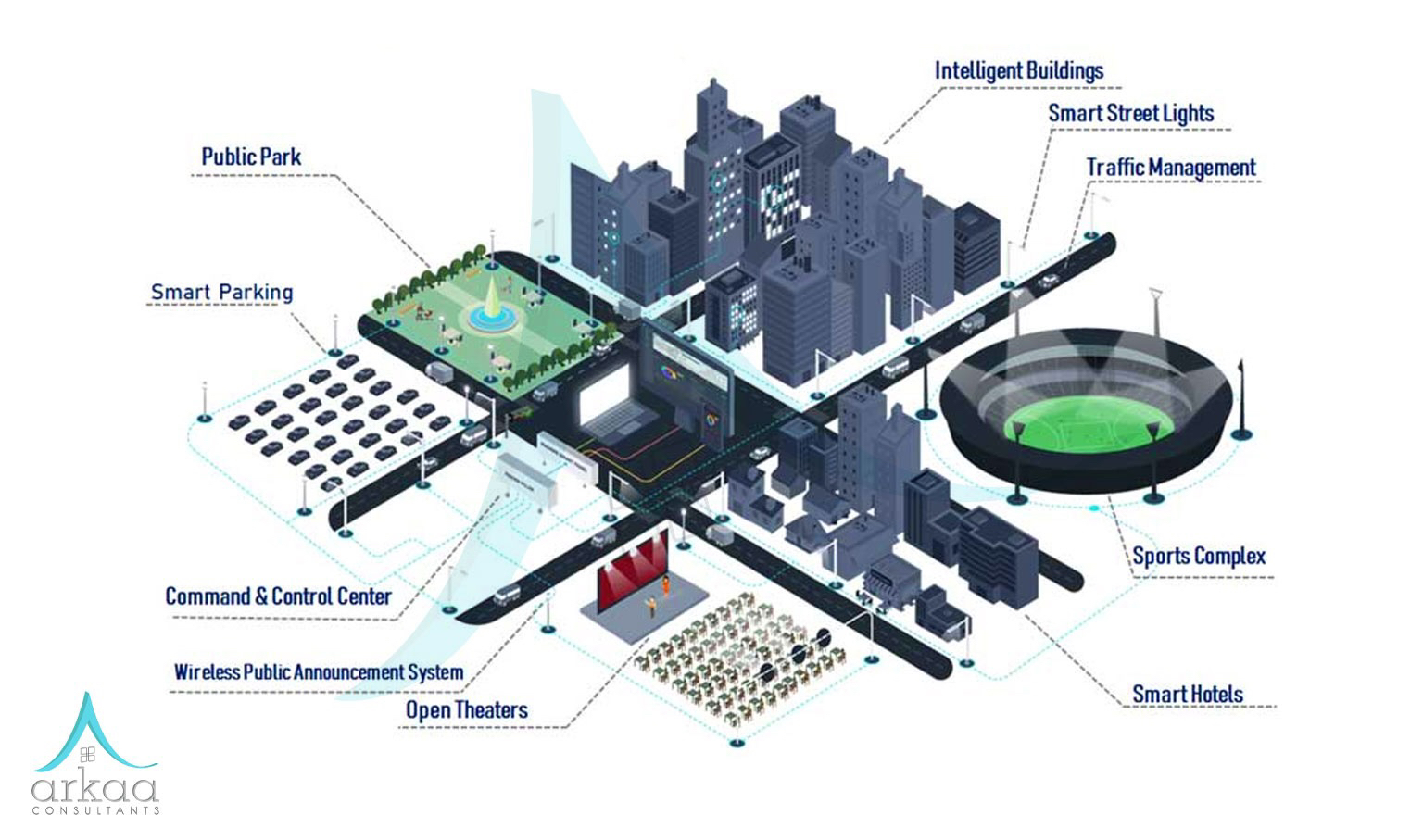 The Smart City Lahore is prospering every day to make sure that the residents can enjoy a life that is worth living. The main concept is to promote and develop as well as enhance strategic growth in areas that can prove to be the hub of future investments.
The major aspects are some of the key features that make this place one of the best housing schemes:
Smart Housing Community
An original and sustainable design that meets all requirements of the main city covering electricity and gas needs. Lahore Smart City offers an unparalleled lifestyle experience. Elevated to a new level of luxury and comfort. The residences at Smart City are designed with the utmost care and attention to detail. For Example: Smart Street Lights, Traffic management, Smart Parking etc.
​Technology-driven Plan
The Lahore Smart City project will be based on ultra-IT development ideation to lift infrastructures like Overseas and Executive Blocks. Silicon Valley with an IT Campus is an example.
Business Prospects
It is an initiative of FDHL and HRL development authority to develop financial, technological, and infrastructure facilities needed to promote the city's status. The project offers several office spaces and commercial plots to invest your money for continued profit such as shopping malls.
Connectivity
The easy access to main routes back and forth from the motorway makes it an alluring and ideal location.
Comfort Zone
Residents of all sorts can experience a social environment with security and serenity with recreational prospects. The design includes amenities and conveniences such as housekeeping service, a central air conditioning system, and Wi-Fi. It is also located near malls, supermarkets, and restaurants to make your life easier!
Enhanced Installments
Residents are offered advanced traveling solutions like Smart Parking, Intelligent Traffic Management, and public transportation.
Gas Supply
The management of Smart City Lahore has been allotted the sui gas supply. Such basic necessities make a huge difference in living perspective.
Fascinating Infrastructure
One of the best features of this project is to give its residents a sustainable and sophisticated transportation system that is filled with a network of roads, pedestrian paths, and cyclists' ways and also has room for movement. This scheme has developed keeping all these details in mind and the goal of efficiency has also been achieved.
Underground Wiring
Lahore Smart City has a wire free advanced and clean looking space with underground wiring. No coiled, fallen or disturbing electric wiring is present. Underground wiring system ensures the residents safety and makes the infrastructure look advanced.
Integrated Transport System
In Smart City Lahore, you will enjoy an integrated transport system. So mobility remains fast. On top of that, all bus schedules will pop up on your phone screens.
Wireless Public Announcement System
Placement of wireless speakers for the announcement of news or information to people is done.
Lahore Smart City Blocks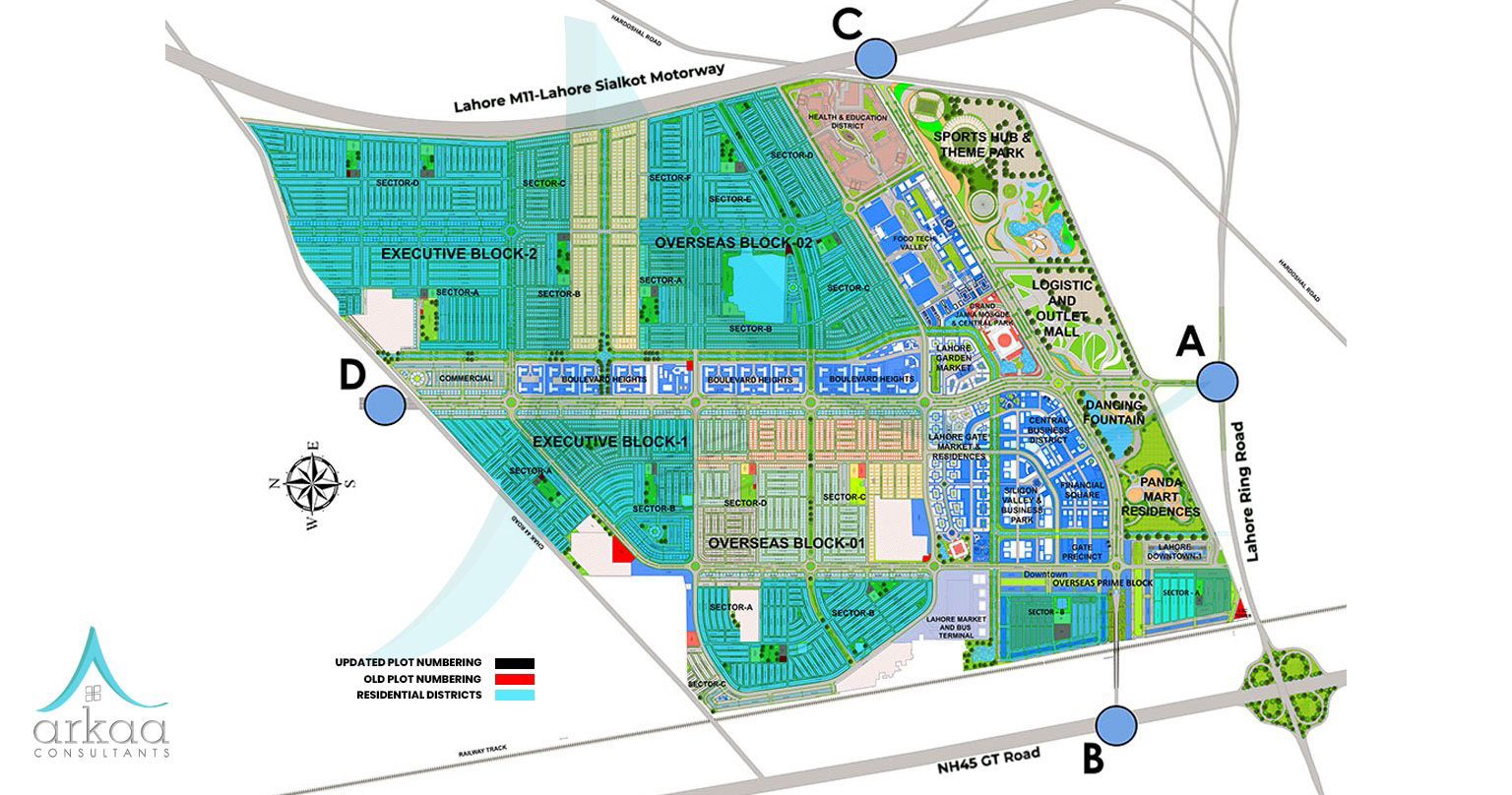 Lahore Smart City, located on the outskirts of Lahore, is a well-planned, modern residential area that aims to provide a safe and comfortable living environment for people from all walks of life. The housing project is divided into several blocks, each with its own unique features and facilities.
The blocks of Smart City Lahore are designed to provide the perfect combination of modern amenities, convenience, and comfort. Each block has its own distinct character, with a variety of housing options, ample green spaces, and a wide range of leisure activities. The community is well connected to major road networks, making it easy to commute to and from the area.
Residents can enjoy access to modern amenities such as shopping centers, hospitals, schools, parks, and recreational facilities. The housing scheme also boasts a variety of lifestyle options, with different types of housing to suit different budgets and needs. The blocks also feature a variety of entertainment and cultural activities, making it a great place to live and work.
Lahore Smart City plan is divided into residential and commercial blocks. Smart City in Lahore uses technology and data to improve the quality of life for its residents, and to make the city more efficient and sustainable. Residential blocks in a smart city would typically include high-quality, energy-efficient housing, while commercial blocks would include businesses, offices, and other spaces for economic activity.
Residential Block
Lahore Smart City is a new residential project in Lahore, Pakistan, designed to offer modern and sustainable living. The residential block comprises many housing blocks, offering a range of villas and sizes for families and individuals. These plots are designed to be spacious and comfortable, with features such as well-equipped kitchens, modern bathrooms, and large windows to allow plenty of natural light.
Some of the key amenities offered in the residential block of Lahore Smart City include:
Fitness centers
Swimming pools
Grand Mosque
Community parks and green spaces
Shopping centers and supermarkets
Round-the-clock security and surveillance
The block covers all necessities and other facilities for the tenants. Buyers can opt for a house on choice depending on priority.
Overseas Block
Executive Block
Overseas Block
The Overseas Block in Lahore Smart City is a specially designated residential area for foreign nationals and overseas Pakistanis. It is designed to cater to the unique needs and requirements of this group, offering a range of features and amenities to ensure a comfortable and convenient living experience.
Some of the key features of the Overseas Block include:
Luxury villas with modern finishes and fittings.
High-end amenities such as swimming pools, fitness centers, and community parks.
Shopping centers and supermarkets for convenient access to essential goods.
Round-the-clock security and surveillance for peace of mind.
Multilingual customer service and support to assist with any needs or concerns.
Smart App Technology to run daily tasks.
Location of Overseas Block
The Overseas Block is in a prime location within Lahore Smart City, providing easy access to major transportation routes, commercial centres, and local attractions.
Overall, the Overseas Block is a unique residential option designed to provide a comfortable and convenient living experience for foreign nationals and overseas Pakistanis can book a suitable plot for sale in Lahore Smart City. With a range of features and amenities to meet their needs, it is an ideal option for those looking to reside in Lahore.
Overseas Block Plot Sizes
This block features the following plot sizes:
5 Marla
7 Marla
10 Marla
12 Marla
1 Kanal
Overseas Prime(Ex Sector A and B)
The housing project management changed Sectors A and B to Overseas Prime on 24th December 2022 in Lahore Smart City.
Sectors A and B of the Overseas Prime housing project, built by top builders and developers, is a secure and profitable investment location. It offers contemporary amenities, advanced infrastructure and a tranquil lifestyle. Sector A is fully developed with all necessary facilities, while Sector B is almost completed with ownership transfer announced by the developers. Many investors have started construction of their homes too.
Location of Overseas Prime
Overseas Prime is located near the Main Boulevard of the Smart City in Lahore. Therefore, both residents and investors know the worth of this demanding block because of its phenomenal location.
Overseas Prime Plot Sizes
This block features the following plot sizes:
5 Marla
7 Marla
10 Marla
12 Marla
1 Kanal
Balloting and Possession of Overseas Prime
The Allotment and Possession event of Overseas Prime (Ex Sector A and B) held on 24th December 2022 at the site. The provision of global impressive infrastructure and facilities in a short period of one year has made Lahore Smart City extraordinary. The management fulfilled a promise 3 years ahead of commitment.
Overseas Zone 1
Now the Overseas Block has declared Overseas Zone 1 which is neighbouring Global Village and Downtown Lahore. Overseas Zone 1 in Lahore Smart City is a striking residential option for foreign nationals and Pakistanis living abroad.
Balloting and Possession of Overseas Block
Overseas Zone 1 balloting scheduled on 13th May 2023 in Lahore Smart City has now been postponed due to the current political situation in the country. Members will be noticed soon once the management discloses the date.
Members must pay 40% of the land cost and submit by April 21, 2023.
Members who pay her 60% or more of the plot price by April 21, 2023 can choose the location of the plot.
Members will be issued an acknowledgment of receipt (after submitting their ballot request). Acknowledgment of receipt ensures that members have the right to participate in the ballot.
Executive Block
Lahore Smart City plots at the Executive block consists of apartments, residential houses, retail shops, playgrounds, jogging tracks, and a supermart. In addition to residential spaces, the Executive Block also features a variety of amenities and services, including hospitality, retail, healthcare, education and a mosque, ensuring that residents have everything they need for a comfortable and convenient lifestyle.
As per your interest to upgrade lifestyle, you can choose plots for sale in Lahore Smart City in the form of villas or big houses. The infrastructures are most scenic with a grand exterior.
The Executive Block is a premier development that combines the best of residential and commercial spaces to create a thriving, secure and harmonious community. The area features a range of residential plots and villas designed for families, offering 24/7 security and maintenance services for a safe and secure living experience.
The thriving environment, with its friendly atmosphere, top-class healthcare facilities, food and beverage options, retail options and well-manicured parks, makes the Executive Block one of the most desirable areas for residency in Lahore.
Location of Executive Block
Executive block in Lahore Smart City is easily accessible from Chak No 44 Road. It is located next to the Overseas district.
Executive Block Plot Sizes
This block features the following plot sizes:
5 Marla
7 Marla
10 Marla
12 Marla
1 Kanal
Executive Zone 1
The management announced the launch and balloting of Executive Zone 1, opposite Boulevard Heights. It is an excellent opportunity for investors and residents to construct their dream home soon.
Balloting and Possession of Executive Zone 1
The management announced the balloting with details of LSC Executive 1 Block. The balloting will commence on 13th May 2023 but is now postponed due to the country's political situation. Members will get their plot ownership through the Internet of Things balloting procedure.
Commercial Blocks
The financial square is ideal for retail offices, hotels, exhibition halls, and much more to invest in.
The commercial plots payment plan is available to purchase by the developers. Smart City developers have launched 2.66 and 6 Marla commercial plots available for you to get benefits in all forms. The most profitable investment option for investors and businesses.
The commercial plots are available in following blocks in LSC:
Overseas Block Commercial
Executive Block Commercial
Overseas Block (Commercial)
Overseas block got immense attention from foreign investors. You can invest in business here and get a profitable fund without having to do much. The developers gave LSC a new payment plan for commercial plots in the following sizes:
Executive Block (Commercial)
Lahore Smart City's latest updates indicate that commercial block plot sizes are in following sizes:
Multiple Districts in Lahore Smart City
The project will have multiple districts, each with a specific focus and purpose.
Healthcare District
A health care district is the center of the provision of health care facilities. The space provides an opportunity for individuals and businesses to improve healthcare services and keep communities healthy. Dedicated laboratories, hospitals and clinics are symbols of technological progress.
This block's importance, with its furnishing facilities especially in this era, is extraordinary. LSC's creators have done it with complete rules and order. This initiative began with an eccentric hospital project, which included the installation of 500 beds, compatible workers, and competent healthcare specialists.
Pink Ribbon Hospital
FDHL has signed a Memorandum of Understanding (MoU) to build two Pink Ribbon hospitals, one in Lahore Smart City and the other in Islamabad Smart City. These hospitals will have 200 beds each and primarily cater to underprivileged breast cancer patients in Pakistan.
The Pink Ribbon Hospital will offer diagnostic, chemo, radiation, and surgical facilities, with procedures being made affordable for residents. Establishing these hospitals aims to provide quality healthcare to those who need it the most.
The team from Harley Brain and Spine Hospital visited Lahore Smart City, intending to explore innovative ways to enhance patient experiences and improve the quality of care they deliver. Dr. Irfan Malik, Mr. Leandro, and other esteemed guests were warmly welcomed and treated to a delightful lunch, all while being updated on the exciting developments at LSC.
Witnessing firsthand the cutting-edge utilization of technology and design in creating a healthier and more joyful environment for residents proved to be a truly captivating experience for the Harley team.
Sports Block
The Sports District in Lahore Smart City is a practically designed sports complex presenting residents with a unique and comprehensive lifestyle experience. The district is designed to provide world-class sports facilities, including a football stadium and a cricket stadium suitable for hosting major sporting events.
The community also features an international standard sports academy, providing residents and sports enthusiasts with top-notch training and coaching facilities.
The Sports District is a one-of-a-kind development that offers a truly comprehensive lifestyle experience, with a blend of residential, leisure, sports and entertainment facilities. It is designed to establish a unique and thriving community, and is an ideal destination for sports enthusiasts, families and nature lovers alike.
This section is near Theme Park, Health and Education District, and Food Tech Valley. Readily accessible by using GT Road, Lahore Eastern Bypass, and M-11 Motorway.
Education Block
The block will have top-standard education institutes. Universities, colleges, and schools will surely make things better within the city with a revised curriculum. Lahore Smart City's leadership staunchly believes in educational progress along with intellectual development. Therefore, the development of educational institutes is amongst the top priorities alongside infrastructural progress.
Stem College
The Chairman Federal Board of Intermediate and Secondary Education (FBISE) and the Executive Director City Operations and Management, FDHL, at Islamabad,
signed an MoU of Affiliation of Smart STEM Education System in April 2022,
the first and largest STEM Education brand in Pakistan. The school is under construction to provide quality education.
Silicon Valley
Silicon Valley is a destiny hub of technological evolution and logistics in the real estate industry. Silicon Valley is a place where technology furnishes solutions. It's also a place where we build connections, make connections and influence the future of our industry. Lahore Smart City is a place that fuels innovation and change. Here, you can harness the power of technology to transform your ideas into reality.
Silicon Valley would have the following options:
IT campus
Corporate offices
Technology operational offices
Warehouse
Residential Apartments
Retail
Gate Precinct
Gate Precinct is a strategically located area in Smart City Lahore, adjacent to the Central Business and Silicon Valley sectors. It is easily accessible from both the M-11 Motorway and GT Road.
The precinct comprises well-designed commercial plots, offering various opportunities to potential investors.
The luxurious hotels in the Gate Precinct offer top-notch amenities to their guests. The mixed-use buildings in the precinct offer breathtaking views of lush green surroundings, providing a serene environment for residents.
Gate Precinct will host a range of facilities such as 3 and 5-star hotels, restaurants, offices, serviced apartments, a large pavilion of outlets, mosques, parks, apartments of varying sizes, and commercial shops.
Lahore Theme Park
The management of Lahore Smart City has announced the opening of a theme park in a convenient location within the city. The park boasts the giant Ferris wheel in Pakistan, making it a significant visitor attraction. It is also located near several other vital areas of interest, such as the Logistics and Outlet Mall, Sports District, Health and Education District, and Food Tech Valley.
The theme park provides many amenities, including retail shops, food and beverage options, holiday resorts, bird parks, and street food truck parks.
The park is accessible via the Lahore M11-Lahore Sialkot Motorway, Lahore Eastern Bypass, and GT Road, allowing visitors to reach the playground quickly.
Food Tech Valley
Food Tech Valley is a cutting-edge laboratory that develops and preserves chemical and pesticide-free food using modern technologies. This technology hub results from a collaboration between companies from Dubai and Singapore.
Conveniently located near the Health and Education District and Lahore Theme Park, Food Tech Valley is easily accessible from all four main access points and enjoys direct access to the Lahore-Sialkot M-11 Motorway. This prime location enables quick and easy transportation of goods to various parts of the country.
Lahore Bus Terminal
Lahore Smart City has a bus stop. Also, this bus service helps residents move in and out of housing schemes. A crossing will be built here to give residents easy access to the market with the bus terminal.
Downtown Lahore
Downtown Lahore is a premier business district and hub of various businesses, driving rapid growth for all companies.
Downtown in Smart Lahore City offers commercial plots for sale with an affordable payment plan, providing investment opportunities for investors.
Located in Boulevard Heights and Overseas Block Zone 1, Downtown Lahore is easily accessible via GT Road, Lahore Eastern Bypass and Motorway (M-11).
Boulevard Heights
Boulevard Heights is a special commercial district with numerous business opportunities for growth and profitability. Lahore Smart City Boulevard Heights is located near Commercial, Downtown Lahore.
Lahore Smart City Payment Plan 2023
The Smart City Lahore Payment Plan 2023 aims to make it easier for buyers to purchase their dream home. The plan offers a flexible and convenient installment structure, allowing buyers to make payments in manageable amounts over an extended period of time.
The plan takes into account the basic needs of buyers, including the ability to make down payments, installments and payments towards maintenance and other charges.
The Master Plan of Smart City and payment plan is designed to be transparent, fair and accessible, making it an attractive option for buyers who want to invest in a smart, sustainable and well-planned city. With its flexible and easy-to-understand payment options, the Smart City Lahore Payment Plan is an ideal solution for those looking to purchase a home in this vibrant and growing city.
Along with this many plots for sale are available for both commercial and residential sectors.
Residential Block Payment Plan
Lahore Smart City offers residential payment plans in easy installment plans in different sizes available for everyone. Following are the payment plans of the residential blocks:
Overseas Block
Executive Block
Overseas Block Payment Plan
Executive Block Payment Plan
Commercial Block Payment Plan
Lahore Smart City provides a flexible and convenient installment plan for investors looking to purchase commercial plots of various sizes. This is a great opportunity for entrepreneurs and business owners who want to establish a commercial presence in the city and take advantage of the growing demand for commercial real estate.
The easy installment plan makes it possible for investors to acquire commercial plots without putting too much strain on their finances, and offers the potential for significant returns on investment in the future. Whether you are looking to start a new business or expand your existing one, Lahore Smart City's commercial block payment plan is a smart choice for anyone looking to make a sound investment in the commercial sector.
Overseas Block (Commercial) Payment Plan
Executive Block (Commercial) Payment Plan
Lahore Smart City Old Payment Plans
Lahore Smart City aims to provide state-of-the-art amenities and facilities to residents, including 24/7 security, an uninterrupted power supply, and a range of recreational facilities.
The project offered residential plots in various sizes, ranging from 5 Marla to 2 Kanal.
The project was launched in 2020, and since then, payment plans have been introduced thrice to facilitate potential investors.
The initial payment plans offered a flexible installment schedule, with a down payment of 10% and the remaining amount payable in 3 to 4 years.
However, as the project became popular, new payment plans were introduced with more flexible terms and extended installment periods.
In 2021, an updated payment plan was launched with new rates. The first installment was set at 10%, while the second installment of 5% was payable after three months.
In 2022, the management introduced new payment plan for Overseas and Executive Block. They offered a 10% discount on the total amount for those who paid the down payment in one go.
Overall, Lahore Smart City offers a range of payment plans to cater to the needs of different investors. The project has gained significant interest from potential buyers due to its prime location and modern amenities, making it an attractive investment opportunity in Lahore.
The resale of plot file is available for all the old payment plans of Lahore Smart City.
Executive Block First Payment Plan
Overseas Block First Payment Plan
Executive Block Second Payment Plan
Overseas Block Second Payment Plan
Development in Lahore Smart City 2023
At the beginning of March 2023, the management provided updates on the progress of various projects and initiatives. Here are some highlights:
Overseas and Executive Block
For now, Lahore Smart City's new update is that the developers are concentrating on finishing off the Overseas and Executive Blocks so that residents can start building their homes. The commencement of the Overseas block has begun with a roar to provide the foreign living standards to the overseas Pakistanis.
Smart Villas
Construction work for Smart Villas in sector A is nearly done. Excavation and earth preparation is underway.
Brickwork has begun for 1 Kanal and 10 Marla Georgian Villas, with brick walls already pitched and metal beams being installed.
May 2023 developmental updates show the white beautiful harmonious Georgian villas are complete and standing tall for its residents.
Main Boulevard
Construction is ongoing for Main Boulevard and roads. The foundation has been levelled, and subgrade layers are being prepared. Kerb stones and street lights are on Main Boulevard.
Building roads and lanes in Sectors A and B has begun and work on planting, and edge stone fixing along the streets is in progress.
Business Avenue
Business Avenue is also under process. The drains are being built underground. They are moving quickly as last week the underground boundary framework was in progress.
Driveways
The structure of roads, paths, and driveways has commenced in Sectors A and B.
Earth for streets has been levelled. The pit and installation for gutters are underway.
Many lanes are developing in sector A. Pathways and driveways are also being designed rapidly in both sectors. Plantation in streets is also in progress.
Boundary Wall and Sewage Pipeline
The boundary wall of sector B is under construction. Sewerage channels are being constructed in sectors A and B.
Sales and Marketing Office
A grand site office of Lahore Smart City is being constructed to entertain the site visitors and investors. The concrete foundation is also being laid for a sales and marketing office.
Horticulture Works
In addition to the access roads, tree plantation has also been started at the on-site nursery so that the trees and plants are ready in time for horticulture work.
Horticulture, plantation, and green belts are an integral part of life in any housing project. Lively green plants on the road sides provide an inviting and welcoming look to the new housing scheme and represent the quality of work in any residential project.
Mechanical Workshop
The big frame is placed in a shelter looking form. Around it a little brick wall is in the way of progress.
Over Head Water Tank
The construction of the overhead water reservoir in sector A has been completed. The construction of an overhead water tank in sector B is underway.
Electric Supply
The site office and other areas of the development site will have electricity as 200 KVA WAPDA Transformer has been installed.
Community Parks
The construction of a community park has commenced in sector A. The edge stone fixing is currently being carried out and the plantation will start soon.
According to May updates the Community Park is completed.
Mosques
The construction of mosques in sector A and B is underway. Giving off contemporary design structure vibes. We need to wait for some time patiently to see the final product.
We no longer have to wait for the final product as the Grand Mosque has been operational since May 2023.
Smart Stem College
The groundbreaking ceremony was held for Stem Girls and Boys College in Sector B. The development work is underway at a rapid speed.
Cricket Stadium
A National Level Cricket Ground earth leveling is going on to construct a pitch. The Groundbreaking Ceremony for cricket ground was held on November 18, 2022, with the calibration of a PCB approved consultant.
Railway Underpass
Lahore Smart City management has begun the groundwork of the Railway Underpass for direct access to GT Road Gujranwala.
In a recent development, LSC accomplished the tremendous task of bypassing the pre-existing railway tracks that hindered traffic from GT Road Gujranwala.
Inchscape Visit
Inchscape, a distinguished landscaping company from Malaysia, recently visited Smart City. Their purpose was to explore fresh landscaping possibilities and collaborate to devise innovative solutions for sustainable development.
LSC is a remarkable undertaking formed through a partnership between HRL and Future Development Holdings Private Limited, a real estate developer based in Singapore. This ambitious project aims to establish a modern, sustainable city with cutting-edge infrastructure, verdant expanses, and technologically advanced amenities.
During their visit, the Inchscape team had the opportunity to meet with officials from Lahore Smart City. Fruitful discussions were held, where ideas were exchanged on how to enhance the city's green spaces and foster sustainable living practices.
Drawing upon their extensive knowledge and experience, the Inchscape experts shared insights into creating imaginative landscaping designs and implementing advanced techniques to conserve precious resources such as water and energy.
Infrastructure Development in Lahore Smart City
The infrastructure development in LSC is expected to be top-notch and modern, including:
High-speed internet and communication networks.
Efficient transportation systems, such as bus rapid transit and smart traffic management.
Energy-efficient buildings and homes with smart home technology.
Waste management systems with a focus on recycling and sustainability.
Healthcare facilities and modern educational institutions.
Commercial and retail spaces with a focus on sustainability and technology.
Parks and open spaces for recreational activities.
The exact details of the infrastructure development plan may change as the project progresses, but the focus is on creating a sustainable and technologically advanced city.
Current Status and Future Prospects of Lahore Smart City
Smart City in Lahore is a proposed smart city project in Lahore, Pakistan. It is expected to offer state-of-the-art infrastructure and amenities to its residents, such as high-speed internet, modern transportation, and smart homes. The project is still in its early stages and the exact timeline for its completion is not yet known.
However, it is expected to bring economic growth and employment opportunities to the region. The government of Pakistan has expressed its commitment to the development of smart cities as part of its Vision 2025 program.
Investing Benefits in Lahore Smart City
The Smart City in Lahore offers multiple investment benefits along with great return on profits. Those pulling choices are:
Robust Economic Growth
The presence of commercial areas, business parks, and other investment opportunities within Smart City is expected to drive robust economic growth and create jobs.
Sustainable Development
The project is being developed to focus on sustainability, incorporating green spaces, renewable energy sources, and sustainable building practices.
Growing Real Estate Market
The expansion is expected to drive demand and growth in the local real estate market, offering attractive investment opportunities for both local and foreign investors.
Convenient Location
Lahore Smart City is strategically located in close proximity to Lahore's major commercial and cultural hubs, offering residents and businesses easy access to the city's key attractions and services.
Robust Features
For a housing project, Smart City Lahore comes with a hi-tech and sustainable vision of development. The smart features of the housing project will be an everlasting heritage in Lahore. Homes with unrivaled interiors and amenities are designed for comfort and luxury.
Multipurpose Hub
Lahore City Smart plots for sale play the role of a solid business center with economic, health, commercial, and recreational opportunities.
Smart Investments
Why not be smart about investments? As a real estate project, customers can experience their profit investment blossoming in an exemplary architectural complement and potential investment slots for the buyers. Opening different business opportunities to secure your future.
Iconic Lifestyle
Investment in Lahore Smart City lets you live and enjoy a high-standard lifestyle with modern design and the facilities that accompany the project. The epitome of the stylish lifestyle unit. It is modern, bright, and spacious, with a smartly-designed layout for you to enjoy. Clean air quality and green living are just some of what this smart city has in store for you at the most favorable price.
Improved Infrastructure
The Smart City boasts state-of-the-art infrastructure and amenities, including well-planned roads, utilities, and community facilities.
High-Quality Living Standards
The development of Smart Villas and residential blocks offers high-quality living standards with modern amenities and secure gated communities.
Steps to Book your Plot in Lahore Smart City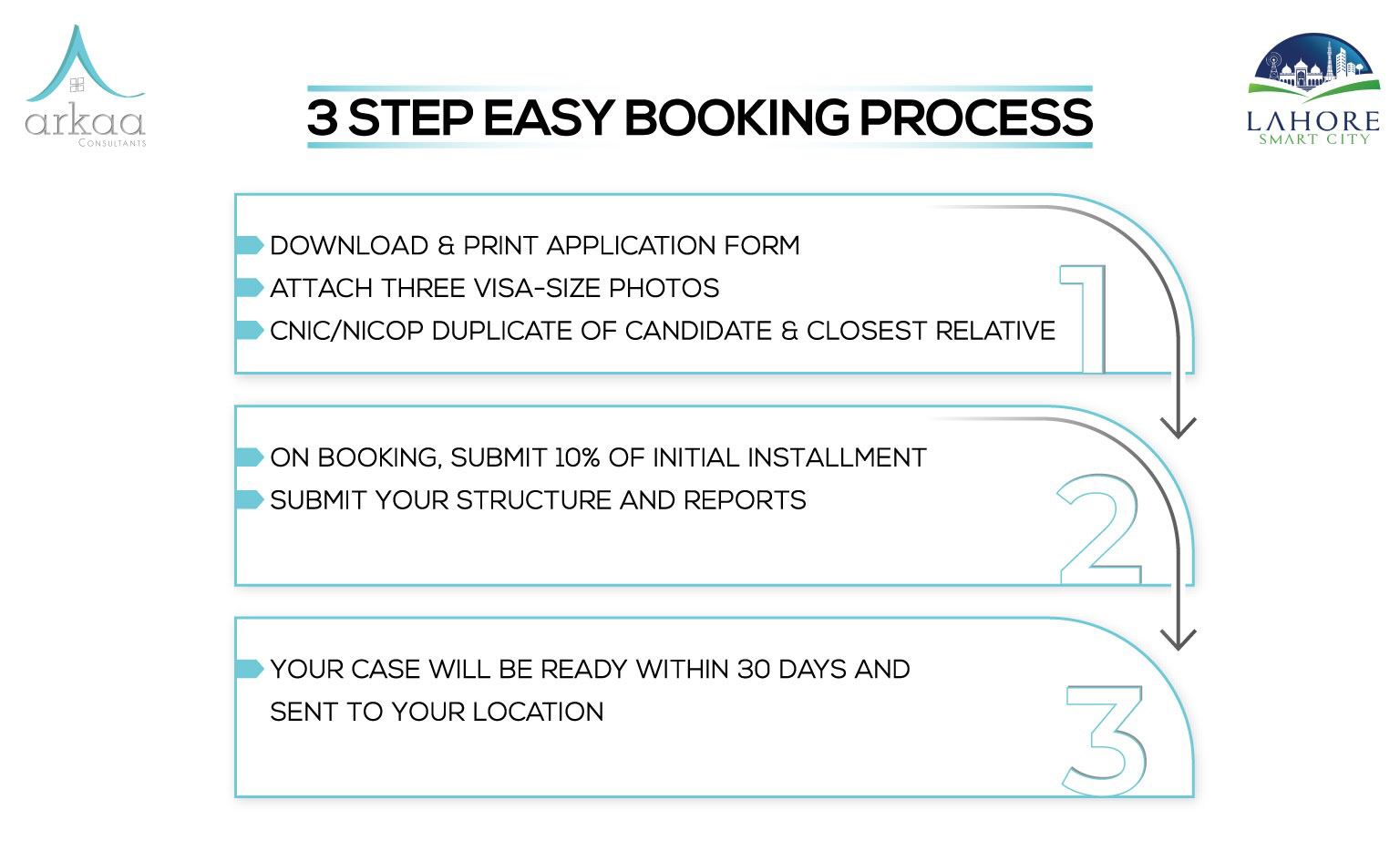 Avail the opportunity to receive assistance from LSC experts who are always available to help. The project's pricing is highly competitive and varies based on the size of the land. Follow the booking procedure outlined below to secure your spot in Lahore Smart City.
Download and print Application Form.
Attach three passport size photos of candidate
CNIC copy and closest relative (one)
Submit 10% of an initial installment for FDHL
Submit your reports, and request us to affirm booking
Note: Documents get ready and completed within 30 days, then delivered to your given address.
Transfer Procedure in Lahore Smart City
For Regular Transfer, the procedure is:
Apply and receive "No Demand Certificate"
Bring transfer documents with duly paid SOD to transfer officer to obtain a transfer appointment
Officer will provide a transfer appointment
Both the seller and purchaser must visit the transfer branch to conclude the property transfer process
The customer must appear in person on the designated date and present their CNIC to collect the transfer letter
An urgent transfer can be arranged by paying a compulsory transfer fee
Manual Booking
For manual booking of the plots, follow the procedure mentioned below:
Get the print of the applying type and fill it out totally
You may become a good member of the smart city and submit the booking form online via e-form
Deposit the payment manually or mechanically with the processing fee
Another way is to transfer the payment through interbank transactions in many banks like Alfalah Bank or Habib Bank Limited etc
E-Booking
Follow the below-mentioned procedure for online booking:
Become a Member and proceed with web procedure
Online payment via Mastercard or Visa Card
Transfer payment via interbank transactions
How to Apply for Possession of a Plot?
Follow the given point to apply for the possession of a plot:
Apply for SOD (Statement of Dues) and PDCS (Post Dated Cheques Statement) from the Building Control Department (BCD) using a computer-generated letter.
Pay the possession fee before submitting the application and attach the deposit slip.
Once the application is submitted, the BCD will issue the SOD and PDCS.
Members must pay the amount mentioned in the SOD and PDCS accordingly.
Now member will apply on the prescribed application and will attach the following documents:

MS letter and/or Allotment Certificate (Copies)
CNIC (Copy)
Affidavit
Post Dated Cheques (PDC)
Fee / Charges deposit slips

BCD will process his/her application and get approval.
BCD will approach the applicant to visit and get on-ground Possession and Possession Letter.
Apply for drawing and permission for construction services.
Members must start construction within 6 (Six) Months from the date of handing over possession. Otherwise, one has to apply for re-possession.
How to Share Payment Evidence for Quick Verification?
After making a payment, share the evidence through our e-Services for quick verification before posting to the Payment Ledger of the property. Submit payment evidence using one of the following modes:
eMail to sales@smartcitypk.com (cc to support@smartcitypk.com).
Choose Smart City e-Services to share payment evidence online.
Note: Payments will be posted in the property ledger after verification in Bank Statement within the due time.
FAQs
Lahore Smart City ownership is an alliance between Habib Rafiq (Pvt) and Future Developments Holding(Pvt).
Yes, it is officially approved by LDA. The approval news came in on 14th February 2021.
Lahore Smart City is located on Lahore Bypass, Kala Shah Kaku Sheikhupura, Punjab.
Lahore Smart City is an excellent option for investment in 2023 considering location, developers, construction quality, facilities etc. It has the potential returns on your investment.
Lahore Lahore Smart City is a successful housing project providing a futuristic living concept on an area of 20,000 Kanal land in the suburb of Lahore.