Lahore Smart City - A New Era of Real Estate in Pakistan
Smart City Lahore is the second smart city in Pakistan, giving elegant with advanced standards of living up to dreams along with an ecological and practical luxurious lifestyle. You can now achieve this living concept with the mega real estate project - The Lahore Smart City.
​Lahore Smart City is a real estate project that is constructed on an area of 20,000 Kannals. 20 miles of a leisure path alongside eco-backbone and rivers with a continuous network. six hundred Kanal primary park incorporated with the grand mosque and monetary rectangular as a visitor destination. 20m2 open space, along with diverse sports, culture, community, and lawn facilities.
Residents and entrepreneurs both have an equal chance to assist their choice of living a dream without any interruption. ​The suburbs of Lahore are populated entirely but soon likely to be settled by the people, who desire to be a part of the World's premium smart housing scheme. Another owing thing for investors to know is that the commercial and residential plots have been launched on record.
The Smart City Lahore Developers
This high-tech project is made possible by Bahria Town and DHA developers. The joint scheme of Habib Rafiq Group (Pvt.) (Ltd) and Future Developments Holding (Pvt.) (Ltd.) are masterminds in the real estate industry.
This renowned partnership with Pakistan's best intellect groups of engineers and architects bring forward an all-rounder project as a subscription to a luxury lifestyle.
The Lahore Smart City project is similar to Capital Smart City in Islamabad by Habib Rafiq Group and FDHL.
They are already well-known in the real estate industry because of their hard work and commitment to the high-quality development of infrastructure in residential societies such as DHA and Bahria Town. They have also established entire housing societies on their own, including Royal Orchard Sahiwal, Royal Orchard Sargodha, and Royal Orchard Multan.
Habib Rafiq Pvt. Ltd
Over the past 15 years, Habib Rafiq Developers have made a stand-out name for themselves by completing various projects successfully. All projects reflect class and sustainability at the core of the design to create premium real estate projects. Now they are considered one of the best and most trustworthy developers in the market.
The reason behind their achievements is being fair, dedicated, and sincere in their job. The company majorly focuses on the needs of customers living in Pakistan as well as overseas.
Future Developments Holding Pvt. Ltd
FDHL is also one of the top developers in Pakistan's real estate and asset management firm. The company assists companies with futuristic projects like smart cities. They also focus on providing posh living and profitable contributions to the customers.
FDHP is a partnership between China Liaoning International Economic and Technical Cooperation Group Corporation Ltd. and Engineering Dimensions Pvt. Ltd.
Surbana Jurong
Surbana Jurong, a Singaporean architecture company, represents fine pieces of aesthetics, perfection & architectural development through Smart City Lahore.
They have constructed the Lahore Smart City project according to Pakistan's culture and landscape being honored as one of the leading companies in sustainable and futuristic urban architect groups in Asia.
​Other Design Consultants for Smart City Lahore
Cracknell
Surbana Jurong Company
Harradine Golf
Troon Golf
DSA Architects International Company
Arquivio Architects
Smart Future
Design Men Consulting Engineers
Member Companies of Lahore Smart City Developers
There are many member companies, such as:
HRL Pvt. Ltd
Infratech
Royal Orchard Housing
Engineering Dimensions Private Limited
Development Partners of Lahore Smart City
This project has many development partners, such as:
Trivelles Smart Homes
National Defense University
International Medical & Research Institute
Freij Entertainment International
Hardine Golf
Movenpick
Alight
ESA
International Marketing Realtors of Lahore Smart City
The project is being marketed internationally in Italy, the USA, and the UK by well-known realtors:
Royal Overseas Solutions
Lion Home Design & Build
Dreamland Marketing Pvt. Ltd.
PK Marketing International
Overseas Marketing Group
Masters Real Estate
Aston Associates
City Marketing
Azi Investments
Orbis
SHS
G Stones
Century 21
Gold Square
Shahid Khawaja
Premium Realty
Shabbir Realty Inc
Rehman Realty Inc
Berkshire Hathaway
Avenue Marketing
Moin Haque Coldwell Banker
Property People International
Lahore Smart City Location
A real estate project of a huge magnitude needs lots of space and so the 20,000 Kanal area right in Lahore's suburbs was the perfect choice for Lahore Smart City.
Located on Lahore Bypass near Kala Shah Kaku, this real estate gem is an easy connecting area from Lahore-Sialkot Motorway from GT Road, Lahore. The eastern Bypass gives easy access to drive on Lahore Ring Road. The distance to Allama Iqbal International Airport remains only an 18-minute drive away.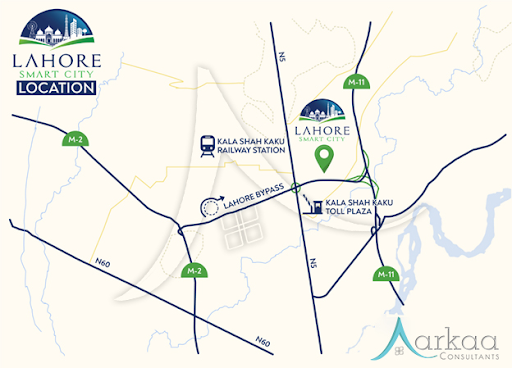 Now is your chance to live in a peaceful, city-free hassle environment with easy access to the following routes:
From GT Road Almost 4 min drive away.
From M-2 Motorway Almost 5 min drive away.
From Lahore Ring Road L-20 is Almost 22 min drive away.
From M-11 Motorway Almost 10 min drive away.
From Lahore-Sargodha Road Almost 11 min drive away.
From Hardosohal Muslim Road Almost 8 min drive away.
From Kala Khatie Narang Mandi Road, Balkhay Sheikhupura Almost 5 min drive away.
Lahore Smart City Nearby Landmarks
Ferozewala
Shahdra
Rana Town
UET
Lahore Smart City NOC
An amazing opportunity for the investors and businessmen that Smart City Lahore is officially approved by LDA. Furthermore, LSC further extends the point of practical living and eco-friendly residential schemes for the people of Lahore.
Lahore Smart City Master Plan
The Lahore Smart offers commercial and residential plots in the most alluring way the master plan has been designed and given by the developers.
The master plan of the Lahore smart city is as follows:

​Lahore Smart City Project Plan
Lahore Smart City plots are divided into different blocks:
General Block
Residential plots are available in the General block. These are extremely affordable and low cost too. It is a live-in dream reality for a middle-class buyer with an easy installment plan.
The block covers all necessities and other facilities for the tenants. Buyers can opt for a house or apartment depending on priority. Plus, there is a community mosque and convenience stores too.
Overseas Block
This residential block is designed especially for residential plots and villas. In the future, foreigners or people with dual nationality can book a suitable plot.
This block features the best amenities that foreign residents will enjoy in their best comfort. The area will consist of mosques, hospitals, hotels, restaurants, and educational institutes.
This block features the following plot sizes:
5 Marla
7 Marla
10 Marla
12 Marla
1 Kanal
Overseas Block Payment Plan
Executive Block
Lahore Smart City plots at the Executive block, are available for your pleasure. This side of the block consists of apartments, residential houses, retail shops, playgrounds, jogging tracks, and a supermart.
The Executive block will be the fancier version of the General Block. Also, it will be expensive as compared to General Block because of Apartments / Villas.
People looking to enjoy a top vacation-like lifestyle can do so in an affordable range with this apartment.
As per your interest to upgrade lifestyle, you can choose plots for sale in Lahore Smart City in the form of villas or big houses. The infrastructures are most scenic with a grand exterior.
This block features the following plot sizes:
5 Marla
7 Marla
10 Marla
12 Marla
1 Kanal
Executive Block Payment Plan
Healthcare Block
This is one of the uncertain sectors of an entire project. This block's importance, with its furnishing facilities especially in this era, is extraordinary. LSC's creators have done it with complete rules and order. This initiative began with an eccentric hospital project, which included the installation of 500 beds, compatible workers, and competent healthcare specialists. Moreover, not only the hospital has an ambulance service but laboratory facilities too.
Sports Block
The designers haven't just focused on the health block as they strongly believe in the housing projects providing excellent facilities to residents by having a sports venue to maintain fitness.
In Lahore Smart City, you will find furnished stadiums and playgrounds for the residents, beginning from the football stadiums, badminton court, and proper cricket pitch.
Education Block
The block will have top-standard education institutes. Universities, colleges, and schools will surely make things better within the city with a revised curriculum. Stem College is under construction in Lahore Smart City.
Lahore Smart City's leadership staunchly believes in educational progress along with intellectual development. Therefore, the development of educational institutes is amongst the top priorities alongside infrastructural progress.
Silicon Valley
Silicon Valley is a destiny hub of technological evolution and logistics in the real estate industry. Silicon Valley is a place where technology furnishes solutions. It's also a place where we build connections, make connections and influence the future of our industry. Lahore Smart City is a place that fuels innovation and change. Here, you can harness the power of technology to transform your ideas into reality.
Silicon Valley would have the following options:
IT campus
Corporate offices
Technology operational offices
Warehouse
Commercial Blocks
The financial square of the Lahore Smart City project is ideal in the shape of retail offices, hotels, exhibition halls, and much more to invest in.
Lahore Smart City commercial plots payment plan is available to purchase by the developers. Smart City developers have launched 2.66 and 6 Marla commercial plots available for you to get benefits in all forms. The most profitable investment option for investors and businesses.
Commercial Block Payment Plan
The 2.66 and 6 Marla plots can be divided into a 3-year installment plan. The payment schedule is distributed in an affordable 12 installments.
Buyers can save a 5% down payment and 10% on lump-sum payments. You can get a 5% refund on 50% payment for the plot payment in Lahore Smart City.
Overseas Block Commercial
Overseas block got immense attention from foreign investors. You can invest in business here and in return get a profitable fund without having to do much. The developers gave Lahore Smart City a new payment plan for commercial plots 4 & 8 Marla Overseas.
Overseas Block Commercial Payment Plan
Executive Block Commercial
Lahore Smart City's latest updates indicate that commercial block plot sizes are 4 & 8 Marla in the Executive block.
Executive Block Commercial Payment Plan
Announcement- Booking Closed
Due to economical reasons, the Lahore Smart City payment plan for commercial plots of 4 and 8 Marla booking is closed.
Lahore Smart City Amenities
Following are the amenities offered by Lahore Smart City to its members:
Smart Housing Community
An original and sustainable design that meets all requirements of the main city covering electricity and gas needs. Lahore Smart City offers an unparalleled lifestyle experience. Elevated to a new level of luxury and comfort. The residences at Lahore Smart City are designed with the utmost care and attention to detail.
​Technology-driven Plan
The Lahore Smart City project will be based on ultra-IT development ideation to lift infrastructures like Overseas and Executive Blocks. Silicon Valley with an IT Campus is an example.
Business Prospects
It is an initiative of FDHL & HRL development authority to develop financial, technological, and infrastructure facilities needed to promote the city's status. The project offers several office spaces and commercial plots to invest your money for continued profit such as shopping malls.
Connectivity
The easy access to main routes back and forth from the motorway makes it an alluring and ideal location.
Top-tier developers
Some of the outstandingly famous developing countries having reputable names in the real estate market took forward this project.
Lahore Smart City is Lahore's best project formed by top developers at affordable prices.
Comfort Zone
Residents of all sorts can experience a social environment with security and serenity with recreational prospects. The design includes amenities and conveniences such as housekeeping service, a central air conditioning system, and Wi-Fi. It is also located near malls, supermarkets, and restaurants to make your life easier!
Enhanced Installments
Residents are offered advanced traveling solutions like Smart Parking, Intelligent Traffic Management, and public transportation.
Lahore Smart City Booking Plan
The easy booking plan for the customers starts from only 10%.
To book a residential or commercial plot for sale in Lahore Smart City, follow the process.
Pay order for a down.
Download, print, and fill out the application.
For verification show the original.
Submit related.
Required documents for the Lahore Smart City booking plan include;
Booking amount of the plot
Booking form
2 Passport size pictures of the applicant
2 Photocopies of your NICOP of the applicant
2 Photocopies of your next to Kin/ Nominee ID Card
Note: Documents get ready and completed within 30 days, then delivered to your given address.
Transfer Procedure in Lahore Smart City
For Regular Transfer, the procedure is:
Apply and later on receive the "No Demand Certificate"
The customers would have to bring transfer documents with duly paid SOD to the transfer officer to obtain a transfer appointment
The transferring officer will provide a transfer appointment
The seller and purchaser both would have to visit the transfer branch to conclude the transfer process
The customer would have to appear with the CNIC on the required date for the collection of the transfer letter
An urgent transfer is also possible after an urgent transfer fee payment
Manual Booking
For manual booking of the plots in Lahore smart City, follow the procedure mentioned below:
Get the print of the applying type and fill it out totally
You may become a good member of the smart city and submit the booking form online via e-form
Deposit the payment manually or mechanically with the processing fee
Another way is to transfer the payment through interbank transactions in many banks like Alfalah Bank or Habib Bank Limited etc
E-Booking
Follow the below-mentioned procedure for online booking:
Become a wise Member of the Lahore smart city and proceed with the web procedure
Master Card or Visa Card, you'll be able to pay the payment online
You may transfer the payment through interbank transactions in many banks like Alfalah Bank or Habib Bank Limited etc
Charges at Booking Lahore Smart City Plot for Sale
10% down payment – 5, and 10 Marla's and 1 Kanal.
10% confirmation charges (payable after 60 days).
Note: Prices are without developmental charges. Prices are exclusive of any taxes and government dues.
Why to invest in Lahore Smart City?
Robust Features
For a housing project, Smart City Lahore comes with a hi-tech and sustainable vision of development. The smart features of the housing project will be an everlasting heritage in Lahore. Homes with unrivaled interiors and amenities are designed for comfort and luxury.
Multipurpose Hub
Lahore Smart City plots for sale play the role of a solid business center with economic, health, commercial, and recreational opportunities.
Smart Investments
Why not be smart about investments? As a real estate project, customers can experience their profit investment blossoming in an exemplary architectural complement and potential investment slots for the buyers. Opening different business opportunities to secure your future.
Iconic Lifestyle
Investment in Lahore Smart City lets you live and enjoy a high-standard lifestyle with modern design and the facilities that come along with the project. The epitome of the stylish lifestyle Lahore Smart City unit. Modern, bright, and spacious, it comes with a smartly-designed layout for you to enjoy. Clean air quality and green living are just some of what this smart city has in store for you at the most complimentary price.
Access Ease
The location is one of the most ideal benefits of investing in Lahore Smart City as it is potentially growing and has expanded capabilities.
FAQs
Lahore Smart City ownership is an alliance between Habib Rafiq (Pvt) and Future Holding Developments.
Yes, it is approved by LDA.
Lahore Smart City is located on Lahore Bypass, Kala Shah Kaku Sheikhupura, Punjab.
Lahore Smart City is an excellent option for investment in 2022. It is a profitable project.
Lahore Smart City is a successful housing project providing a futuristic living concept. It was launched back in 2021 and pre-launch booking was started in August 2020.