Lahore Smart City
Good news for Lahore folks to maintain an eco-friendly and smart lifestyle can be accomplished with the mega real estate project - the Lahore Smart City.
Lahore Smart City is no longer a myth but an upcoming real estate project that is based on an area of 600 acres but reality came true based on 600 acres of land in the prime area of Lahore. Residents and businessmen both have an equal chance to accommodate their ideas for a home or office space without any delay.
The outskirts of Lahore are populated completely but soon expected to be inhabited by the people who want to experience the World's finest luxury housing scheme. Another outstanding thing for customers to know is that commercial and residential plots have been launched officially. But for now, limited Plots for sale in Lahore Smart City are available for people.
Think of Lahore Smart City as a mini version of your real estate dreams come true with Overseas and Executive Blocks, constructed Villas, and of course the luxury apartments.
Lahore Smart City Location
A real estate project with a huge magnitude needs lots of space and so the 20,000 Kanal area right on Lahore's outskirts was the perfect choice for Lahore Smart City.
Located on Lahore Bypass near Kala Shah Kaku, this real estate gem is an easy connecting area from Lahore-Sialkot Motorway from GT Road, Lahore. The eastern bypass gives easy access to travel to drive on Lahore Ring Road. The distance to Allama Iqbal International Airport remains only an 18-minute drive away.
Now is your chance to live in a peaceful, city-free hassle environment with easy access to the following routes:
From GT Road Almost 4 min drive away
From M-2 Motorway Almost 5 min drive away
From Lahore Ring Road L-20 Almost 22 min drive away
From M-11 Motorway Almost 10 min drive away
From Lahore-Sargodha Road Almost 11 min drive away
From Hardosohal Muslim Road Almost 8 min drive away
From Kala Khatie Narang Mandi Road, Balkhay Sheikhupura Almost 5 min drive away
The Smart City Lahore Developers
This state-of-the-art project is made possible by the Bahria Town and DHA developers. The joint venture of Habib Rafiq Group (Pvt.) (Ltd) and Future Developments Holding (Pvt.) (Ltd.) are geniuses in the real estate industry.
The renowned partnership with Pakistan's best brain sets of engineers and architects brings forward a multipurpose project offering a luxury lifestyle.
Lahore Smart City project is similar to Capital Smart City in Islamabad by Habib Rafiq Group and FDHL.
Habib Rafiq Pvt. Ltd
For the past 15 years, Habib Rafiq Developers have made a name for themselves by completing various projects. All projects reflect class and sustainability at the core of the blueprints to create the finest real estate projects.
Future Developments Holding Pvt. Ltd
Technically, a UK-based company that made a name for itself in the world of construction is a top-notch real estate developer and asset management company.
It is a partnership between two organizations, China Liaoning International Economic and Technical Cooperation Group Corporation Ltd. and Engineering Dimensions Pvt. Ltd.
Surbana Jurong
Smart City Lahore is one of the finest architecture examples by Surbana Jurong - A Singapore-based architect company.
Being honored as Asia's one of the leading companies in sustainable and futuristic urban architect designs, it molded the Lahore Smart City project according to Pakistan's culture and landscape.
Other Design Consultants for Smart City Lahore
Cracknell
Surbana Jurong Company
Harradine Golf
Troon Golf
DSA Architects International Company
Arquivio Architects
Smart Future
Design Men Consulting Engineers
Lahore Smart City Project Plan
Lahore Smart City plots for sale are divided into multiple blocks.
General Block
Residential plots are available in the General block. These are extremely affordable and low cost too. A middle-class buyer can make his dream home with an easy installment plan.
The block covers all basic necessities and other facilities for the occupants. Buyers can opt for a house or apartment, on a priority basis. Plus, there is a community mosque and convenience stores too.
Overseas Block
This residential block is for residential plots and villas. In the future, foreigners or people with dual nationality can get a suitable plot.
This block will feature the best amenities that a foreign resident might enjoy to their best comfort. The area will be occupied with mosques, hospitals, hotels and restaurants, and education institutes.
Executive Block
Executive block plots for sale in Lahore Smart City are available for your taking. This side of the block will consist of apartments, residential houses, retail shops, playgrounds, jogging tracks, and a hyper mart.
The Executive block will be a fancier version of General Block. Also, it will be a bit expensive as compared to General Block.
Apartments / Villas / Farmhouses
Folks looking to enjoy a top vacation-like lifestyle can do so in an affordable range with an apartment.
If interested to upgrade their lifestyle, you can choose plots for sale in Lahore Smart City in the shape of villas or farmhouses. These infrastructures are most scenic with a grand exterior.
Commercial Blocks
The financial square of the Lahore Smart City project is ideal for investments in the shape of retail offices, hotels, exhibition halls, and much more.
The commercial plots of area 3.5 / 4 / 7 / 12 Marla's are available for you to choose from.
Lahore Smart City Amenities
Smart housing community
And original and sustainable design that meets all requirements of the main city covering electricity and gas needs.
Technology-driven plan
The Lahore Smart City project will be based on an ultra-IT development vision to give a boost to infrastructures like Overseas and Executive Blocks.
Business prospects
The project offers several office spaces and commercial plots to invest your money in like shopping malls.
Connectivity
The easy access to main routes back and forth from the motorway makes it an ideal location.
Top-tier developers
This project is helmed by some of the best and famous developing countries that have a reputable name in the real estate market.
Affordable facilities by top developers make Lahore Smart City Lahore's best project ever.
Comfort zone
Residents and other occupants can experience a societal environment with security and tranquility with recreational opportunities.
Enhanced installments
Residents are offered advanced traveling solutions like Smart Parking and Intelligent Traffic Management and public transportation.
Lahore Smart City Installment Plan
The good news for customers is that they have a 3 years installment plan with Lahore Smart City. The installment plan can be divided into 14 quarterly installments for Executive and Overseas Blocks
Note
Arkaa Consultants is providing a golden opportunity for its customers. The 5, 7, and 10 Marla Residential files are available at Old Rates. Thus if you are interested in securing a stable ROI, Invest With Arkaa Today!
Lahore Smart City Payment Plan
Overseas Block Payment Plan
5 Marla Plot is in Rs. 2,500,000
10 Marla Plot is in Rs. 4,480,000
1 Kanal Plot is in Rs. 7,260,000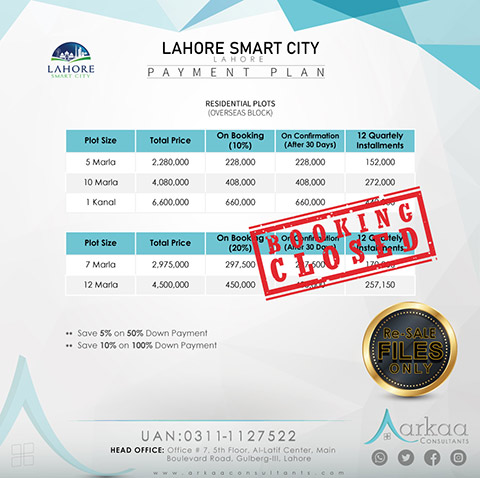 Executive Block Payment Plan
5 Marla Plot is in Rs. 2,375,000
7 Marla plot is in Rs. 2,820,000
10 Marla Plot is in Rs. 4,350,000
12 Marla Plot is in Rs. 4,380,000
1 Kanal Plot is in Rs. 7,125,000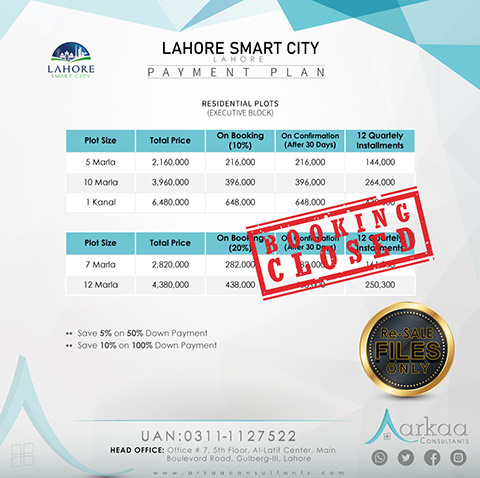 Commercial Block Payment Plan
The 4 Marla plots can be divided into a 3-year installment plan. The payment schedule is distributed in affordable 14 installments.
Buyers can save a 5% down payment and 10% on lump-sum payments.
The 8 Marla plots have a similar installment plan. You can get a 5% rebate on 50% payment for the plot sale in Lahore Smart City.
1. Executive Block
4 Marla is offered for Rs. 8,950,000
8 Marla is offered Rs. 17,450,000
2. Overseas Block
4 Marla is offered for Rs. 9,450,000
8 Marla is offered for Rs. 17,950,000
Lahore Smart City Booking Plan
The easy booking plan for the customers starts from only 10%.
If you wish to book a residential or commercial plot for sale in Lahore Smart City, follow the process.
Pay order for a down
Download, print, and fill the application
For verification show original
Submit related
Required documents for the Lahore Smart City booking plan includes;
Booking amount of the plot
Booking form
2 Passport size pictures of the applicant
2 Photocopies of your NICOP of the applicant
2 Photocopies of your next to Kin/ Nominee ID Card
Note: Documents are ready and completed within 30 days, delivered to your given address.
Charges at Booking Lahore Smart City Plot for Sale
10% down payment – 5, and 10 Marla's and 1 Kanal
10% confirmation charges (payable after 60 days)
20% down payment for 7 and 12 Marla's (for exclusive offers)
Note: Prices are without developmental charges
Why Choose Lahore Smart City Project?
Robust Features
For a housing project, Lahore Smart City comes with a technological and sustainable vision for development. The smart features of the housing project will be the ever-lasting legacy in Lahore.
Multipurpose Hub
Lahore Smart City plots for sale play the role of a concrete business center deemed with economic, health, commercial, and recreational opportunities.
Smart Investments
Why not be smart about investments? As a real estate project, customers can experience their profit investment blossom in the exemplary architecture bearing potential investment slots for them.
Iconic Lifestyle
Investment in Lahore Smart City lets you improve your living lifestyle with the modern design and facilities that come along with the project.
Ease of Access
The location is one of the most ideal benefits of investing in Lahore Smart City as it has potential growth and expansion capacity too.
FAQs
Lahore Smart City is located on Lahore Bypass, Kala Shah Kaku Sheikhupura, Punjab.
For the residents of Lahore, Lahore Smart City brings an equivalent chance to make solid investments in terms of commercial properties or residential ones.
Lahore Smart City has all the privileges that a resident can ever think of. It includes necessary perks and amenities promoting modern facilities and of course, it's an eco-friendly living lifestyle.
From IT development companies to healthcare and many other prominent sectors have a significant chance to become the next big thing by being here. So yes, you can make an opportunistic commercial investment with Lahore Smart City.
Customers can choose from 5 Marla, 7 Marla, 10 Marla, or 12 Marla plots, villas, farmhouses, and commercial plots.