Capital Smart City - Pakistan's First-Ever Smart City
Capital Smart City, is a futuristic and lucrative project that has now changed the dynamics of the residential real estate industry in Pakistan. The Islamabad Smart City is the first "Smart City" in Pakistan and the fourth in Asia. This housing culture has got and is getting a lot of attention because of its surprising smart features.
Talk about the location of Smart City Islamabad, it is on Lahore-Islamabad Motorway M-2, near New Islamabad International Airport.
Capital Smart City Owner & Developers
Smart City Islamabad is a combined project of two competent developers, Habib Rafiq Pvt. LTD and Future Holding Developments Pvt. LTD (FDHL).
Habib Rafiq Pvt. LTD
Habib Rafiq developers have been in the construction and industrial business for over 5 decades now. HRL entered 15 years ago into the housing development and infrastructure business. And has proven themselves to be one of the best and most trustworthy developers in the market.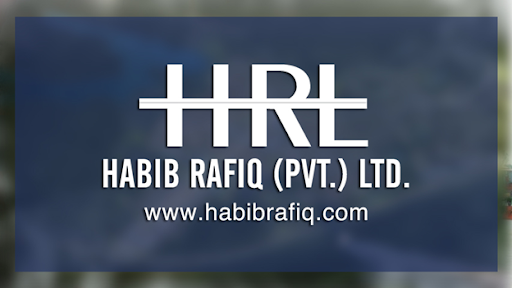 In the past, they have been a strong and influential share of developmental in various projects such as Bahria and DHA in Islamabad. The company has launched its housing societies named Royal Orchard Sahiwal, Royal Orchard Multan, and Royal Orchard Sargodha successfully.
The reason behind their achievements is their simplicity, dedication, and sincerity toward their job. The company has focused majorly on the needs of customers living in Pakistan as well as overseas.
Future Developments Holdings Pvt. LTD
FDHL is one of the top developers in Pakistan's real estate and asset management firm. The company assists other companies with futuristic projects like Smart cities. They also focus on providing luxurious and advanced living with profitable contributions to the customers.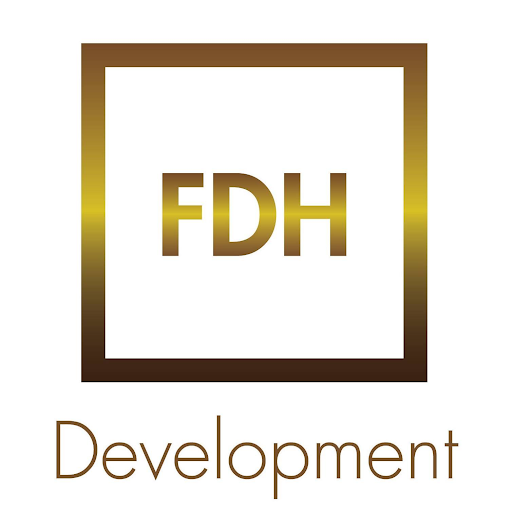 The company was registered in 1984 under the Companies Ordinance. Several international and national business entities have joined hands with this organization. FDHL is a combination of two major firms that have expertise in technical and leadership skills, CLIC and EDL.
Developers have done wonders in providing a modern living concept of lifestyle to the industrial and residential zone.
Updates of Smart City Islamabad- 2022
21 &22 May 2022: Lahore Smart City and Capital Smart City organized the "Smart Road Show" in East London in the U.K.
12 Feb 2022: FDHL is pleased to announce the balloting date and selection of plots in Overseas control. The selected date for this purpose is 12th March 2022.
08 Feb 2022: Land Allotment Ceremony took place on Capital Smart City site.
Capital Smart City Location
The Capital Smart City is located near New International Airport Islamabad. The city is only 5 to 7 minutes away from the airport.
The project is at Lahore-Islamabad Motorway. The distance from M-2 Toll Plaza is just 9.2 km. Moreover, you get access to the city from the eastern route to CPEC.
The nearby societies to Smart City Islamabad are Eighteen Islamabad, Al Mairaj housing scheme, and Blue World City.
Capital Smart City Islamabad Map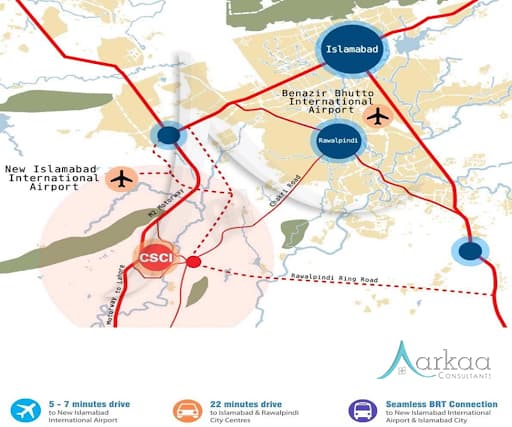 Islamabad Capital Smart City Access Points
NHA has approved the interchange of Capital Smart City on the M2 Motorway.
Easy to access through Main Chakri Road from M-2 Motorway.
Easy to access from surrounding areas from National Highway, Lahore-Islamabad M2.
Easy to access in the future via Ring Road, after completion.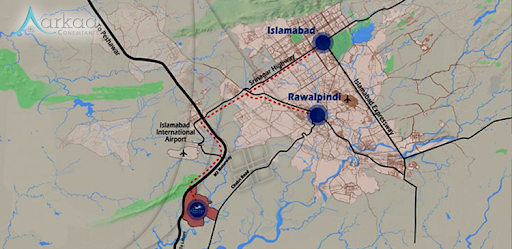 Capital Smart City NOC
Smart City Project Islamabad is a legal housing scheme as its NOC is approved by RDA.
None of the many housing schemes within the proximity of Capital Smart City have received approval from the concerned authorities, RDA. Capital Smart City was able to get its NOC within a record time which speaks about the authenticity of the project. Normally RDA takes quite some months to deliver NOC.
You can check the details on the official RDA website.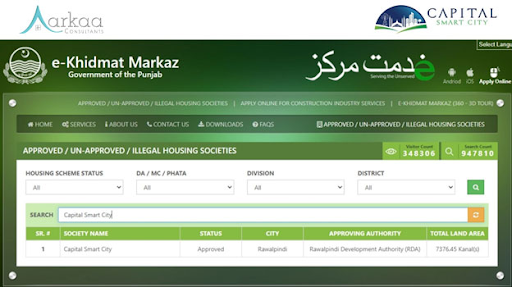 Capital Smart City Islamabad Master Plan
A Singapore-based consultancy firm, Surbana Jurong has been assigned to design the master plan for Capital City Islamabad. The design is proposed by Norman Foster.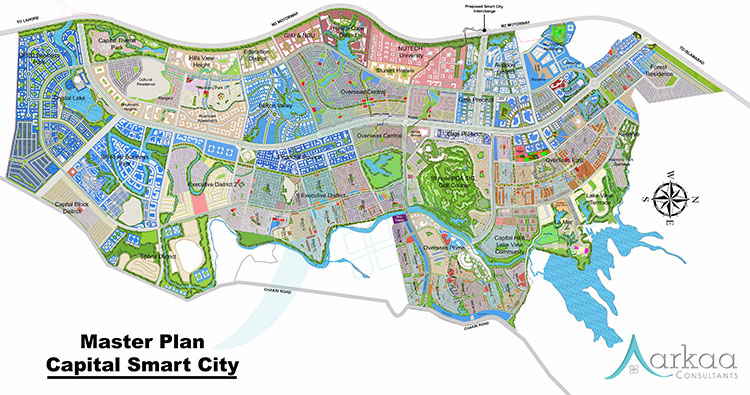 Surbana Jurong
Is a reputed Singapore-based firm. SJ can effortlessly be crowned as the leading architectural company regarding urban infrastructure. It claims a global employee turnover rate of 16,000. The company has the potential to incorporate the subjects of sustainability into modern infrastructure.
To plan the Smart City in Islamabad, proper organization and synchronized thinking were done. In the plan, multiple advanced facilities and amenities were kept in mind to make enough room for residential, commercial, and entertainment aspects.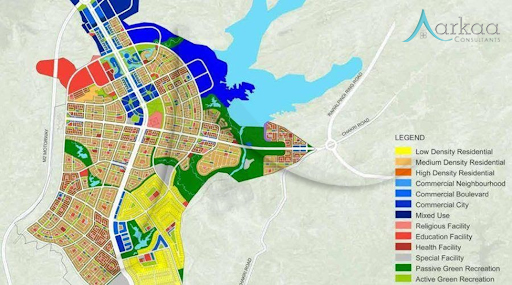 Capital Smart City Master plan is built on a township mode. It offers quite appropriate packages for residencies that are not only affordable but also depict a lifestyle concept. Amongst all the edges it provides for a housing experience entirely depends on density. It consists of the following:
High to low Density (05 Marla to 2 Kanal)
Shared Villas
Facilities that are a part of the plan consist of the public transport network, high-rise buildings, and Central Boulevard.
Mainly the concept of the Capital Smart City housing scheme Islamabad Rawalpindi revolves around innovative new destinations that allow people to work, play and live. Foreign investors are also convinced by all this.
The aim of the smart capital city Islamabad is to make the everyday life of the native citizens easy, advanced, and comfortable. With this ideology as a basis, the growth perspective of this housing dream is extremely far-reaching. Islamabad has become the center of various international standard investment opportunities. The developers have also proposed a township model for the smart city project Islamabad. This model is designed to solve all issues of traffic flow. Because of the capital smart city Islamabad prices, several societies are expected to flourish.
The housing scheme caters to high to low-density houses that range from 5 Marla to 20 Kanal. These areas are spiked with all the basic facilities of life that have been spread across numerous neighborhoods.
The golf course community, overseas block, mixed-use waterfront apartments, executive blocks, and capital hills all are part of the big picture.
Area of Capital Smart City Islamabad Pakistan
Capital Smart City Islamabad has covered a minimum of 55,000 Kanal. The area is 10 times bigger than any nearby housing society. This society will keep expanding in the future, where new blocks will become a part of it.
The developers sent the request for the expansion to the authorities in August 2019. The approval for the extension came in June 2020 and now the Smart Capital City is spread over 80,000 Kanal which makes it the most prominent society in its surroundings.
Till the latest update, NOC for Capital Smart City has been approved for an exhilarating expansion that now concludes to a total area of 1,00,000 Kanal. What started from 20,000 Kanal is now a magnum opus that covers an area of 1,00,000 Kanal.
Prominent Features of Capital Smart City
The citizens of Islamabad haven't seen such outstanding features as what they will get at Smart city. The developers have successfully incorporated the technology and are ensuring both stylized comfort and a luxury dream life. All this makes the housing project the first-ever smart city in Pakistan.
Some of the most prominent features of this capital smart city Islamabad:
Eco-friendly city
Advanced security system
Cleaner and greener environment
An easy transport system with metro bus
Underground electricity
24/7 water, gas, and electricity
Smart Apps such as for traffic, weather, electricity as well as internet
Smart and up to date housing plan
Overseas block
Mosques
Park
Lakes
Avenues for recreational activities
18-hole Golf course
Designated interchange from M-2
Close proximity to Islamabad and Rawalpindi
Amenities in Capital Smart City Islamabad
The capital smart city Islamabad is prospering every day to make sure that the residents can enjoy a life that is worth living. The main concept is to promote and develop as well as enhance strategic growth in areas that can prove to be the hub of future investments.
The major aspects are some of the key features that make this place one of the best housing schemes:
Smart Economy and All Things Smart
A smart city is highly energy-efficient. Its working parameters are designed to prove the point of sustainability and all its value. This is what a capital smart city in Islamabad comprises and assure to deliver. These structures cover a wide range of aspects that are not only desirable but also essential.
Opportunities
The capital smart city is a housing scheme in Islamabad opening a long road for investors and thus has become one of the prime hubs of Pakistan. This county is attracting visitors as well as potential investors from all around the world. All this is a door to a new world that is full of possibilities and job facilities.
Comfort Living
What is that one thing that everyone craves when they talk about being at home? It's the feeling of being at ease and having no worries. The residents here not only hit the ball out of the park in this context but also make sure that the living experience is comfortable enough.
Fascinating Architecture
One of the best features of this project is to give its residents a sustainable and sophisticated transportation system that is filled with a network of roads, pedestrian paths, and cyclists' ways and also has room for movement. This scheme has developed keeping all these details in mind and the goal of efficiency has also been achieved.
Cleanest and Greener Environment
It is to let residents know that the project is planned in a manner that ensures sophistication and promises to keep up already established landmarks. All this is to make residents feel nothing but peace and calmness.
Capital Smart City Blocks
Capital Smart City Islamabad Overseas Block
This housing area is the first to have launched an overseas block in the perimeters of Pakistan. For the first time in Pakistan, any developer or housing society has launched something that shows this level of charm and that is without any doubt the capital city Islamabad overseas block.
5 Marla, 7 Marla, 10 Marla, 12 Marla, 1 Kanal & 2 Kanal plots in this block are reserved exclusively for overseas buyers who are currently residing out of Pakistan.
Location of Capital Smart City Overseas Block
This luxurious dream living experience is currently located in the upper area to the right side of the main boulevard of the society. This location is directly accessible to motorway M-2. After the proposed interchange the overseas block's accessibility will be highly improved.
Capital Smart City Residential Plots Payment Plan for Overseas Block
Capital Smart City Commercial Plots Payment Plan for Overseas Block
Required Documents for Booking in Overseas Block
Some of the documents that are needed for booking a plot in this space are:
2 Passport size pictures
2 photocopies of your NICOP
2 photocopies of your ID card or some other blood relative
Booking amount of the plot
Capital Smart City Overseas Prime Block
Capital Smart City has introduced "Overseas Prime Block", a new purpose-built smart community designed by Surbana Jurong. The Overseas Prime Block offers a range of residential plots from 7 Marla to 40 Marla.
Located at the highest point in the Capital Smart City premises, this high-end residential area boasts a multitude of features. Elevated above the rest of Capital Smart city, 05 Prime treats the residents to view the features of the whole Capital Smart City and much more. All the residents of 05 Prime will enjoy exclusive views of the Waterfront, the mountain range, and especially, the PGA Standard 18-hole golf course.
The 05 Prime block enjoys a dedicated entrance from the main Chakri road as well. The whole block is exclusively leveled to enhance the viewpoint feature of the area. Starting from the 180 feet wide, Smart Broadway and Roman-style grand entrance from Chakri road lead to this high-end community to the full view of all the rivers, lakes, and golf courses. All residential streets will be 50 feet wide with the linear park system and gardens leading up to all your daily amenities at a 400-meter distance.
This block is connected to the rest of the CSC by smart transport choices, including QR-coded bikes, Hybrid/Electric cars, and our very own, smart BRT system.
Elevated above the rest of CSC, this community carries a clear view of the whole city which includes scenic views of the following:
Skyline of Capital Smart City
Landmark buildings
The Khairi Murat mountain range
The 18-hole PGA standard golf course by Peter Harradine
All lakes and rivers which are preserved within the city
Dancing Fountains of the Crystal Lake district
The Ferris Wheel
Chauhan Dam
Water sports area
The artificial beach at the Lake view terraces
F-2 race track
Capital Smart City Payment Plan for Overseas Prime Block
Capital Smart City Islamabad Overseas Prime II Block
Capital Smart City developers have extended the Overseas block to a new district "Overseas Prime II Block" after the immense success and demand. The Overseas Prime II Block offers a range of residential plots from 5, 7, 10 & 12 Marla to 1 & 2 Kanal.
This specific purpose build block has opened its door for overseas Pakistanis once again to avail themselves of the best amenities, security, and lifestyle.
The plots are at an easy installment plan of 48 monthly installments and 7 half-year installment plans.
Capital Smart City Residential Plots Payment Plan for Overseas Prime II Block
Capital Smart City Executive Block
The developers of this prestigious housing scheme launched the executive block of the capital smart city back in May 2019 when the complete project was launched. With a short briefing regarding the standout features of this premium block, they allowed the clients to shift their plots from the previous locations to this executive block.
The time limit for such conversions ended on 24th May 2019. After that, an additional amount of 30% was paid for the conversion or the booking of any new plot in that block.
In the capital smart city Islamabad rates of the Executive Block are almost 30% higher than the general block.
General Block
It is one of the earliest and promised blocks of this housing area. All that is now available for the public was once started with this block. Ranging from 5 Marla to 1 and 2 Kanal in different blocks, this smart city caters to both residential and commercial plots.
Harmony Park
Harmony Park is the newest addition which has become the ultimate favorite among all the other blocks of Capital Smart City Islamabad. Here, investors will find considerable plots that are available at a reasonable price. The block is the most famous among those with fixed incomes. The plot available within the block is 3.5 Marla.
Apart from that, ready-made villas are also available in this block. The options you get here are one or three-bedroom apartments.
Harmony Park Location
If we are to talk about the location, Harmony Park is next to Executive Block. It means the block is directly linked to Main Boulevard, which is considered the ideal location for the project.
Capital Smart City Harmony Park Villa Apartment
Harmony Park Villa Apartments brings unique lucrative opportunities and luxurious living concepts for you at ease.
"The Villa Apartments" has proved to be representing Capital Smart City's expertise, advanced amenities, and innovative residential lifestyle. These housing units are once in a lifetime chance for you to become a part of a true urban lifestyle at the most affordable prices.
Location of the Villa Apartments
The apartments are situated at The Harmony Park at Capital Smart City, a glorious yet affordable living block dedicated to the Villa apartments and 3.5 Marla residential options.
The harmony block is located beside the executive block and will enjoy the supremacy of having a prime location and amazing facilities.
Capital Smart City Harmony Park Villa Apartment Payment Plan
Capital Smart City Harmony Park Residential Plot Payment Plan
Capital Smart City Harmony Park Commercial Plot Payment Plan
Smart Villas at Capital Smart City Islamabad
Capital Smart City Islamabad is one of the first housing schemes in Pakistan that have introduced the concept of smart homes effectively. Smart homes mean that residents can control the house appliances with their smartphones. The range of facilities that can be controlled in such a smart manner encompasses room temperature to gas sensors, mobile sensors, and security systems.
Furthermore, the rightful and thorough addition of technology delivers both efficiency and productivity. With all up-to-date trends, it is justified to declare that this futuristic housing project has set the benchmark high enough for others to follow.
Types of Smart Villa
There are three types of smart villas in the Smart City of Islamabad. All the villas have different architectural concepts and are designed as per customers' demands. The smart villas categories available are as followed:
Contemporary Villas
Glass doors and windows in contemporary villas will bring all the light in. This luxurious accommodation is ideal for an open floor plan with a consistent interior design. These villas can be found in the following categories:
5 Marla
7 Marla
10 Marla
12 Marla
Mediterranean Villas
The architecture of Mediterranean villas is a great combination of Spanish and Italian styles. Arched entrances, wooden pergolas, and terracotta roofs are all skillfully blended into the architecture of the homes. These villas can be found in the following categories:
5 Marla
7 Marla
10 Marla
12 Marla
Georgian Villas
5 Marla
7 Marla
10 Marla
12 Marla
Promising Features of Smart Villas
Given below are some of the salient features of these smart villas:
Smart switches
Temperature and humidity sensors
Gas sensors
Magic box
Access via mobiles
Smart motion sensors
CCTV outdoor and indoor cameras
Automated door locks
Capital Smart City Smart Villas Executive Block Payment Plan
Capital Smart City Smart Villas Overseas Block Payment Plan
Trivelles Smart Homes
Smart City has a partnership with Trivelles International. They are top-rated investors and leading property developers in the UK. They have launched the first Smart Villas in the Capital Smart City by the name of "Trivelles Lake Boulevard".
The villas are located between Crystal Lake and 18-hole Golf Course in Overseas Block. Those who will live in these villas will surely get to enjoy the best views around.
The features of the Smart Villas are categorized by the developers in the following manner, such as classic, premium & exclusive. In each category, smart technology is installed.
Master Plan of Trivelles Smart Home
Mainly two sizes are offered by the developers, 5 & 10 Marla.
In 5 Marla, the available villas are:
Abbey Villas (3 Bedrooms)
Strand Villas (3 Bedrooms)
In 10 Marla, the available villas are:
Harley Villas (4 Bedrooms)
Regent Villas (5 Bedrooms)
Capital Smart Islamabad Trivelles Smart Villas Payment Plan
Capital Smart City Commercial Plots
The commercial zone of the capital city housing scheme Islamabad is currently offering plots that range from 4 Marla, 6 Marla, and 8 Marla that too available on a 3 years easy installment plan.
The capital smart city commercial payment plan is as follows:
It is also notified to the interested parties that a discount of 5% is credited on a 50% payment and a 10% discount is rewarded on full payment.
Extra Charges for Applicable Plots Located at Certain Location
Main road (41' to 99) with 10% extra charges
Main Boulevard (100'above) 15% extra charges
Facing Park with 10% extra charges
Corner 10% extra charges
| Overseas Block | General Block |
| --- | --- |
| Exclusively for overseas citizens | No discrimination. Anyone can book the plot |
| Premium Security features | No extra security features |
| Allocation of extra smart features | Comparatively less smart features |
| A prime Location | Direct opposite to overseas block |
| Possession of plots have commenced from 2020 | Plots are available since 2021 |
Development Status of Capital Smart City
More than 5,570 Kanals of the land has been purchased by CSC that is located alongside Chakri Road and River Sill with complete possession. With this purchase, the development work is in full swing.
Following are some notable developments in this context:
Overseas Block 1 and 2
Aggressive progress on villas
Capital Hills and Overseas Prime
Main Boulevard and Main roads access
Other buildings and Structures
Carpeted Roads
Another impressive achievement that has been made by the developers of this project is that they are leaving no stones unturned to ease up the transportation. The development of a carpeted road for this purpose has been given a top priority.
Amusement Park in CSC
On 23rd October 2019 an MOU was signed between Freij Entertainment and Capital Smart City regarding the development of an amusement park in the same vicinity. Freij entertainment is a name to be reckoned with in the context of arranging carnival rides, funfairs, and activities like these.
They have also signed a legal document for the establishment of several parks of such grandeur in other notable areas of Pakistan.
Capital Smart City - A Way Forward
One of the prime aspects of any housing area is that can either make or break the association of world-renowned developers. Capital smart city housing scheme Islamabad Rawalpindi has hit the ball out of the ground. In the real estate horizon of Pakistan Habib Rafiq is a force to reckon with and an established entity. The majority of the plots in this project are already sold out and some are being resold.
The future developments of this project are also looking highly convincing and the forces present at the back of this scheme are leaving no stone unturned to make this a state-of-the-art housing project in Pakistan.
Capital city housing scheme Islamabad is promising the realtors and investors long-term beneficial ROI. Thus, no second thought comes that this project is equal parts worthy and enthralling, to say the least.
FAQs
Capital Smart City, Islamabad is located near New Islamabad International Airport. The project is at Lahore-Islamabad Motorway at a distance of 9.2 Km from M-2 Toll Plaza near the Thalian Interchange.
Yes, Capital Smart City Islamabad is CDA approved.
Yes, Capital Smart City is a great investment, not only for the residents of Pakistan but for Overseas Pakistanis too.
The housing society is the joint venture of Habib Rafiq Group (Pvt.) and Future Development Holdings (Pvt.) Limited.
10% down payment is needed for Capital Smart City.